Trump, Putin meet, agree on Syria ceasefire
Updated July 7, 2017 - 5:15 pm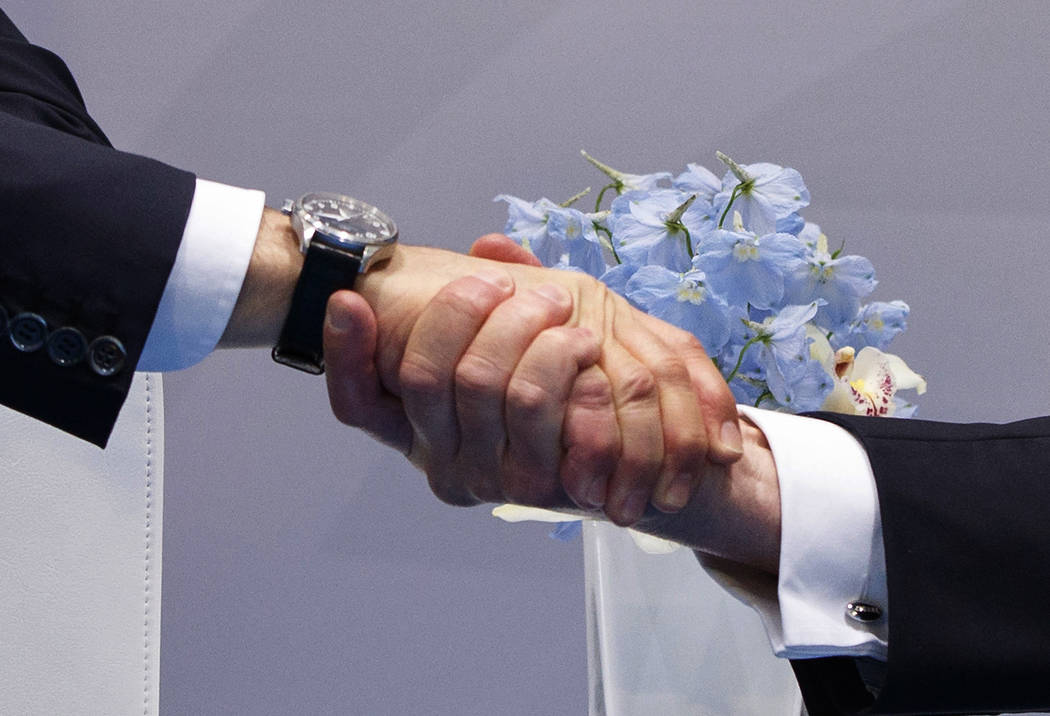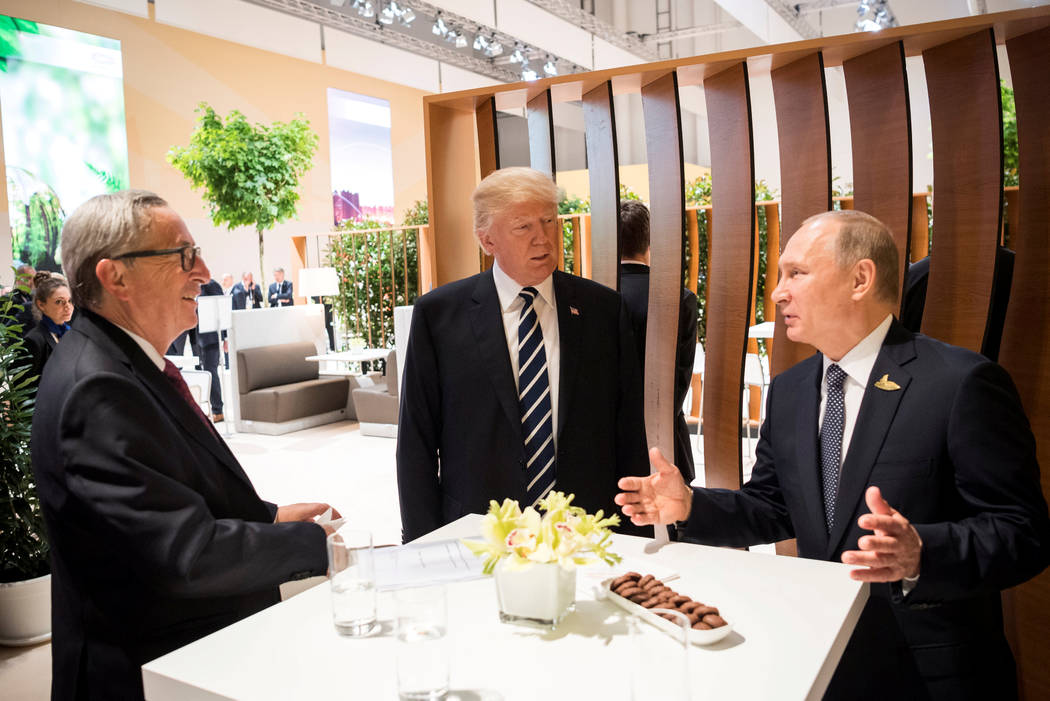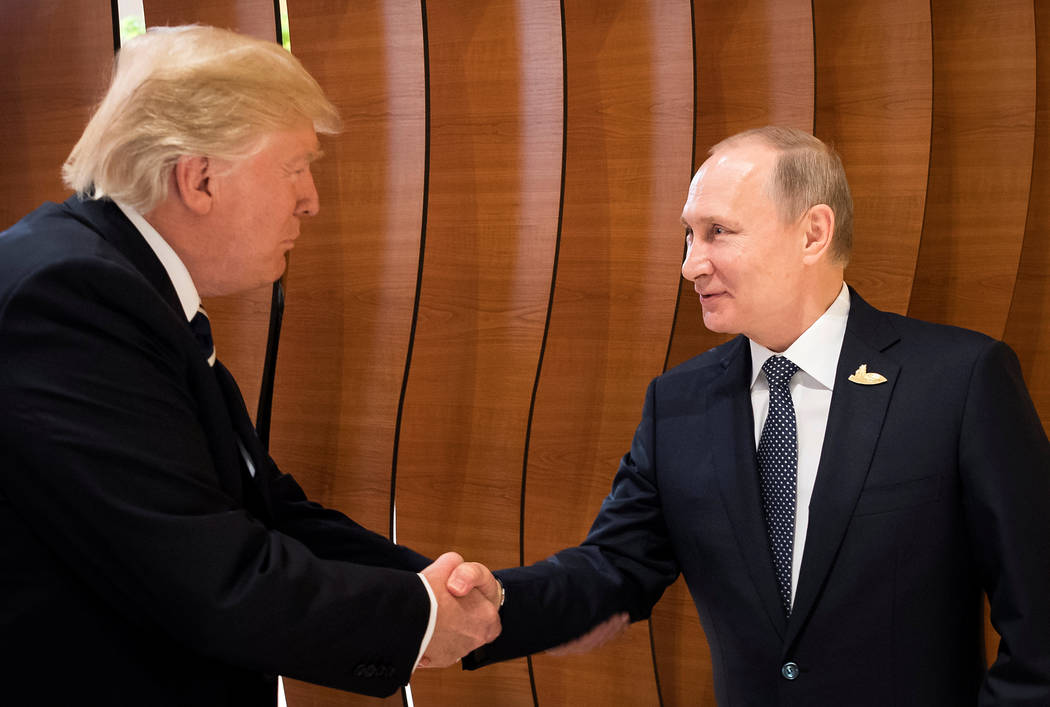 HAMBURG, Germany — President Donald Trump and Russian President Vladimir Putin met face-to-face for the first time Friday. Then they talked. And talked. What was scheduled to be a half-hour meeting instead lasted more than two hours — and ended with a cease-fire agreement in southwest Syria set to begin Sunday.
"The meeting was very constructive. The two leaders, I would say, connected very quickly," Secretary of State Rex Tillerson told reporters in a briefing Friday night.
Tillerson, who also attended the meeting, said that Trump began the sit-down "raising the concerns of the American people" regarding allegations that Russia interfered with the 2016 presidential election. Putin denied the charge.
"What the two presidents, I think rightly focused on, is how to move forward," Tillerson said. The two leaders agreed to continue the discussion, with an eye toward securing a commitment that Russia won't interfere in U.S. affairs in the future, he added.
While Tillerson suggested that the two presidents had agreed to disagree on the issue of election meddling, Russian Foreign Minister Sergey Lavrov told reporters that Trump had accepted Putin's denial of Russian involvement.
When the two first met, Trump told reporters it was "an honor" to meet Putin, who declared he was "delighted" to meet Trump. They had talked on the phone, Putin added, but "phone conversations are never enough definitely."
Trump fulfills demands
Trump's decision to raise the issue directly with Putin fulfilled demands by U.S. lawmakers of both parties that the president not shy away from the issue in his highly anticipated meeting. Trump has avoided stating unequivocally in the past that Russia interfered, even as investigations proceed into whether Trump's campaign colluded with Russians who sought to help him win.
Before the meeting, critics like House Intelligence Committee ranking Democrat Adam Schiff maintained that Trump had an obligation to confront Putin about Russia's attempts to interfere in the 2016 election.
Tillerson said that Trump did just that — but with Lavrov giving an alternative version of the talk, it is not clear if Trump's actions will mollify those who believe the president did not take the allegations of Russian interference seriously.
I look forward to all meetings today with world leaders, including my meeting with Vladimir Putin. Much to discuss.#G20Summit #USA

— Donald J. Trump (@realDonaldTrump) July 7, 2017
Both the Russians and the Americans took pains to describe the meeting as "constructive," cordial and wide-ranging, covering key topics including Syria, Ukraine, cyber security and North Korea.
The cease-fire agreement is the first U.S.-Russian effort to stem Syria's six-year civil war under Trump's presidency. Tillerson hailed the agreement as the first indication that Moscow and Washington can work together on Syria, adding that both countries had an interest in seeing the Mideast nation become "a stable place."
When the meeting had gone on for an hour, Tillerson told reporters, first lady Melania Trump asked the president to bring it to an end, but he refused. "There was so much to talk about," said Tillerson. "Neither one of them wanted to stop."
G20 protests
The Putin meeting came while both leaders were in Hamburg to attend a two-day Group of 20 summit.
Some 100,000 demonstrators were expected to protest the summit in what anti-capitalists had dubbed "Welcome to Hell."
The German government had asked activists to protest peacefully. "Peaceful protesters are wanted and welcome in a democracy, but not violent ones," said Federal Interior Minister Thomas de Maizière, but hard-core anarchists had other plans.
Before noon Friday, protesters had torched cars, clashed with police and blocked intersections. Hamburg police said late Friday that 196 officers had been injured during two days of clashes with anti-globalization activists. The Secret Service had to take an out-of-the way route to drive Trump to the confab. Melania Trump had to stay in a guest house rather than attend an event for spouses. The first lady tweeted, "Thinking of those hurt in #Hamburg protests. Hope everyone stay safe! #G20."
Trump has long maintained that being unpredictable and underestimated are valuable tools. His White House used those implements to set the stage craftily — as observers obsessed over how this long-awaited face-to-face would play out and which leader would get the better of the other.
Before the president left on his second foreign trip, National Security Adviser H.R. McMaster told reporters there was "no specific agenda" for the Trump-Putin meeting. "It's really going to be whatever the president wants to talk about." Critics warned about the dangers of meeting a well-prepared Putin on the fly.
Economic adviser Gary Cohn said, "these are not long, long meetings." The scheduled 30-minute meeting went two hours and 16 minutes.
In Poland Thursday when a reporter asked Trump if he accepted what the intelligence community believed about Russian meddling, Trump answered, "I think it was Russia" but other countries also could have been involved.
On Friday, Tillerson told reporters that Trump opened his discussion with Putin by confronting him on the 2016 election charges.
Even still, the big news from the meeting was about Syria. A surprise ending.
Contact Debra J. Saunders at dsaunders@reviewjournal.com or at 202-662-7391. Follow @DebraJSaunders on Twitter.