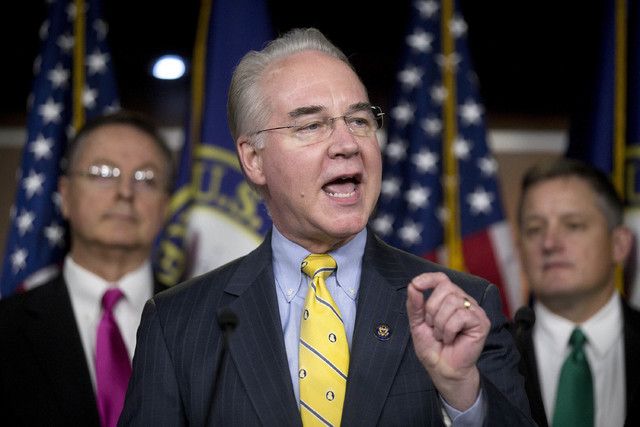 President-elect Donald Trump has chosen Rep. Tom Price, R-Ga., an orthopedic surgeon who has been one of Capitol Hill's fiercest critics of President Obama's health care law, to be secretary of health and human services, a person briefed on the decision confirmed Monday night.
The public announcement of Trump's selection of Price, a six-term congressman who chairs the House Budget Committee and is regarded as a policy wonk, is expected to be made as early as Tuesday.
As HHS secretary, Price would become the Trump administration's point person on dismantling and replacing the Affordable Care Act, one of Trump's major campaign promises.
Price, 62, who represents a suburban Atlanta district, has played a leading role in the Republican opposition to the law known as Obamacare and has helped draft several comprehensive bills to replace it.
During the campaign, Trump railed against the Affordable Care Act and vowed to repeal and replace it. But after meeting with Obama in the Oval Office shortly following the election, he was convinced to perhaps keep some of the more popular elements of the law intact and amend the law rather than repeal it.
Trump has said he would favor keeping the provision preventing insurers from refusing coverage for preexisting conditions as well as the one permitting children to stay on their parents' health plans until age 26.
In picking Price to fill a key Cabinet position, Trump will add to his team a veteran lawmaker who is close to House Speaker Paul Ryan, R-Wis. Price already is familiar with the budgetary process, the federal bureaucracy and the costs and mechanics both of changing the Affordable Care Act as well as revamping the Medicare entitlement program.