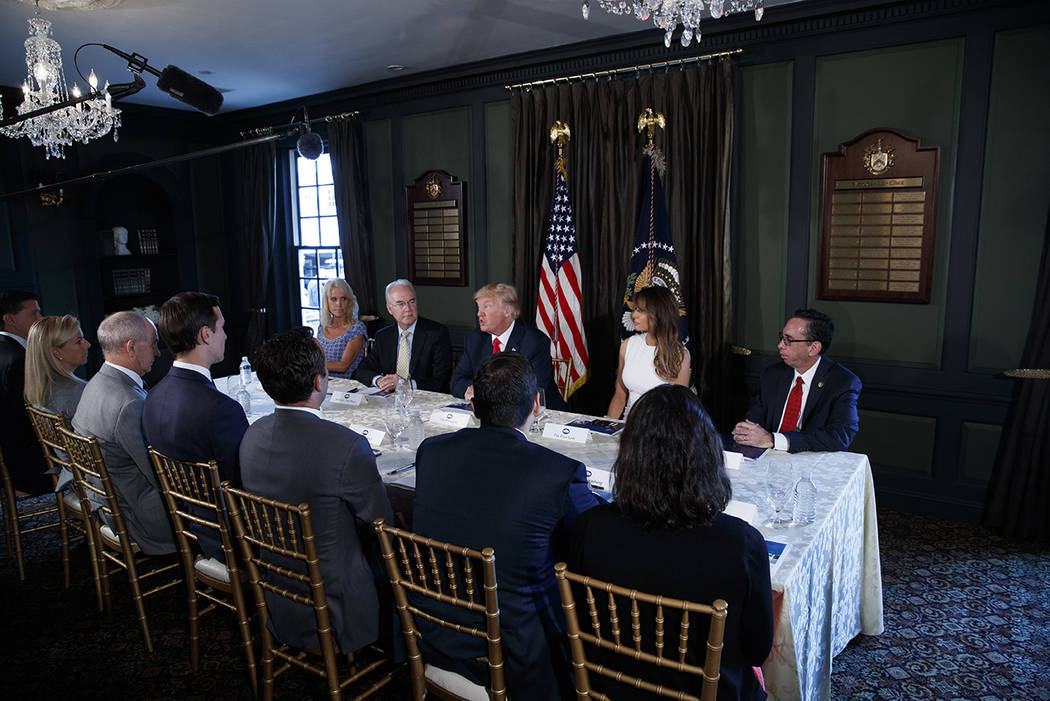 WASHINGTON — In July, a commission appointed by President Donald Trump to study drug addiction made an urgent recommendation that he declare the opioid epidemic a national emergency, similar to the declaration made after the Sept. 11 terrorist attacks.
The drug epidemic takes some 142 lives each day, the commission noted, a sum "equal to September 11th every three weeks.," .
On Tuesday, Trump held an off-camera meeting at the Trump National Golf Club in Bedminster, New Jersey on the opioid crisis – where he fell short of his commission's urgent request. The president did not announce any new policy, but vowed to work with health professionals and law enforcement on the crisis.
During a press briefing after the meeting, Health and Human Services Secretary Tom Price said that presidents usually reserve the title of national emergency for "a time-limited problem — either an infectious disease or a specific threat to public health. The two most recent that come to mind are the Zika outbreak and Hurricane Sandy."
Still, Price said, "The president certainly believes that we will treat it as an emergency — and it is an emergency." He added that 52,000 Americans died from drug overdoses in 2015, some 33,000 of which died from opioids.
"The numbers in 2016 are no better, and the numbers in 2017 are even worse than 2016," he said.
"No state has been spared and no demographic group has gone untouched," added Counselor to the President Kellyanne Conway, who also attended Tuesday's meeting. According to the National Institutes of Health, a baby is born every 25 minutes addicted to opioids. Instances of military veterans treated for substance disorders addiction have climbed more than 50 percent since 1995.
While Trump is committed to fighting the crisis, Conway acknowledged, "we full-on know that most of the great work is being done on the state and local levels. Those who are closest to those in need know best how to help them." She recognized local officials who are working to reduce the number of pills and days of use when doctors prescribe painkillers.
While Price and Conway focused on treatment regimes to prevent patients from developing addictions, Trump simply warned young people to stay away from drugs. "The best way to prevent drug addiction is to prevent people from abusing drugs in the first place. If they don't start, they won't have a problem," Trump said. "If they do start, it's awfully tough to get off."
The president also argued, "strong law enforcement is absolutely vital to having a drug-free society."
"At the end of 2016, there were 23 percent fewer federal prosecutions than in 2011, so they looked at this scourge and they let it go by," Trump said. "We're not letting it go by."
The president's emphasis on law enforcement was a departure from the 10-page interim report issued by his commission, headed by New Jersey Gov. Chris Christie. The commission focused on preventive measures, such as making sure Naloxone, a treatment that can save users who overdose, is in the hands of every law enforcement enforcer. The draft also supported "911 drug immunity laws" to encourage addicts to call for medical help when a fellow user overdoses. The commission also suggested that government medical programs cover methadone treatments.
Nevada Gov. Brian Sandoval signed legislation to increase access to Naloxone and reduce penalties for those who report overdoses in 2015.
"The commission didn't call for more crackdowns. It didn't talk about mandatory sentences. For something coming out of the White House in 2017, pretty good, very good," said Eric Sterling of the Criminal Justice Policy Foundation, which has been critical of federal drug sentences. That was before Trump's comments at the opioid meeting.
Last week, Attorney General Jeff Sessions, who did not attend the Bedminster meeting, announced the formation of an Opioid Fraud and Abuse Detection unit dedicated to using data to detect health care fraud and prosecute prescription abuse. The pilot program includes funding for 12 assistant U.S. attorneys, including one in Nevada, to investigate and prosecute pill mills and pharmacies that dispense prescription opioids for illegitimate purposes.
Acting U.S. Attorney Steven W. Myhre said he has assigned "an experienced prosecutor to focus solely on investigating and prosecuting opioid-related health care fraud cases" in Nevada. The prosecutor "will target and prosecute doctors, pharmacies, and medical providers who unlawfully divert or dispense opioids."
First Lady Melania Trump attended the meeting, Chief of Staff General John Kelly and Jared Kushner, a top Trump adviser and son-in-law, also attended the session.
The meeting was held at the golf clubhouse – a building that used to be the home of famed automaker John Z. DeLorean. Federal prosecutors charged DeLorean for participating in a drug deal involving 55 pounds of cocaine. In 1985 jurors found DeLorean "not guilty" on all charges. The DeLorean Motor Company already had been shuttered. In 2000, the carmaker was forced to sell his Bedminster home. Trump bought the property in 2002.
Contact Debra J. Saunders at dsaunders@reviewjournal.com or 202-662-7391. Follow @DebraJSaunders on Twitter.