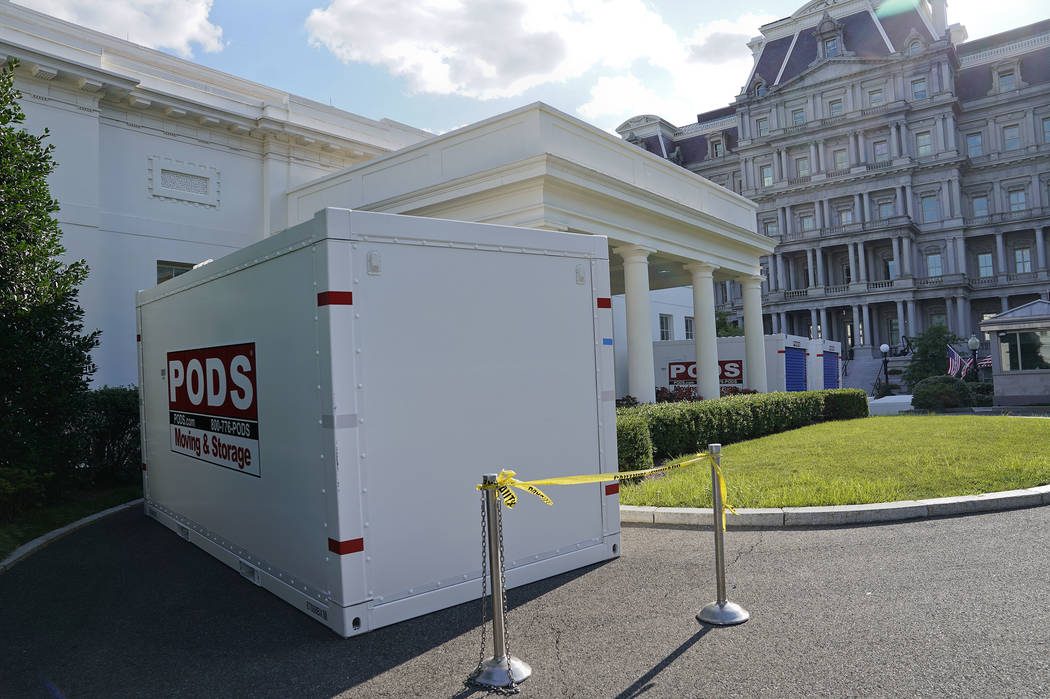 WASHINGTON — No president really takes a vacation. No matter how removed the venue, advisers and troubles follow the chief executive wherever he goes. When the president is Donald Trump, Twitter also travels with the White House entourage, for a trip that takes place as 1600 Pennsylvania Ave. gets some much-needed makeover.
So on his first full day at his country-club residence in Bedminster, New Jersey, Trump went on Twitter to explain that he is taking an extended stay at his New Jersey getaway because "long planned construction is being done at the White House. This is not a vacation — meetings and calls."
Trump denies ever calling the White House "a real dump" — as Sports Illustrated recently reported — but the White House, like all great centuries-old homes, is something of a fixer-upper. Home of every president since John Adams in 1800, the White House has been remodeled, added to, and repaired repeatedly.
Working hard from New Jersey while White House goes through long planned renovation. Going to New York next week for more meetings.

— Donald J. Trump (@realDonaldTrump) August 7, 2017
Friday, after Air Force One went wings up, West Wing staffers relocated to the Eisenhower Executive Office Building to make way for needed repairs and renovations. Monday afternoon the lower-press room was empty of furniture and busy young staffers.
When the new tenants return there will be new carpets and fresh paint — a rehab project to greet the new administration that usually takes place before the inauguration.
"Complete carpet replacement in the West Wing will cost $1.17 million and a painting refresh costs $275,000," a General Services Administration spokesperson explained in an email. "These costs were budgeted last year for FY2017 as part of the Repair and Alteration GSA Regional Costs. This expenditure is in line, or under, what the past three prior administrations have spent."
One change, The New York Times reported, is that Trump will pick new colors to replace President Obama's preference for yellow.
New AC system
Most important of all, the White House will get a new HVAC — heat, ventilation and air conditioning — system. "The HVAC systems are 27-years old," Deputy Press Secretary Lindsay Walters recently told reporters, "but due to the 24/7, 365-day use a year, the estimated age of the system based off of usage is 81 years old."
The General Services Administration awarded $1.9 million for the HVAC upgrade in 2014.
"I don't think any of you would like to be in the West Wing in an August D.C. summer day when it's over 100 degrees with no air conditioning," Walters said.
According to White House Historical Association senior historian Joel E. Treese, the first air-conditioning system — a contraption that involved an electric blower and ice water — was introduced to the White House in 1881 when Navy engineers tried to cool the sickroom of mortally wounded President James A. Garfield. Garfield lived for 80 days.
Central air conditioning was introduced during the 1930 West Wing reconstruction, when Herbert Hoover occupied the Oval.
Trump frequently refers to Washington as "the swamp." Perhaps then it is fitting that in his first 200 days, the White House has been known for leaky ceilings, suspect smells and swarming flies.
The rehab project also will upgrade the Navy Mess kitchen, the West Wing lower lobby, and the steps on the South Portico, which have not been restored for 64 years.
Trump takes to Twitter
Meanwhile, in New Jersey, Trump was working on his own projects. In the morning he received his intelligence briefing. Trump and Chief of Staff John Kelly also talked with Secretary of State Rex Tillerson about North Korea and Tillerson's trip to Manila, Bangkok and Kuala Lumpur.
But also throughout the day, Trump took to Twitter. By 5 p.m., he had posted 13 tweets that assailed "the Fake News Media" for reporting on the "Fake News Russian collusion story" and challenged frequent critic Sen. Richard Blumenthal, D-Conn., for misleading voters when he claimed in 2010 to have served in Vietnam.
"I think Senator Blumenthal should take a nice long vacation in Vietnam, where he lied about his service, so he can at least say he was there," Trump tweeted from his non-vacation vacation.
When CNN's Wolf Blitzer asked Blumenthal about the tweets, Blumenthal sidestepped Trump's pointed references toward him.
"Our national security and the rule of law are at risk," Blumenthal said. "It is not about me."
Contact Debra J. Saunders at dsaunders@reviewjournal.com or 202-662-7391. Follow @DebraJSaunders on Twitter.
Escape from D.C.
President Donald Trump's trip to New Jersey is very much in keeping with a tradition of presidents escaping Washington during the late summer.
Martha's Vineyard became the choice summer vacation spot for both President Bill Clinton and President Barack Obama. Clinton was also known to make summer trips to Jackson Hole, Wyo., and the Obamas visited several national parks.
President George H. W. Bush spent his vacation time at the family compound in Kennebunkport, Maine. President George W. Bush would usually take breaks on his ranch in Crawford, Texas.
But for presidents these days, August getaways are "never as relaxing as they hope it will be," said presidential historian Douglas Brinkley. "You may get a few extra rounds of golf in, but there's no escaping the public eye."
The Washington Post