Trump talks to Naval Academy grads on how to pronounce Nevada
Updated May 25, 2018 - 5:10 pm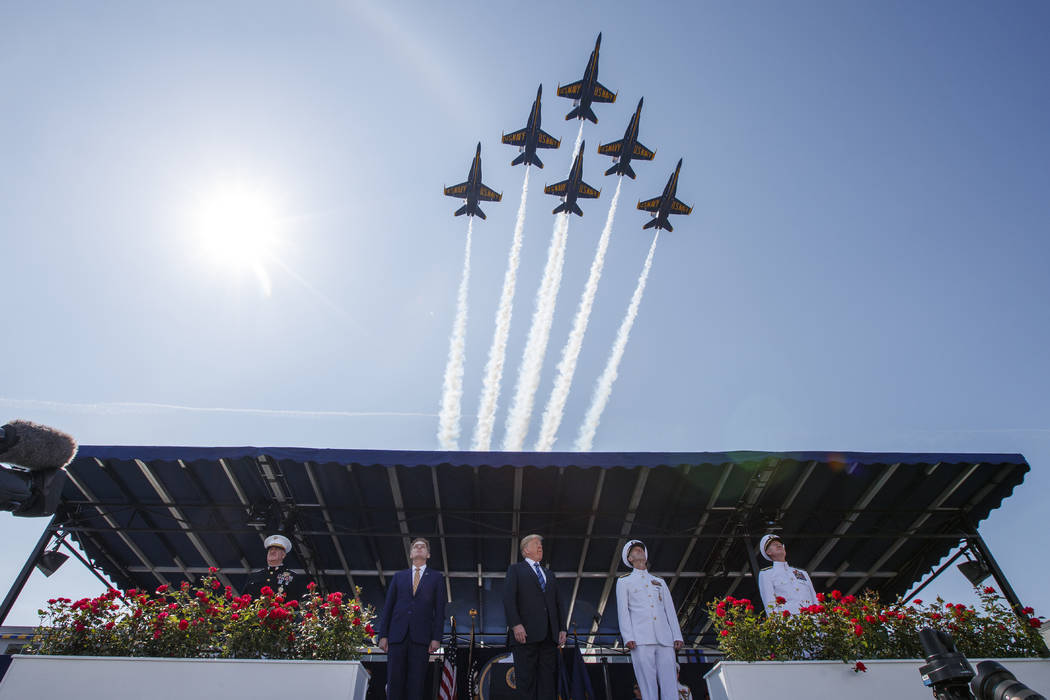 WASHINGTON — Forget "po-ta-to, po-tat-o" – the age-old question of how to pronounce the starchy vegetable. In the hard-knuckle world of politics, there is a more important tell in how a politician pronounces the name of one state — Nevada.
If you want to be elected, it helps to learn to say it with a flat "a" — Ne-VAD-a.
During a commencement speech Friday at the Naval Academy, President Donald Trump stumbled into the tangled web of pronunciation. As he hailed the late Bruce Van Voorhis of the class of 1929, a one-time Nevadan and Navy aviator who was shot down in World War II, Trump joked that friends claimed the war hero "spent most of his time teaching city slickers from the East the correct pronunciation of Nevada. And I had to learn that too to win the state. Great place."
Actually, Trump didn't win the Silver State in the 2016 general election – Democrat Hillary Clinton did, though Trump did handily win Nevada's hotly contested GOP caucuses.
At least Trump did pronounce Nevada correctly in his speech, in contrast to a 2016 campaign stop in Reno.
In October 2016, Trump teased a Reno audience with his East Coast diction and insisted the state's name is pronounced "Neh-VAH-da."
"Nobody says it the other way," he informed the vocal local crowd.
"If Donald Trump wants to come down from the penthouse his daddy bought him to lecture us on how to say Nevada, he could at least pronounce it correctly," said then-Sen. Harry Reid, D-Nev.
"Instead Trump told us we pronounce the name of our state wrong minutes before he refused to take a position on Yucca Mountain. I have news for Donald: It's pronounced Nev-AD-a and Yucca Mountain is dead."
Indeed, the Trump administration twice proposed spending $120 million to license the proposed nuclear waste repository. Both times the Senate yanked the funding.
Trump was not the first make such a mistake. During a 2008 campaign stop at the University of Nevada, Reno, Michelle Obama made the mistake of pronouncing Nevada in King's English style. When the crowd bristled, the future first lady quickly corrected herself and repeated, "Ne-VAD-a, Ne-VAD-a, Ne-VAD-a."
UNLV political science chairman John Tuman said he moved to the area 17 years ago. "Locals said I mispronounced the name when I moved here, and I adapted," Tuman confessed. "But with so many people migrating to Nevada from other states (and countries), I think it's understandable that there would be some variation in how people pronounce the state's name."
Republican political consultant Arie Lipnick recalled camping out in the state for a few months in 2012 to work on congressional campaigns. He said he "learned very quickly that I was saying it wrong." Never more.
"To this day I call it Nevada," Lipnick enunciated correctly.
The topic is so toxic for politicians that the office of Gov. Brian Sandoval would not comment on the pronunciation controversy.
"If I talked to one person, I talked to a thousand and one people and corrected them on the proper way to say Nevada," GOP kingmaker Sig Rogich of Las Vegas told the Review-Journal.
They all wanted to "call it Nevada as in 'ah.' That's the way they talk in those Eastern schools," Rogich added. "Maybe they thought it was to make us more sophisticated."
Contact Debra J. Saunders at dsaunders@reviewjournal.com or at 202-662-7391. Follow @DebraJSaunders on Twitter.