Trump threatens government shutdown in fight with Dem leaders
December 11, 2018 - 10:46 am
Updated December 11, 2018 - 4:26 pm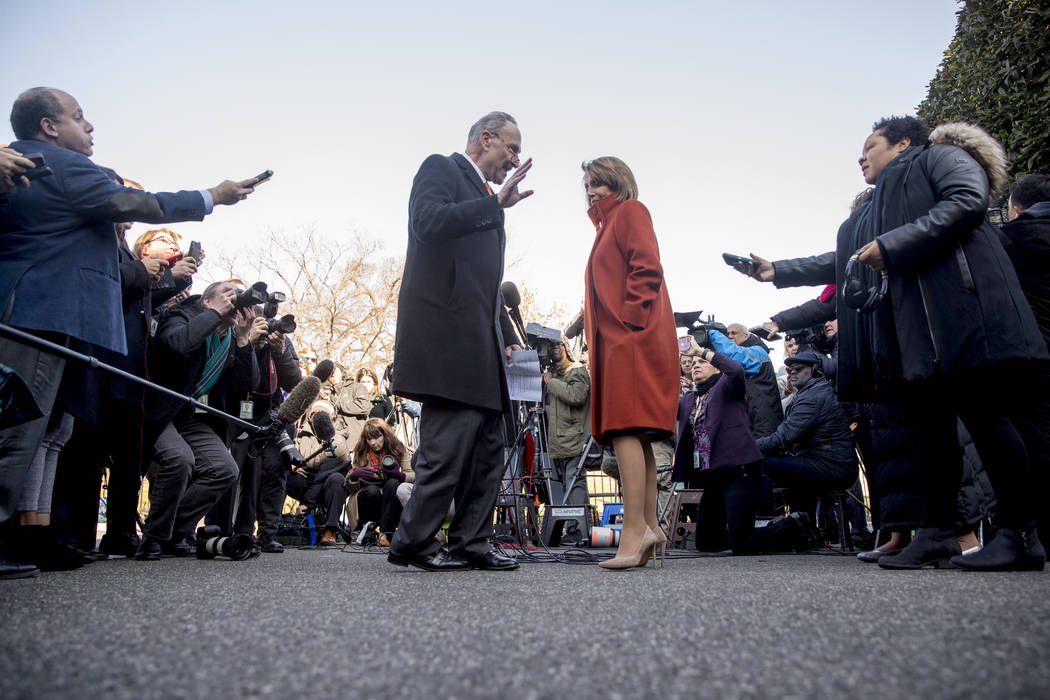 WASHINGTON — President Donald Trump told Democratic leaders Tuesday that he would be "proud to shut down the government over border security."
Trump made that statement during an Oval Office meeting with Senate Minority Leader Chuck Schumer and House Speaker-designate Nancy Pelosi to discuss border security funding ahead of a Dec. 21 deadline that, if not met, would lead to a partial government shutdown.
If the purpose of the meeting was to come to an amicable agreement on a spending bill to keep the government running, it did not work.
As Vice President Mike Pence sat quietly, the meeting quickly led to cross words between Trump and the Democratic duo that were captured on camera by the White House press corps.
The sit-down was the two leaders' first meeting with Trump since the midterm elections in which Democrats won back the House.
At one point, Schumer reminded the president, "Elections have consequences."
Usually, each party tries to blame the other if a government shutdown seems likely to occur. Schumer and Pelosi repeatedly argued that if there is a partial shutdown, it would be because Trump wants it.
Toward the end of a 17-minute exchange before the press pool, Trump took the blame question off the table, threatening a shutdown if the spending bill did not include funds to build a wall on the Mexico border.
"I'll tell you what, I am proud to shut down the government for border security, Chuck, because the people of this country don't want criminals and people that have lots of problems, and drugs pouring into our country," Trump said.
"So I will take the mantle. I will be the one to shut it down. I'm not going to blame you for it. The last time you shut it down it didn't work. I will take the mantle of shutting down, and I'm going to shut it down for border security."
Democratic leaders respond
Addressing the White House press corps afterwards, Pelosi referred to the "Trump shutdown" as "a luxury the American people cannot afford."
Later, Pelosi told fellow Democrats in a closed-door meeting that Trump's threat to shut down the government is "like a manhood thing for him," according to an aide in the room.
And Schumer told reporters, "No president should be proud to shut down the government."
Trump wants Congress to pass a border security bill that includes $5 billion to build his promised wall along the border with Mexico.
Democrats oppose the wall, Schumer said, because it is "wasteful and doesn't solve the problem." But he said they support a compromise bill with $1.6 billion in border security funding.
"We want to do the same thing we did last year," Schumer told Trump, refering to $1.3 billion appropriated for border security in that budget. "Let's debate in private."
Pelosi also repeatedly suggested that the parties continue their negotiations off-camera instead of "in the public view."
Later, White House Press Secretary Sarah Sanders issued a statement in which she noted, "President Trump was grateful for the opportunity to let the press into the meeting so that the American people can see firsthand that while Republicans are fighting to protect our border, Democrats are fighting to protect illegal immigrants."
Aide Kellyanne Conway added that the real issue for the public is, "Do they want to keep the government open or the borders open?"
Poll shows support for compromise
An NPR/PBS News Hour/Marist Poll found that 57 percent of Americans want Trump to compromise on the wall, while 36 percent say he should not. The poll surveyed 1,075 adults between Nov. 28 and Dec. 4 and has a margin of error of plus or minus 3.7 percentage points.
"When Trump is separating children from parents and tear-gassing families seeking asylum at the border, Democrats cannot give him another dime to wage his war against immigrant families," read a statement from the National Immigration Law Center, Indivisible Project, Southern Border Communities Coalition and United We Dream.
Later, Trump told reporters the meeting with Schumer and Pelosi was "very friendly" and he respects them both. Trump reiterated that he doesn't mind "owning" the issue of shutting down the government for border security.
Reaction to the meeting was predictably split. Sen. Lindsay Graham, R-S.C. applauded Trump for his tough stance.
"Great job sticking to your guns on border security," he tweeted.
Sen. Patrick Leahy, D-Vt., a member of the Senate Appropriations Committee, said a partial shutdown would mean a furlough to over 380,000 federal employees, including Secret Service agents "who have to protect the president at his golf course."
Senate Majority Leader Mitch McConnell told reporters that he still hopes for a "smooth ending' rather than a shutdown.
McConnell, R-Ky., said that no matter who precipitates a shutdown, the American people "don't like it."
Contact Debra J. Saunders at dsaunders@reviewjournal.com or at 202-662-7391. Follow @DebraJSaunders on Twitter. Review-Journal staff writer Gary Martin and the Associated Press contributed to this report.