Trump to push lawmakers to move quickly on GOP tax cut plan
October 23, 2017 - 6:01 pm
Updated October 24, 2017 - 5:43 am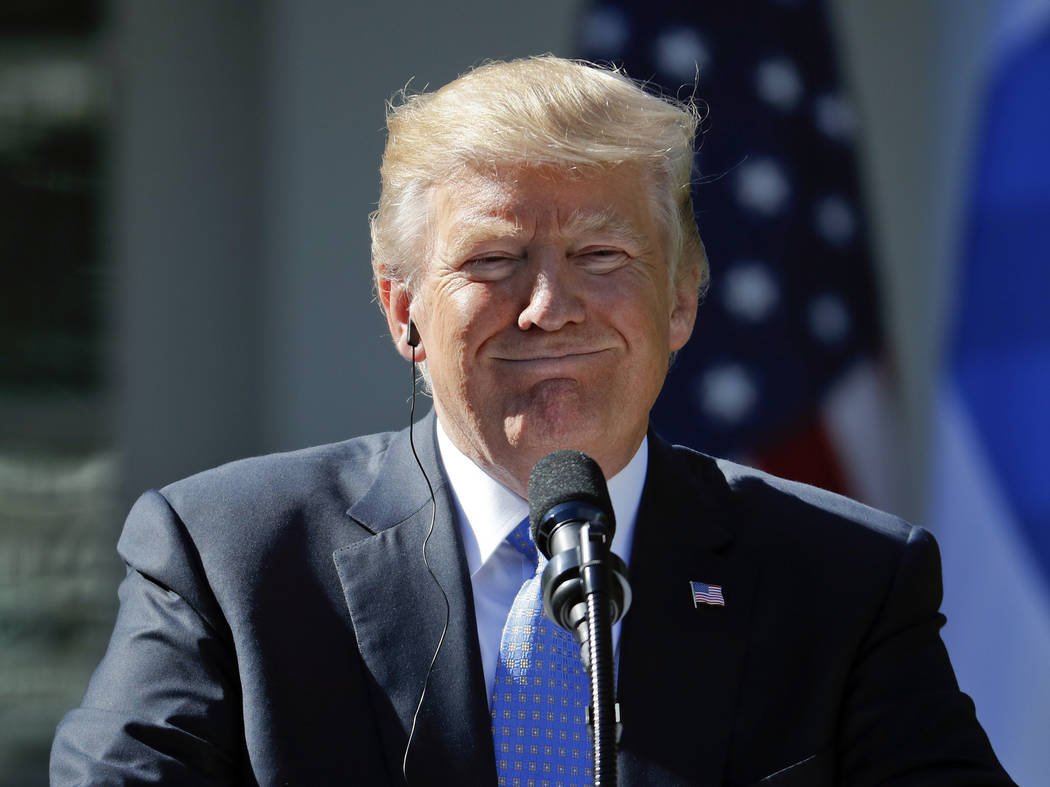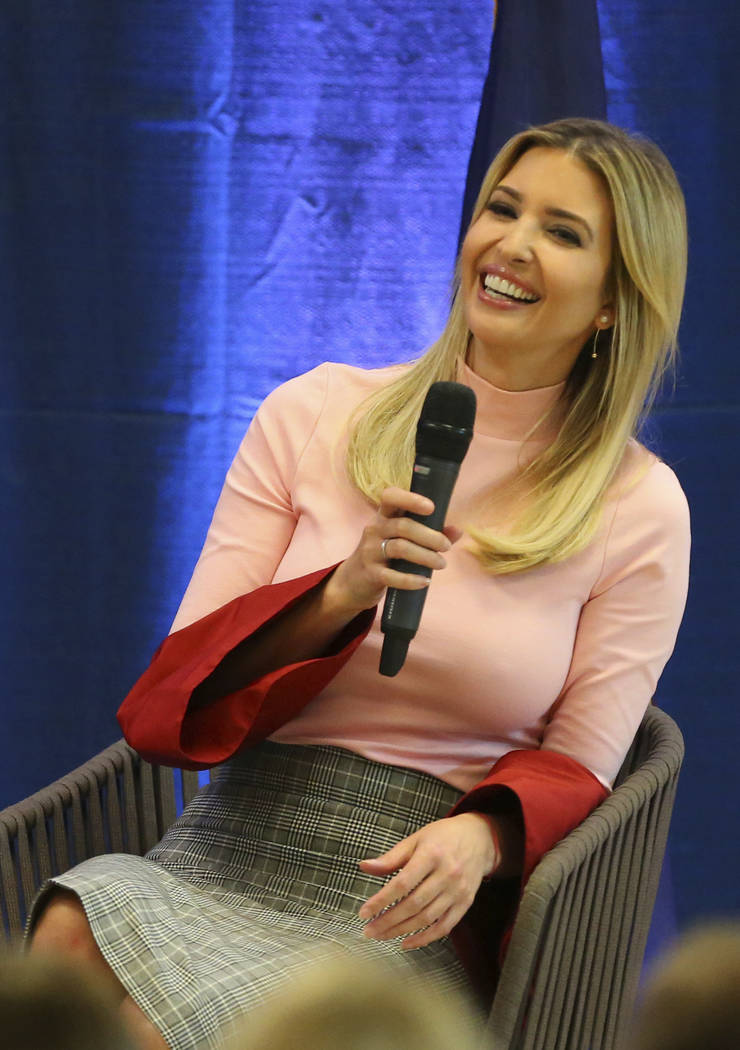 WASHINGTON — For Kevin Hassett, chairman of the White House Council of Economic Advisers, the 1986 Reagan tax cut was a golden moment for economists and tax policy wonks, worthy of celebration.
Hassett wants to create another cause-for-joy experience with President Donald Trump's tax-cut framework, which Hassett believes can boost the average American household's wages by $4,000 a year.
And that's a conservative estimate. According to a report released by the council this month, U.S. householders could see their wages rise as much as $9,000 annually.
On Tuesday, Trump has an opportunity to push lawmakers to produce legislation on his timeline when he dines at the Senate Republican Policy Lunch. Trump is in a hurry; he told Fox Business Networks' Maria Bartiromo he wants Congress to get a measure on his desk before the end of the year.
"Trump has a really strong economic intuition," Hassett told a group of reporters last week.
By cutting the U.S. corporate tax rate from 35 percent — the highest rate in the developed world — to 20 percent, Washington could eliminate a strong incentive for U.S. corporations to move operations abroad. The middle class would benefit, Hassett argued, because corporate expansion within U.S. borders would produce higher wages for American workers.
"We're moving the demand for labor overseas, driving up overseas wages and holding down domestic wages," said Hassett.
The president has prioritized tax reform as his top agenda item. He and other Republican leaders have crafted a proposal calling for steep tax cuts for corporations and potentially individuals, a doubling of the standard deduction used by most Americans, a reduction in the number of tax brackets from seven to three and a repeal of the inheritance taxes on multimillion-dollar estates.
The White House is selling the tax plan foremost as a boon to the middle class. Last week press secretary Sarah Sanders said that, while wealthy earners will benefit from the package, "the priority again remains that middle-class Americans are the ones that are most impacted, and that's where the priority and the focus lies."
Hassett argued that, since cutting corporate taxes would raise household wages, the GOP tax reform also would serve to reduce income inequality.
Former Treasury Secretary Larry Summers and Hassett's Democratic predecessor, Jason Furman, both mocked the White House claim. Summers, who served under President Bill Clinton, wrote in the Washington Post that the $4,000 figure would mean that a $200 billion annual tax cut would produce $600 billion of extra cash for workers.
Furman wrote in the Wall Street Journal that the individual-income tax provisions present "a wash" for the middle class. He agreed that corporate income taxes take a bite out of wages, but he said recent research has found that labor's share of the corporate tax burden ranges "from lower than 25 percent to as high as 50 percent."
Economist Ben Harris, who advised former Vice President Joe Biden, called the question of how much corporate tax cuts filter through to workers a "contentious issue." Referring to the $4,000 figure, Harris said, "Normal people should be skeptical of this claim."
And UNLV economic professor Stephen Brown said, "I think the assumptions are unrealistic." The $4,000 figure, he added, is "ridiculously large."
But economic policy analyst Adam Michel of the right-leaning Heritage Foundation said, "I think that the $4,000 figure is reasonable. Obviously it's not going to start tomorrow."
Michel thinks even an annual wage increase of $9,000 is possible. "Ten years down the road," if the tax code remains competitive and "the economy keeps humming, I don't think that's ridiculous," he said. "But I wouldn't gamble on it."
"It's hard to believe that the corporate tax is so destructive to the economy, but it is."
The GOP tax framework also would collapse the number of tax brackets to three, with income taxed at 12 percent, 25 percent and 35 percent. GOP leaders have yet to release details, such as how much a worker would have to make to graduate from the 25 percent bracket to the 35 percent bracket.
It is not entirely clear if Republicans have the will to eliminate or reduce popular tax deductions — even after they've lowered tax rates.
In response to reports that the GOP plan would cap how much contributions to 401(k) retirement plans could be deducted, Trump tweeted Monday, "There will be NO change to your 401(k). This has always been a great and popular middle class tax break that works, and it stays!"
Contact Debra J. Saunders at dsaunders@reviewjournal.com or 202-662-7391. Follow @DebraJSaunders on Twitter.
Ivanka Trump pushes plan
RICHBORO, Pa. — President Donald Trump's eldest daughter on Monday channeled her roles as a working mother, entrepreneur and senior adviser to the president to help him sell his administration's tax plan.
Ivanka Trump joined U.S. Treasurer Jovita Carranza and former U.S. Rep. Nan Hayworth of New York for an hourlong town hall-style meeting at a senior center outside Philadelphia. During the discussion, she called tax reform "critical" legislation and touted the proposed changes to the tax code as changes that will help everyday Americans.
"There are many elements of this tax plan that I think are squarely targeted at creating jobs and growth in this country and offering relief to our middle-income families," she told the audience. "This is about the recognition that, as a country, we have to have policies that mirror our values. We have to encourage the next generation to be competitive and compassionate. For me, I think this couples together our core values as a country."
The Associated Press