Trump vetoes border wall resolution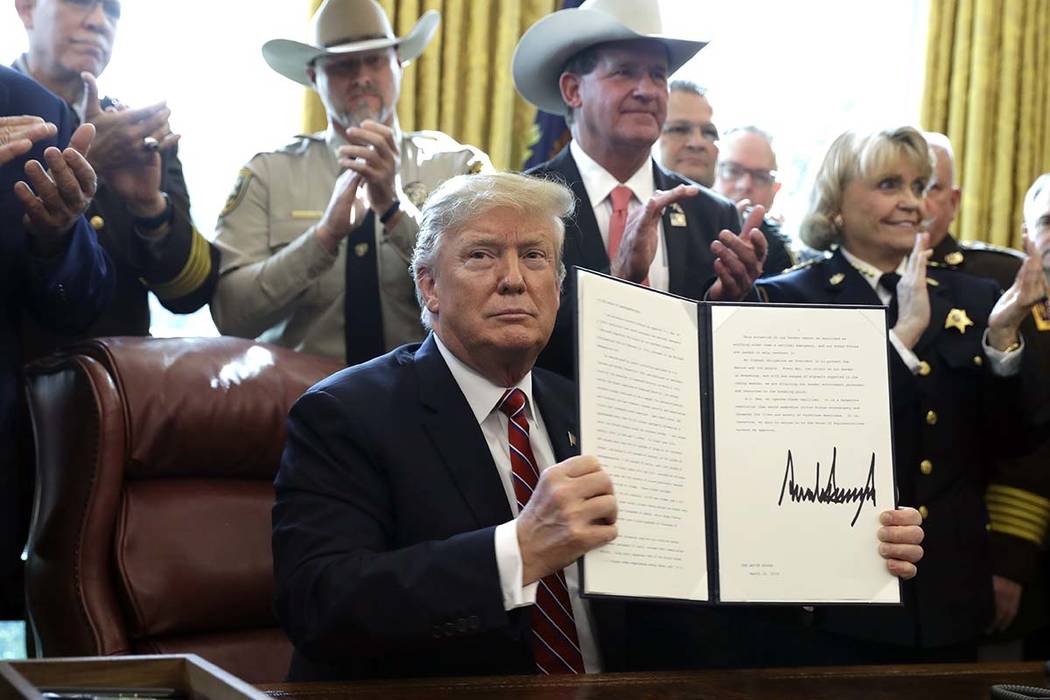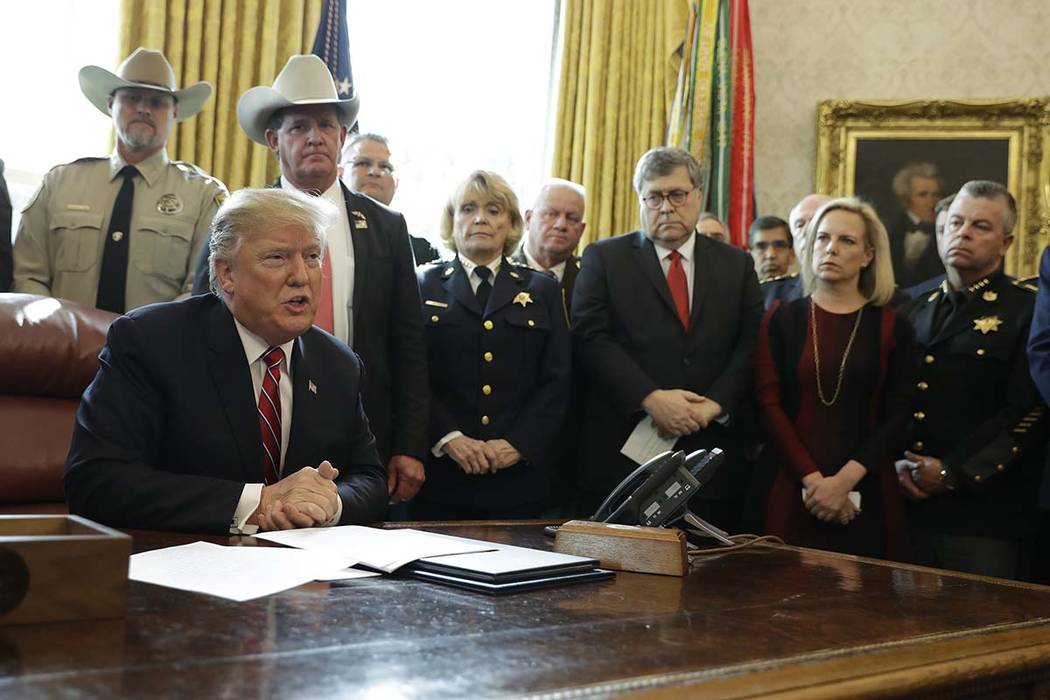 WASHINGTON — President Donald Trump issued his first-ever veto Friday, rejecting a measure to block the national emergency he declared at the Southwest border. Trump framed the measure as a "reckless resolution" and its passage as "a vote against reality."
Neither the Senate nor the House appears to have the votes needed to override the veto.
"Today I am vetoing this resolution. Congress has the freedom to pass this resolution and I have a duty to veto it," said Trump from the Oval Office, flanked by "angel parents" – mothers and fathers whose children were slain by undocumented immigrants. Vice President Mike Pence, members of his Cabinet and law enforcement officials also were in the room.
"I don't know that I've ever been more proud than to be standing next to your desk than I am today," Pence said.
After Trump's veto, House Speaker Nancy Pelosi, D-Calif., announced in a tweet that, "On March 26, the House will once again act to protect our Constitution and our democracy from the President's emergency declaration by holding a vote to override his veto. #FakeEmergency."
Trump's veto was inevitable. Within minutes of the Senate's bipartisan 59-41 vote Thursday for the resolution to terminate his emergency declaration, the president posted a one-word tweet, "VETO!"
For the first time in his presidency, 12 GOP senators opposed Trump, and on a measure to help fund his signature border wall.
While Trump hailed those Republicans who "bravely voted for Border Security" on Twitter Friday, he also showed understanding for Republicans who voted for the resolution.
"They're doing what they have to do," Trump said in response to a question the dozen Republicans, "and I put no pressure on anybody. I actually said, 'I want you to vote your heart."
Trump added that he knew opponents would not get enough GOP votes to override a veto.
"It definitely would indicate that he is losing some of his grip on the party writ large," Mark Harkins, senior fellow at Georgetown University's Government Affairs Institute, told the Review-Journal. "But it's worth noting that only one of the Republican senators who's up for re-election in 2020 voted against him."
That one Republican is Sen. Susan Collins of Maine.
Sen. Thom Tillis, R-S.C., stood out as an opponent to Trump's national emergency, who nonetheless switched to Trump's side in the Senate vote. Tillis had written in the Washington Post that there would be "no intellectual honesty" if Republicans who opposed executive overreach by President Barack Obama sanctioned the practice by Trump.
Asked if Republicans will be more or less likely to oppose Trump in the future, Harkins answered, "It depends on what happens in the next week when they're back home with their constituents." The House and Senate are not in session next week.
"If they get a lot of push back," Republicans will be "more careful opposing the president again. If there's no pushback at all, they'll think,' OK, I can do this.'"
On Feb. 26, the House passed the resolution 245-182 with 13 GOP votes – a majority that, as with the Senate, falls short of the two-thirds threshold needed to override a veto.
Not a single Democrat in the House or Senate voted against the resolution.
Senate Minority Leader Chuck Schumer issued a similar statement.
The event began with a statement by the president to voice solidarity with New Zealand where a mass shooter killed 49 worshippers at two mosques in Christchurch.
When a reporter asked Trump if he thought white nationalism is a rising threat in the world, he responded, "I don't really. I think it's a small group of people that have very, very serious problems."
"I don't know enough about it," Trump added, before he closed, "But it's certainly a terrible thing."
Contact Debra J. Saunders at dsaunders@reviewjournal.com or 202-662-7391. Follow @DebraJSaunders on Twitter.