Trump wants ban on bump stocks like those used in Las Vegas shooting
February 20, 2018 - 1:23 pm
Updated February 20, 2018 - 5:32 pm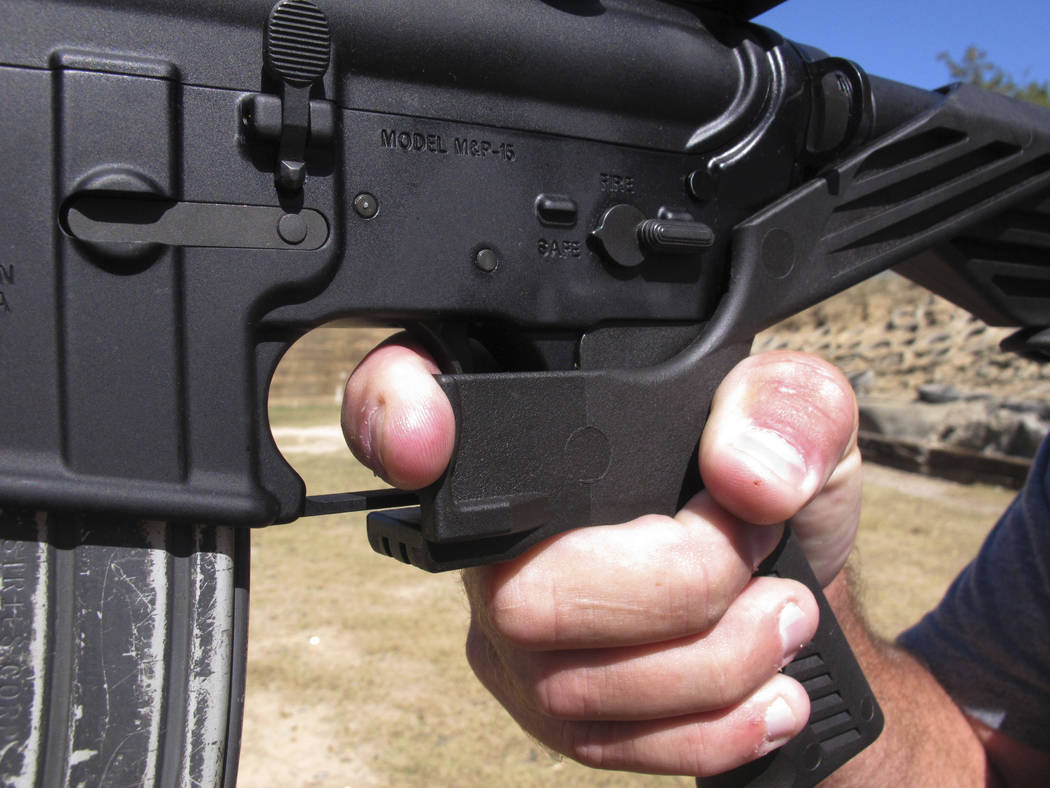 WASHINGTON — President Donald Trump directed the U.S. attorney general Tuesday to craft regulations that would ban "bump stocks" and other devices that accelerate the firepower of legal semi-automatic rifles like those used in the Las Vegas mass shooting.
The president announced the action during a White House event where he addressed the latest school shooting in Florida that left 17 dead last week.
There is no evidence that a bump stock was used in the Florida shooting, but the devices were attached to semi-automatic rifles used in the Oct. 1 shooting in Las Vegas where 58 people died and more than 500 were injured.
Trump said that after the "deadly shooting in Las Vegas," he directed the attorney general to clarify whether certain bump stock devices were illegal under current law.
"A few moments ago, I signed a memorandum directing the attorney general to propose regulations to ban all devices that turn legal weapons into machine guns," Trump told law enforcement and first responders in the White House East Room.
The president's directive comes as pressure mounts for a federal response to mass shootings.
Trump will meet at the White House this week with students, teachers, law enforcement and other state officials on measures to make schools safer and reduce mass shootings.
The nation's governors are meeting with Trump at the White House next week. The National Governors Association is chaired by Nevada Gov. Brian Sandoval.
Students urge action
Following the shooting at Marjory Stoneman Douglas High School in Parkland, Florida, on Feb. 14, Trump said his administration was working to tackle "the difficult issue of mental health."
He also used his Twitter account to blame FBI agents for dedicating time to investigating Russian meddling in the 20016 and failing to act on concerns about Nikolas Cruz, 19, who was arrested and charged in the deaths in the Florida shooting.
But surviving students publicly urged the president and Congress to act on gun control measures to prevent further mass shootings. On Tuesday, students at schools in Florida walked out of class to bring media attention to their demands.
Shannon Watts, founder of Moms Demand Action for Gun Sense in America, which formed after the 2012 Sandy Hook Elementary School mass shooting, said that not only the president, but "Congress remains complacent — and ultimately, complicit — in the wake of tragedy."
Republicans and the nation's gun lobby signaled a shift last October after a lone gunman used his perch in a Mandalay Bay hotel room on the 32nd floor to rain down a hail of bullets into a country music concert in Las Vegas.
The shooter, Stephen Paddock, 64, of Mesquite, Nevada, had installed bump stocks on 12 semi-automatic rifles to enable him to fire 11,000 rounds in a 10-minute period into the crowd of concertgoers, according to congressional testimony.
The Las Vegas shooting ended when Paddock died from a self-inflicted gunshot.
Legislative efforts
Legislation that would ban the devices, co-sponsored by Sen. Catherine Cortez Masto, D-Nev., and Reps. Jacky Rosen and Ruben Kihuen, both Nevada Democrats, was introduced but failed to move through the House and Senate.
Rosen said Tuesday that she welcomed "this long overdue change on bump stocks," and called on Congress to pass a statutory ban "so that these dangerous devices never come back into use."
Sen. Dean Heller, R-Nev., said Nevada continues to mourn the victims of the Las Vegas shooting. He said he is "pleased that the administration is taking action on this important issue."
Immediately following the Strip shooting, Trump urged the Bureau of Alcohol, Tobacco, Firearms and Explosive to review current regulations on the manufacture and sale of bump stocks, a position endorsed by the National Rifle Association, Heller and Rep. Mark Amodei, R-Nev.
The ATF has twice ruled it has no legal authority to ban the devices, which make semiautomatic rifles mimic fully automatic weapons.
Rep. Dina Titus, D-Nev., and Rep. Brian Fitzpatrick, R-Pa., filed a bill that would change the law and give the ATF authority to regulate bump stocks. Instead, the House passed legislation to expand concealed carry of weapons in states.
Titus said she welcomed Trump's comments Tuesday but said she worried they "were more about shaping a narrative than saving lives." She urged the president to support legislation banning or regulating bump stocks.
Other measures
ATF officials have said the review of current bump stock regulation includes more than 100,000 public comments that could take months to complete.
Trump's directive Tuesday urged the Justice Department to dedicate all resources available to complete the ATF review and propose a rule to ban bump stocks on other similar devices.
The president also issued a caveat: "Although I desire swift and decisive action, I remain committed to the rule of law and to the procedures the law prescribes."
Trump also has embraced efforts to bolster federal and state reporting to the FBI system used to perform background checks on gun purchases.
Bipartisan legislation to improve background check reporting was filed following the church shooting in Sutherland Springs, Texas, in November. The Air Force failed to file domestic abuse reports on Devin P. Kelley, which would have prevented his purchase of weapons used in the shooting.
Meanwhile, House Democrats are expected to file a bill next week to restore the assault weapons ban, which would prohibit the sale and transfer of semiautomatic weapons and ammunition clips that hold more than 10 rounds of ammunition.
The bill would ban the AR-15 semiautomatic rifle, used in mass shootings in Florida, Texas, Nevada and Connecticut.
Titus is expected to sign onto the legislation.
The assault weapons ban, enacted by Congress and signed into law by President Bill Clinton in 1994, expired in 2004. Congressional efforts to restore the ban have failed.
Trump said after announcing his directive seeking a ban on bump stocks that "we cannot merely take actions that make us feel like we are making a difference. We must actually make a difference."
Contact Gary Martin at gmartin@reviewjournal.com or 202-662-7390. Follow @garymartindc on Twitter.
RELATED
Las Vegas firm files lawsuit against bump stock manufacturer
Bipartisan bill filed to ban sale, manufacture of bump stocks
Titus, Democrats introduce bill to ban sale of bump stocks
Floridians demand stronger gun control after school shooting
Review-Journal Reporter Roundtable: Parkland Shooting Leaves Many Questions
Trump meets with shooting victims, first responders in Florida
Trump focuses on mental health in speech after Florida school shooting
Presidential Memorandum on the Application of the Definition of Machinegun to "Bump Fire" Stocks and Other Similar Devices
THE WHITE HOUSE
Office of the Press Secretary
FOR IMMEDIATE RELEASE
February 20, 2018
MEMORANDUM FOR THE ATTORNEY GENERAL
SUBJECT: Application of the Definition of Machinegun to "Bump Fire" Stocks and Other Similar Devices
After the deadly mass murder in Las Vegas, Nevada, on October 1, 2017, I asked my Administration to fully review how the Bureau of Alcohol, Tobacco, Firearms and Explosives regulates bump fire stocks and similar devices.
Although the Obama Administration repeatedly concluded that particular bump stock type devices were lawful to purchase and possess, I sought further clarification of the law restricting fully automatic machineguns.
Accordingly, following established legal protocols, the Department of Justice started the process of promulgating a Federal regulation interpreting the definition of "machinegun" under Federal law to clarify whether certain bump stock type devices should be illegal. The Advanced Notice of Proposed Rulemaking was published in the Federal Register on December 26, 2017. Public comment concluded on January 25, 2018, with the Department of Justice receiving over 100,000 comments.
Today, I am directing the Department of Justice to dedicate all available resources to complete the review of the comments received, and, as expeditiously as possible, to propose for notice and comment a rule banning all devices that turn legal weapons into machineguns.
Although I desire swift and decisive action, I remain committed to the rule of law and to the procedures the law prescribes. Doing this the right way will ensure that the resulting regulation is workable and effective and leaves no loopholes for criminals to exploit. I would ask that you keep me regularly apprised of your progress.
You are authorized and directed to publish this memorandum in the Federal Register.
DONALD J. TRUMP