Trump warns North Korea US is 'locked and loaded'
August 11, 2017 - 8:14 am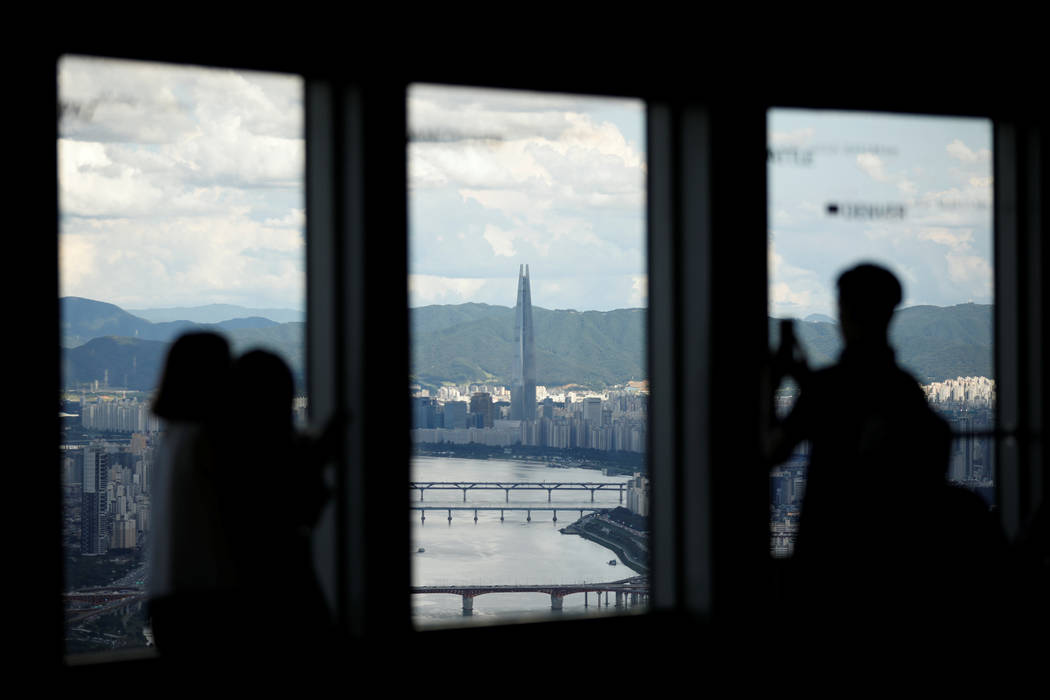 BEDMINSTER, N.J./BEIJING — President Donald Trump issued a new threat to North Korea on Friday, saying what he called U.S. military solutions were "locked and loaded" as Pyongyang accused him of driving the Korean peninsula to the brink of nuclear war.
Russia, China and Germany expressed alarm at the escalating rhetoric from Pyongyang and Washington, while the Pentagon said the United States and South Korea would move ahead as planned with a joint military exercise in 10 days, an action sure to further antagonize North Korea.
Trump, vacationing at his Bedminster, New Jersey, golf resort, kept up the war of words on Twitter and again referenced North Korea's leader. "Military solutions are now fully in place, locked and loaded, should North Korea act unwisely," he wrote. "Hopefully Kim Jong Un will find another path!"
The term "locked and loaded," popularized in the 1949 war film "Sands of Iwo Jima" starring American actor John Wayne, refers to preparations for shooting a gun.
The Republican president's tweet came shortly after the North Korean state news agency, KCNA, put out a statement blaming him for the boiling tensions.
"Trump is driving the situation on the Korean peninsula to the brink of a nuclear war, making such outcries as 'the U.S. will not rule out a war against the DPRK (North Korea),'" KCNA said.
A senior U.S. diplomat has engaged in back-channel diplomacy with North Korea for several months, addressing the deteriorating relations, as well as the issue of Americans imprisoned in North Korea, the Associated Press reported.
The contacts are being held regularly between Joseph Yun, the U.S. envoy for North Korea policy, and Pak Song Il, a senior North Korean diplomat at Pyongyang's U.N. mission, according to U.S. officials and others briefed on the process cited by the AP.
The North Korean mission to the United Nations did not immediately respond to a Reuters request for comment.
Russia-China plan
In Moscow, Russian Foreign Minister Sergei Lavrov urged Pyongyang and Washington to sign up to a previously unveiled joint Russian-Chinese plan under which North Korea would freeze missile tests and the United States and South Korea would impose a moratorium on large-scale military exercises. Neither the United States nor North Korea has embraced the plan.
Lavrov said the risks of a military conflict over North Korea's nuclear program are very high and Moscow is deeply worried by the threats from Washington and Pyongyang.
"Unfortunately, the rhetoric in Washington and Pyongyang is now starting to go over the top," Lavrov said. "We still hope and believe that common sense will prevail.
"The side that is stronger and cleverer" should take the first step to defuse the crisis, Lavrov said on live state television at a forum for Russian students.
Tension in the region has risen since reclusive North Korea staged two nuclear bomb tests last year and launched two intercontinental ballistic missile tests in July in defiance of world powers. Trump has said he would not allow Pyongyang to develop a nuclear weapon capable of hitting the United States.
KCNA said on Thursday the North Korean army would complete plans in mid-August to fire four intermediate-range missiles over Japan to land in the sea 18 to 25 miles (30-40 km) from Guam. The U.S. Pacific island territory is home to a strategically located U.S. air base, a Navy installation, a Coast Guard group and roughly 6,000 U.S. military personnel.
Friday's comments followed days of incendiary rhetoric, including Trump's warning on Tuesday that the United States would unleash "fire and fury" on Pyongyang if it threatened the United States and Thursday's comments warning of grave consequences if North Korea carried out it Guam plans.
The annual joint U.S.-South Korean military exercise, called Ulchi-Freedom Guardian, is expected to go ahead as scheduled and will start on Aug. 21, said Lieutenant Colonel Christopher Logan, a Pentagon spokesman.
U.S. financial markets took the rhetorical escalation in stride on Friday even as European and Asian markets weakened in a catch-up reaction to Thursday's drop. The U.S. S&P 500 stock index stabilized after a drubbing the day before to rise 0.37 percent in early Friday trade.
Merkel pushes U.N. role
German Chancellor Angela Merkel said there is no military solution to the dispute, adding that "an escalation of the rhetoric is the wrong answer."
"I see the need for enduring work at the U.N. Security Council … as well as tight cooperation between the countries involved, especially the U.S. and China," Merkel told reporters in Berlin.
As of late Thursday, two U.S. officials said the threat with regards to North Korea had not changed, additional assets were not being moved into the region and intelligence did not show indications of North Korea preparing a missile launch.
Chairman of Joint Chiefs of Staff Joseph Dunford left Washington on Thursday to visit Japan, China and South Korea. The trip has been long planned and the issue of North Korea is likely to be a priority, officials said.
China's Foreign Ministry called on all sides to speak and act with caution. It said China, North Korea's most important ally and trading partner, hopes all sides can do more to help ease the crisis and increase mutual trust, rather than taking turns in shows of strength. Trump again urged China to do more to resolve the situation.
A Chinese state-run newspaper said on Friday that China should remain neutral if North Korea launches an attack that threatens the United States, sounding a warning for Pyongyang over its plans to fire missiles near Guam.
U.S. allies in the region have reacted with alarm to Trump's comments this week and senior U.S. officials scrambled to play down his remarks. But Trump amplified the warning on Thursday, saying maybe his "fire and fury" threat "wasn't tough enough." U.S. Defense Secretary James Mattis later sought to temper Trump's harsh words by saying the United States still preferred a diplomatic approach to the North Korean threat. A war would be "catastrophic," he said.
Asked if the United States was prepared to handle a hostile act by North Korea, Mattis said: "We are ready."
The United States and South Korea remain technically at war with North Korea after the 1950-53 Korean conflict ended with a truce, not a peace treaty.