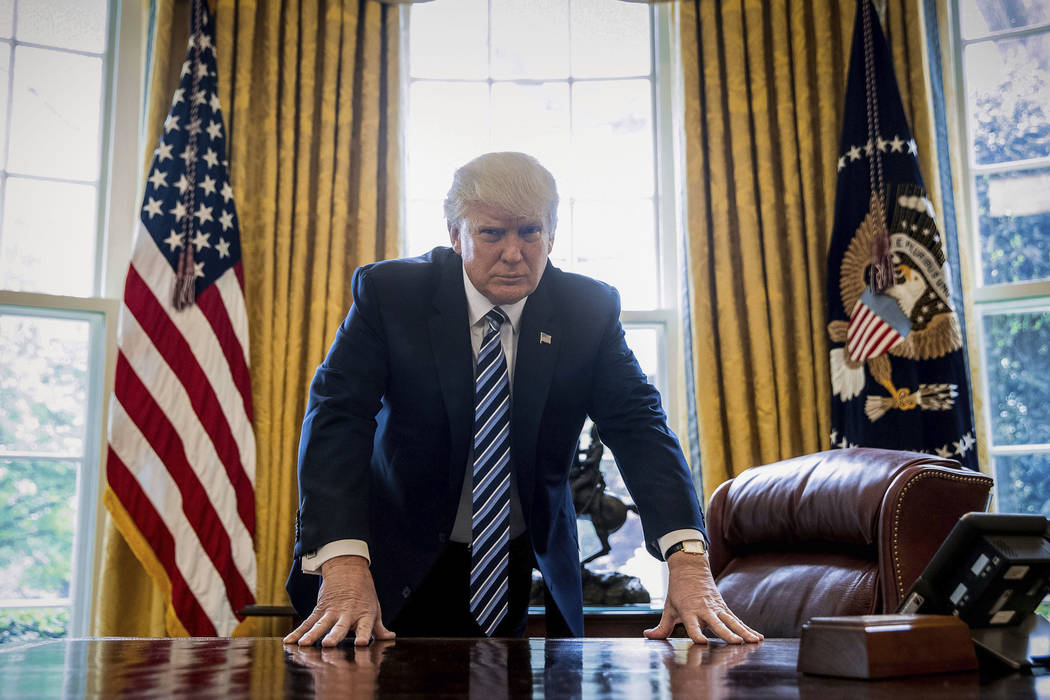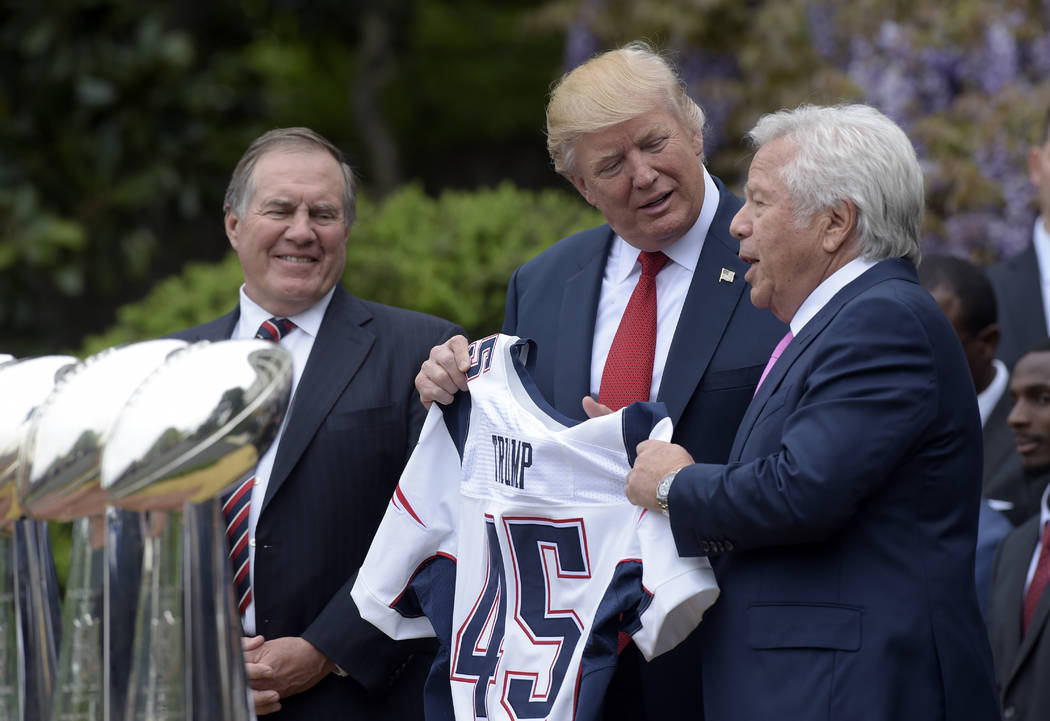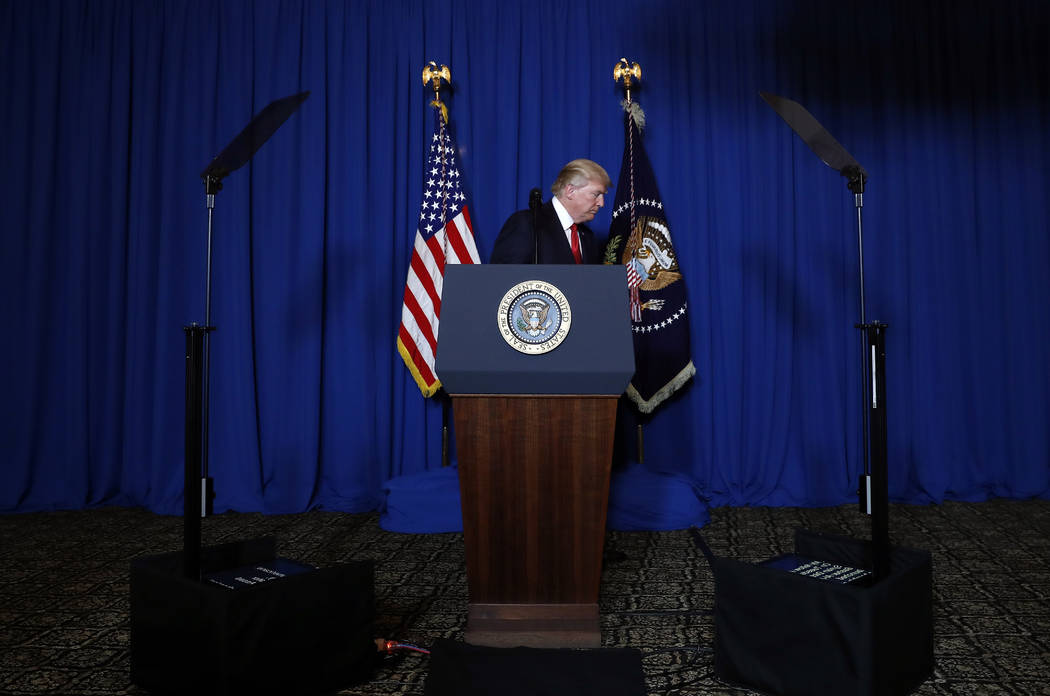 WASHINGTON — Right up to the final days and into the eve of the 100 day milestone, President Donald Trump governed and sought to implement his agenda with a showman's talent and an uncanny ability to defy expectations.
In the final week of his first 100 days, observers had many questions: Would there be a government shutdown on the 100th day? There will not; Congress passed a spending bill on Day 99. Could House Republicans squeak through a bill to repeal and replace Obamacare before week's end? No. House Speaker Paul Ryan admitted Thursday that he did not have the votes. What new ideas, tweets and pronouncements would the mercurial president offer up to an exhausted White House press corps?
Even his critics would agree on Trump's biggest accomplishments: filling a Supreme Court seat, assuring world leaders he would use force when necessary in Syria and Afghanistan and wielding executive orders to cut regulations and fulfill campaign promises.
Getting Justice Neil Gorsuch on the U.S. Supreme Court allowed Trump to keep a big campaign promise and solidified his standing with his base. The choice also helped Trump with Republicans who were tentative about the president's conservative credentials and lack of government experience. It was a top priority for these Trump voters to keep the 5-4 balance in favor of Republican-appointed justices.
Without Gorsuch, former Republican California Gov. Pete Wilson said, "we might have lost the Constitution for 40 years." If Hillary Clinton had won in November, he said, vacancies would have been filled by jurists who interpret the Constitution through the lens of liberal politics.
The close 54-45 Senate vote on Gorsuch, however, with only three Democrats voting to confirm a nominee who was widely recognized as capable, revealed how hard Trump has made it for Democrats to support him. Right after Sen. Joe Donnelly, D-Ind., voted for Gorsuch, the liberal Daily Kos announced a campaign to find a Democratic challenger to punish Donnelly for his "spineless" vote. Others targeted Sen. Joe Manchin of West Virginia and Heidi Heitkamp of North Dakota.
Flexing military power
When Syria gassed its own people in an attack that left at least 70 dead, including children, Trump authorized a Tomahawk missile attack on a Syrian air base. The message to Syrian President Bashar Assad was clear: Trump has the will to enforce former President Barack Obama's red line against the use of chemical weapons.
The April 6 strike was a game-changer. During the 2016 campaign, Trump had criticized what he called President George W. Bush's interventionism and Obama's failure to project military strength. James Carafano, a senior fellow at the conservative Heritage Foundation, said the Syrian strike showed that Trump would not let his preference for limiting America's military footprint in the Middle East keep him from using air power.
The previous administration's take was, "Oh, my God, a bad thing might happen if we drop a bomb," said Carafano, who was also a member of the Trump transition team. With Trump as commander-in-chief, that's over, he said.
The strike's timing could not have worked better for Trump, who had invited Chinese President Xi Jinping to Mar-a-Lago for a long weekend. Over what Trump described as "the most beautiful piece of chocolate cake that you've ever seen," Trump told Xi about the strike as he sought Beijing's help in checking North Korea's nuclear ambitions.
The Syrian strike also poured cold water on the argument that Trump would be a tool for Assad's protector, Russian President Vladimir Putin.
"Clearly a new sheriff is in town as relates to Putin," Wilson noted.
When the United States dropped the mother of all bombs on an ISIS tunnel in Afghanistan on April 13, Trump's readiness to use one of the country's largest non-nuclear devices to defeat America's enemies also sent a message to North Korean leader Kim Jong-un.
Charm offensive
While candidate Trump promised to be tough with American allies, as president he has rolled out the welcome mat for a series of world leaders starting with British Prime Minister Theresa May. Since German Chancellor Angela Merkel visited the White House, the two have talked frequently on the phone. And when NATO Secretary General Jens Stoltenberg visited, Trump said that while he used to say NATO "was obsolete, it's no longer obsolete."
Critics predicted frosty relations between Muslim leaders and Trump after his botched rollout of a travel ban on individuals from Muslim-majority countries. Yet Trump had successful meetings with King Abdullah of Jordan and Egyptian President Abdel-Fattah el-Sissi, who engineered the release of an American humanitarian worker and her husband at Trump's request. Middle Eastern leaders "love this guy," Carafano said. Their most frequent complaint, he added, is: "We just wish we had more people to talk to."
That is a reference to Trump's infamous staffing shortage. Secretary of State Rex Tillerson has nearly 200 jobs to fill in his department — and seems in no hurry to do so.
Former Congresswoman and Obama State Department undersecretary Ellen Tauscher noted that during the campaign, Trump promised to hire the smartest people, but instead "he doesn't have anybody."
Leaner government
In his first months in office, Trump signed a series of executive orders likely to change the size and scope of the federal government. Susan Dudley, director of the George Washington University Regulatory Studies Center, credits Trump for signing executive orders to reduce regulations, including an order that requires the government to remove two regulations for every new regulation it creates.
"For the first time, there's a restraint on the accumulation of regulations," Dudley noted at a Heritage Foundation symposium on Trump's first 100 days.
One order directed agencies to set up task forces to alleviate unnecessary regulatory burdens. "Agencies always have a staff looking for new areas to regulate," Dudley noted. "This is the first time agencies will have someone to look to do less."
Trump also used his executive power to approve the Keystone and Dakota Access pipelines and announce America's withdrawal from the Trans-Pacific Partnership.
As a candidate, Trump set out a 100-day agenda, most of which has not been fulfilled.
"As a political scientist, I never took that seriously," said University of Nevada, Las Vegas political science professor John Tuman. "I don't know that his supporters did" either.
Tuman sees the Trump record as a mixed bag, with most progress in nonlegislative areas. In his first effort to work with Congress, Trump failed to garner enough votes in the Republican-controlled House to pass his American Health Care Act, which was meant to repeal and replace Obamacare. "It wasn't too surprising," Tuman noted.
"Nobody knew that health care could be so complicated," Trump concluded.
House Minority Leader Nancy Pelosi chalked up the health bill's dramatic demise to a "rookie" mistake. "You don't find a day and say we're going to pass a bill," she said.
Lahnee Chen, a former aide to President George W. Bush who is now a fellow at the Hoover Institution, is impressed that Trump still is fighting to pass a measure this year, and Chen thinks it is likely to happen. During the last frantic week, Speaker Ryan negotiated with the conservative rump House Freedom Caucus, but could not reach the 216 vote threshold.
The inability to pass a measure on which Republicans have campaigned furiously over the years does not bode well for Trump's other big legislative initiatives: tax reform and infrastructure.
Can Trump deal with Democrats? "I think he will when there's an issue where he decides he needs their help," said Chen.
Trump also failed to deliver on his promise to begin building a wall on the border with Mexico — and get Mexico to pay for it. But Trump can boast that illegal border crossings are down 61 percent, a claim judged "mostly true" by PolitiFact, to their lowest number in 17 years.
"He's created the impression that he's serious about protecting the border and ramping up enforcement," observed Tuman.
Choppy beginning
Trump's first weeks in office were filled with drama and resistance. In his inaugural speech, the new president took on the entire Washington establishment when he said, "For too long, a small group in our nation's capital has repeated the rewards of government while the people have borne the cost."
In his first full week in office, Trump issued a travel ban on individuals from seven Muslim-majority countries that was followed by protests at American airports and a judge's decision to halt the order.
Trump later issued a more carefully drafted measure, but other judges swooped in to halt that as well.
A San Francisco federal judge also has overturned Trump's move to withhold federal funding to targeted sanctuary cities, including Las Vegas.
As the 100-day milestone loomed, the White House worked furiously to project the appearance of progress. On Wednesday, the White House produced a one-page proposal on tax reform with promised middle-class and corporate tax cuts.
On Thursday, Trump tweeted that rather than work to terminate NAFTA, he was ready to renegotiate the trade agreement. On Friday, Trump became the first sitting president since Ronald Reagan to address the National Rifle Association, as he walked through critics who ridiculed the notion that he could never win 270 electoral votes.
"We ended up with 306," Trump quipped, "so they were right."
Few things delight this president more than defying expectations.
Contact Debra J. Saunders at dsaunders@reviewjournal.com or at 202-662-7391. Follow @DebraJSaunders on Twitter.
A previous version of this story included an incorrect vote tally for Neil Gorsuch's confirmation.
The Trump bump
The stock market and economy have been on a roll since Donald Trump won the November election:
—In the first quarter, the Standard & Poor's 500 index rose 5.5 percent to more than 2,232 points.
—In January, the Dow Jones Industrial average broke 20,000 for the first time and this week the Nasdaq broke 6,000.
—In March, consumer confidence hit a 16-year high.