US cities, states uniting to achieve Paris climate goals
The bipartisan coalition of cities and states who are committed to meeting the goals of the Paris Climate Agreement is growing.
Massachusetts Republican Gov. Charlie Baker said Friday he decided to partner with other states to combat climate change after speaking with Vermont Republican Gov. Phil Scott and New York Democratic Gov. Andrew Cuomo.
The move came a day after Republican President Donald Trump announced he is withdrawing the United States from the agreement, a pact involving nearly 200 nations aimed at slowing the warming of the planet.
Baker said Massachusetts will continue its commitment to exceed the emission reduction targets of the Paris compact. In 2008, Massachusetts lawmakers passed a law requiring the state to reduce its carbon emissions by at least 80 percent below 1990 levels by 2050.
"Our administration looks forward to continued, bipartisan collaboration with other states to protect the environment, grow the economy and deliver a brighter future to the next generation," Baker said in a statement.
Baker — who didn't support Trump during last year's campaign and didn't vote for him — said he didn't think Trump's decision to withdraw from the agreement was the right thing for the country or the world.
Scott said Friday that Vermont also is joining the U.S. Climate Alliance to uphold the Paris climate agreement, which was started by the Democratic governors of California, New York and Washington.
Baker and Scott last month urged Trump to continue the U.S. commitment to the climate agreement. The two wrote a letter to Energy Secretary Rick Perry saying that maintaining the commitment to the agreement and to U.S. leadership on climate change will help protect future generations.
Connecticut Gov. Dannel P. Malloy and Rhode Island Gov. Gina Raimondo — both Democrats — also are joining the alliance.
Trump formally announced his decision to leave the historic international agreement Thursday after promising to take the action during last year's campaign. He criticized the pact as a job-killer that put the United States at an unfair advantage.
It may be years before the country can formally exit the deal, but Trump said he'll immediately halt implementation. He said he would consider re-entry if the U.S. could get a better deal.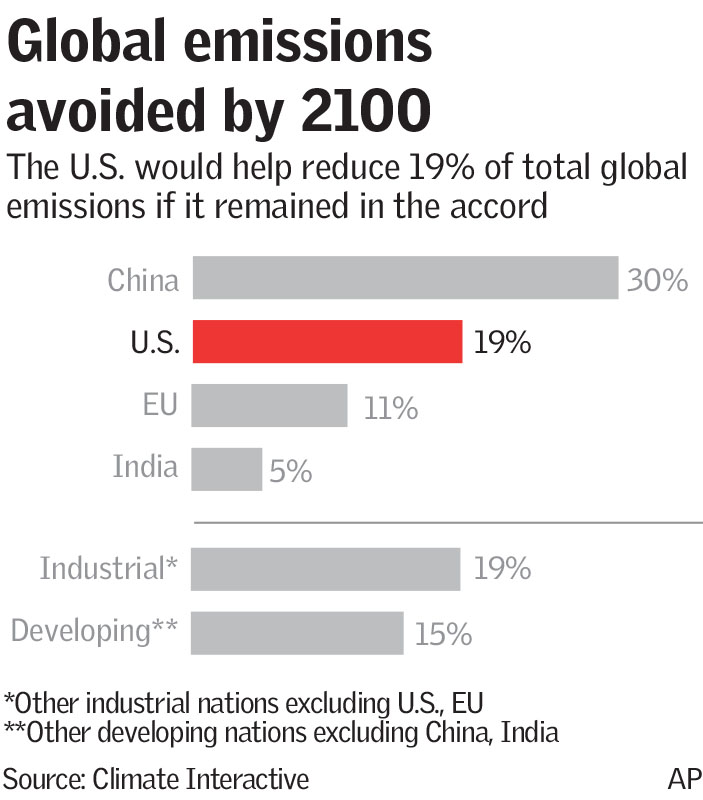 Pittsburgh mayor calls Trump's move 'reckless'
Pittsburgh Mayor Bill Peduto has reaffirmed his city's commitment to the 2015 Paris accord and called the president's move "reckless" and "unacceptable."
In his Thursday annoucement, Trump declared that he was "elected to represent the citizens of Pittsburgh, not Paris."
Pittsburgh's mayor issued an executive order Friday committing the city to the accord by continuing efforts to end the use of landfills, reduce energy consumption by half and develop a fossil fuel-free fleet of city vehicles.
"Pittsburgh and other cities know that fighting climate change will not only save our planet, but save lives," Peduto said in a statement. "The president has made America weaker and the world less safe. … In Pittsburgh, we've rebuilt our economy on the future and our people, not on the past."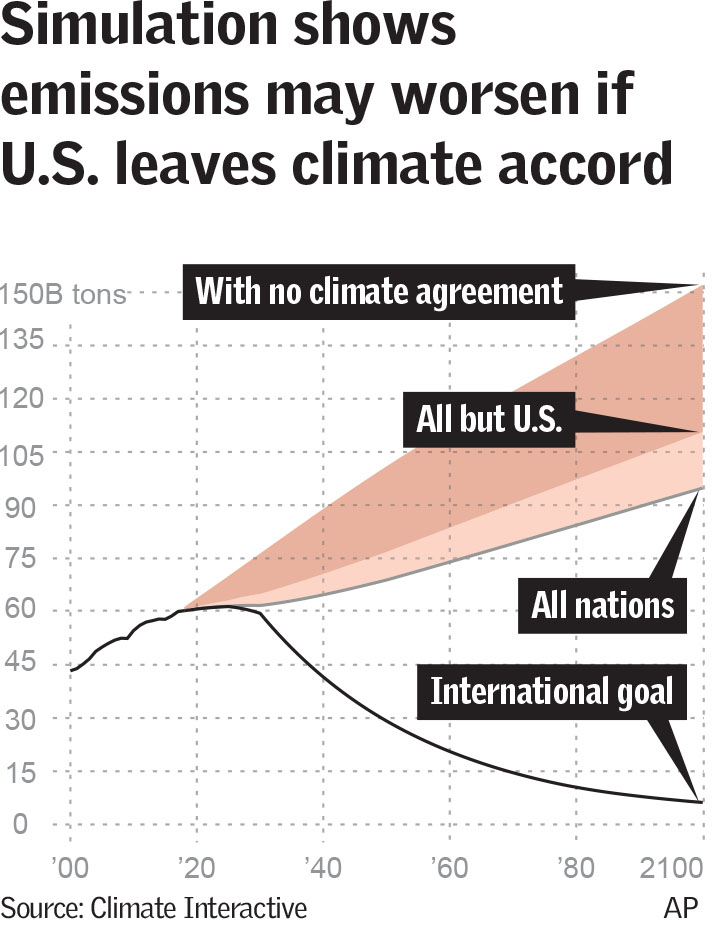 Political ramifications
Peduto and other mayors and governors, Democratic and Republican, have declared that they will pursue the U.S. climate goals with or without the federal government.
And according to Gene Karpinski, president of the League of Conservation Voters, Trump has already been a force pushing Democratic candidates further to the left on the environment in gubernatorial races this year in New Jersey and Virginia, an effect that he expects will only intensify in 2018 and 2020.
"They know this is a critical issue for voters, and they're competing to see how green they can be," Karpinski said. "I think the decision underscores even more, when you look at the 2020 election, what's truly at stake in terms of whether we're going to be going forward or backward."
— The Washington Post contributed to this story
Goodman, legislator talk climate awareness
Las Vegas Mayor Carolyn Goodman issued a statement Thursday after President Donald Trump announced his decision to pull the U.S. out of the Paris climate agreement, but she didn't directly address the move.
Goodman noted that the U.S. Conference of Mayors gave Las Vegas a first-place climate protection award last year.
"Climate awareness remains a top priority," Goodman said.
Assemblyman Chris Brooks, D-Las Vegas, a strong green energy advocate in the Nevada Legislature, praised the moves of governors in other states to form the U.S. Climate Alliance.
"If anyone's looking for a NV elected official to join, count me in," Brooks tweeted late Thursday.
— Las Vegas Review-Journal
California climate debate heats up as Brown leaves for China
Gov. Jerry Brown is promoting California's cap-and-trade program to combat climate change on the national and global stage. But even in one of the nation's most Democratic states, he's struggling to convince lawmakers to keep it alive.
Despite broad support for extending the program, the Democratic governor is seeking to bridge a divide between lawmakers who want to take it further and others who worry about the costs. He's racing to extend the program this month.
Hours before Brown left Friday to promote climate policies in China, the state Assembly rejected a bill that would have continued cap and trade for another 10 years while adding new limits on air pollution in heavily polluted areas.
Cap and trade puts a limit on the state's total annual emissions from certain sources. Businesses that pollute can buy permits allowing them to release greenhouse gases. By putting a price on carbon, the program is designed to create incentives for firms to reduce their emissions while raising money for green technology research and mitigation of global warming effects.
Brown has called for lawmakers to extend it with a two-thirds vote, which would insulate it from legal challenges. Democrats have enough votes to do that on their own, but disagreement among them makes it unlikely.
— The Associated Press