Utah Sen. Orrin Hatch, Rep. Bill Shuster won't run for re-election
January 2, 2018 - 11:28 am
Updated January 2, 2018 - 5:09 pm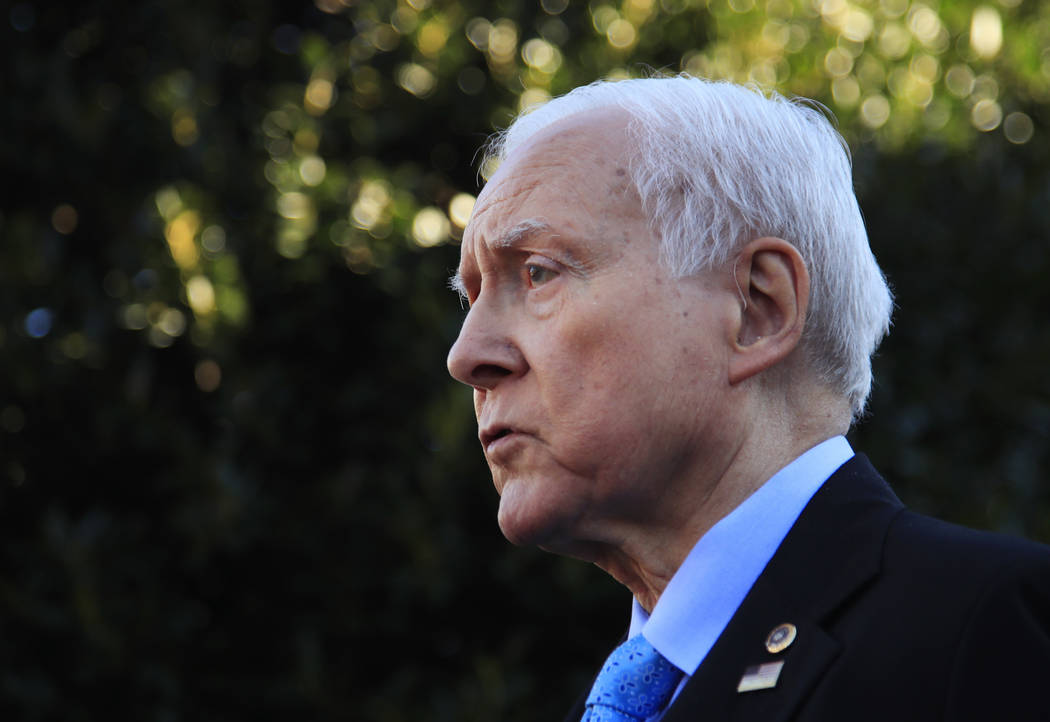 WASHINGTON — Sen. Orrin Hatch of Utah and Rep. Bill Shuster of Pennsylvania joined the exodus of Republican members of Congress Tuesday.
Hatch, the longest serving GOP senator, and Shuster, the powerful chairman of the House Transportation Committee, both announced they would not seek re-election this year.
Hatch's decision was seen as a loss for President Donald Trump who had been lobbying Hatch to run for re-election amid talk that Mitt Romney, the GOP nominee for president in 2012, would seek the seat if Hatch retired.
Of late, Trump and Hatch have served as a mutual admiration society of two. The president flew Hatch with him on Air Force One to announce his decision to downsize two Utah national monuments. Hatch gushed about Trump producing "the greatest presidency we have seen" at a South Lawn celebration of Congress' passage of a massive tax-cut bill.
In the last few years, Romney has swung from support for to withering criticism of Trump, who endorsed Romney in Las Vegas in 2012. Romney appeared at the Trump endorsement, acknowledging that there are things "you can't imagine happening in your life, and this is one of them."
As Trump closed in on the 2016 GOP nomination in March 2016, Romney savaged his one-time backer. "Trump is a phony, a fraud," Romney said then. "His promises are as worthless as a degree from Trump University."
After Trump won, however, Romney flirted with joining Trump's administration as Secretary of State. After a high profile dinner of frog's legs in Manhattan, Romney told reporters he found Trump intriguing and engaging.
Romney issued a statement on Facebook that praised Hatch for his service, but left his own future for a later day. If Romney throws his hat in the ring, he would be expected to win the primary and general election.
Sensible and moderate
Democratic strategist Maria Cardona welcomed the news. "If Mitt Romney gets elected," she said, "he will be a much more sensible and moderate voice in a political windstorm that we have seen in a year in which extremism has been the rule instead of the exception."
Sensible and moderate are not adjectives Democrats generally used for Romney in 2012. "When Democrats think of Mitt Romney and they get a warm fuzzy, you know that things are crazy," Cardona admitted.
The Salt Lake Tribune ran a Christmas Day editorial that saluted Hatch as the "Utahn of the Year" only to slam Hatch for considering re-election. The editorial argued that after 42 years in the Senate, Hatch had served longer than three-fifths of the state's population has been alive.
"The last time the senator was up for re-election, in 2012, he promised that it would be his last campaign," the editorial added – a gambit that prodded rivals to "stand down, to let the elder statesman have his victory tour and to prepare to run for an open seat in 2018."
In a video announcing his retirement, Hatch observed, "Only in a nation like ours could someone like me, the scrappy son of a simple carpenter, grow up to become a simple senator." But as a one-time amateur boxer, he offered, "every good fighter knows when to hang up the gloves."
For Hoover Institution senior fellow Bill Whalen, the next question is, "Does Mitt Romney become the most hated man in the Senate for Donald Trump in 2019?"
Shuster's focus
Shuster told the Washington Examiner he decided to focus on passing a Trump-directed massive infrastructure bill "to rebuild America" rather than divide his time on legislating and running for re-election.
"I thought it was the best decision for me to focus 100 percent on my final year as the chairman of the Transportation Committee, working with the president and other Democrats and Republicans to pass an infrastructure bill, which is much needed to rebuild America," Shuster said.
Shuster's retirement puts the number of House Republicans retiring or running for other offices at 33, compared to 16 Democrats, according to the House Press Gallery.
In addition to Hatch, Sens. Jeff Flake, R-Ariz., and Bob Corker, R-Tenn., have announced they will not run for re-election this year.
"It's not surprising," Cardona noted. "2018 is shaping up to be a very tough year for Republicans."
Congress is unpopular, the GOP has low approval ratings, and the possibility of a challenge from the party's right could scare off "Republican who don't want to deal with a possible shellacking," she said.
"Sensible moderate Republicans," Cardona offered, have to worry about challenges pushed by the likes of Steve Bannon, Trump's former chief strategist in a "campaign at which everything is thrown at them. I'm not surprised they are thinking of retiring than face that."
Geoffrey Skelley, associate editor of Larry Sabato's Crystal Ball at the University of Virginia's Center for Politics, thinks it is a mistake to make too big a deal of the Hatch and Shuster announcements. Polling evidence showed Utah voters preferred that Hatch not run again. Shuster, who was first elected in 2001, nearly lost the GOP primary in 2016.
Still, Skelley said he wasn't shocked by the number of GOP retirement announcements "based on some of the things you hear."
Through 2017, Whalen noted, GOP incumbents had to play a balancing act on a daily basis, during which they had to ask themselves if they wanted to support Trump or distance themselves from him. If Republicans in 2018 "can show some semblance of order and unity," then more may decide to stay, Whalen said.
Skelley notes that the normal season for retirement announcements ends in March.
Contact Debra J. Saunders at dsaunders@reviewjournal.com or 202-662-7391. Follow @DebraJSaunders on Twitter.