'We're toast,' Nevada Republican elector wrote before Jan. 6 rally
Updated January 5, 2023 - 7:37 pm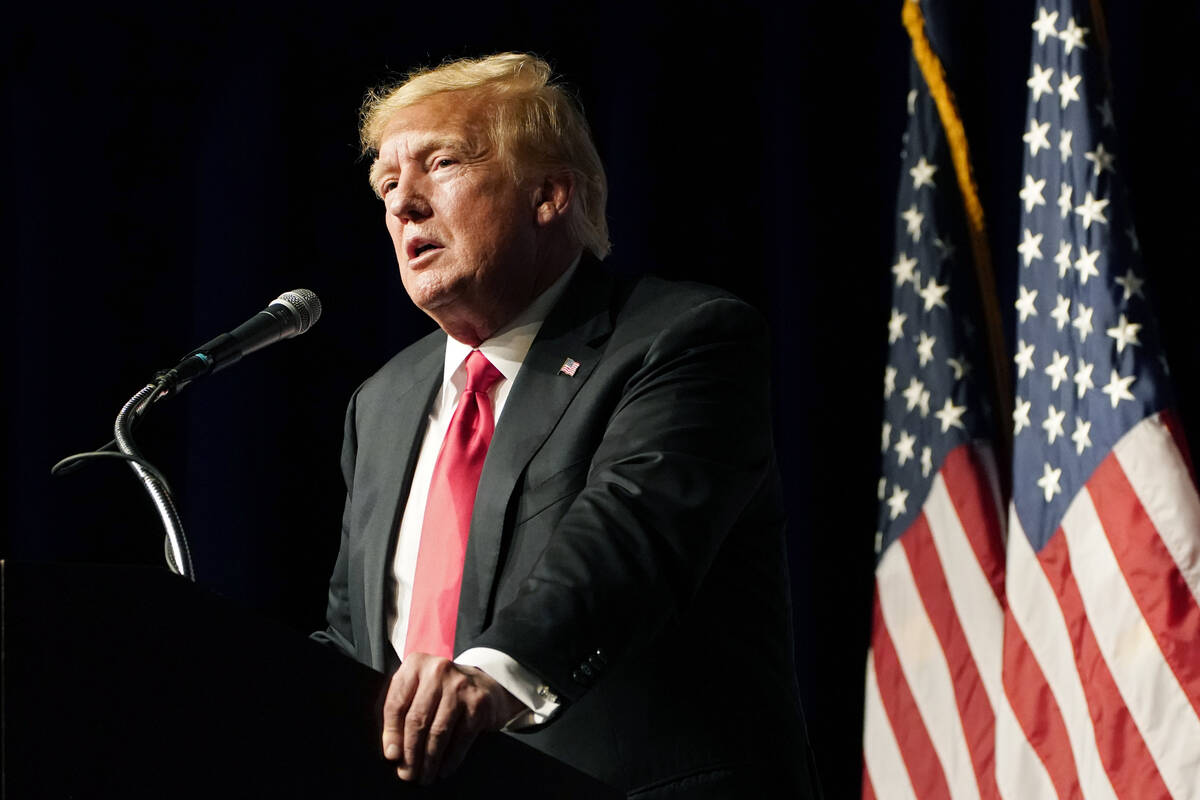 Text exchanges between two of Nevada's Republican electors who signed fake electoral certificates declaring President Donald Trump the winner in 2020 reveal a roller coaster of emotions.
The U.S. House select committee appointed to investigate the Jan. 6, 2021, attack on the Capitol released text messages between Nevada National Committeeman James DeGraffenreid and Shawn Meehan, who were two of six Republican electors in Nevada who signed a certificate of ascertainment declaring Trump the winner of Nevada — despite his losing the popular vote to Biden by about 30,000 votes and the real Nevada electors sending the official certificates declaring Biden the winner.
The text exchanges show the coordinated plans between the Trump campaign and Republicans in other battleground states to send certificates that could be used in Congress to certify the votes in favor of Trump on Jan. 6, 2021, rather than Biden.
But as those plans fell apart with failed lawsuits and Vice President Mike Pence's refusal to use those certificates, the text messages expressed doubts that Trump would remain in power.
"(The) Trump campaign is pushing this 6 Jan. DC rally, for WHAT?" Meehan texted DeGraffenreid on Dec. 28, 2020. "To payoff campaign debts? Seems unless some surprise lawsuit happens and wins we're toast."
"The entire situation sucks," DeGraffenreid texted Meehan. "We see very clearly what (is) being done, yet at every turn we are blockaded from putting the facts out in public."
DeGraffenreid and Meehan did not return multiple requests for comment from the Las Vegas Review-Journal on Wednesday.
'The case is strong'
The Jan. 6 committee argued during its hearings that Trump knew he lost the election and was told by multiple staff to concede, yet he continued to try to overturn the election results, leading to the disillusionment of his supporters and to the Capitol riot.
DeGraffenreid and Meehan's text messages, however, seem to show their genuine belief that the election in Nevada was fraudulent despite courts dismissing multiple lawsuits and Republican Secretary of State Barbara Cegavske and Democratic Attorney General Aaron Ford not finding "meaningful" evidence of fraud that would change the election results.
They argued that the reasons courts and elected officials were not siding with the Republican Party were because lawyers were not doing a good enough job presenting the facts and because political pressure was being put on judges.
"Amazed that 3rd circuit … with a Trump appointed judge, no less … ruled that there was no evidence. How can there not be, unless the attorneys are fully incompetent," DeGraffenreid texted Meehan on Nov. 28, 2020.
"To me the case is strong," DeGraffenreid said. "I don't know if the affidavits are not being believed, or exactly what is going on. It's just bizarre that these cases are being tossed for lack of evidence. Of course, I'm no attorney."
DeGraffenreid said in the text exchange that he did not think the Nevada Republican Party could show enough evidence to "definitely change sufficient votes to reverse the result," but the evidence could show that the results are doubtful.
As lawsuits challenging the election results were dismissed, the Nevada Republican electors began to express doubt that their efforts would prevail.
"Wish I knew the bigger strategy," Meehan said to DeGraffenreid on Dec. 7, 2020. "Not feeling super confident but trying to trust and be positive."
"We need SOMETHING to break our way," Meehan said to DeGraffenreid on Dec. 18, 2020. "A small court ruling, a state legislature grabbing their elector slate back, some evidence so clear and evil the public can't ignore. Once something breaks, it'll start a snowball."
Jan. 6 predictions
The text messages also show that while Meehan and DeGraffenreid did not advocate for violence to happen at the Capitol on Jan. 6, 2021, they did see it as a possibility.
"Makes me wonder if a Patriot out there aware of the (election) theft might take a Second Amendment approach to solving the problem," Meehan texted to DeGraffenreid on Dec. 18, 2020.
Meehan cited the Battle of Athens in 1946 as a reason the Second Amendment — which established the right to bear arms — exists. The Battle of Athens was a rebellion led by residents of Athens, Tennessee, against the local government that was accused of political corruption and voter intimidation.
"I do not want, nor am I advocating for violence," Meehan said in the text message. "I'm simply calling out that there likely are others out there with far less impulse control in light of this tyranny."
DeGraffenreid, who also owns an insurance agency, said a client told him that he also thought the only answer was using the Second Amendment.
"All these people playing militia, itching to go to war, and having no clue what that means," DeGraffenreid said in the text message on Dec. 18, 2020.
On Jan. 6, 2021, Pence did not go along with the Republican electors' plans to use the fake certificates to certify the election in favor of Trump. He instead used the states' official certificates of ascertainment to certify the electoral votes for Biden, following the law.
When Trump supporters stormed the Capitol, Meehan texted DeGraffenreid, "These radicals do not help our cause."
"No, they don't," DeGraffenreid said in response. "Watching that on CNN, who is of course blaming Trump for inciting this rioting. Of course, our guys are walking calmly through the Capitol, not throwing firebombs like the Left does."
The next day, DeGraffenreid texted Meehan, "I don't think we yet know all of the ramifications for what Trump and a small number of … supporters of his did to us yesterday."
Meehan reiterated a conspiracy theory that it was actually "Antifa" who were among the conservative protesters, and DeGraffenreid also hoped that it could be proven that "those who crossed the line at the Capitol were not us."
"Antifa" is shorthand for anti-fascists, an umbrella description for the far-left-leaning militant groups that resist neo-Nazis and white supremacists at demonstrations and other events.
Part of larger investigation
The text messages are part of the Jan. 6 committee's larger attempt to show a coordinated effort between Trump's campaign and state Republican electors to keep Trump in power.
The Jan. 6 committee has no legal authority, however. It recommended that the Justice Department charge Trump with four crimes related to an insurrection. The department is investigating Trump's attempts to overturn the 2020 election.
As part of that investigation, Clark County and the Nevada secretary of state's office were subpoenaed for information. Both Clark County and the Nevada secretary of state's office responded with documents.
Dan Lee, a politics professor at UNLV, said it is right for the electors to be investigated.
"Just because your plan didn't work or didn't really have any effect doesn't mean that you shouldn't be held accountable for those actions," Lee said.
At the state level, Attorney General Aaron Ford has declined to say whether he is investigating the electors.
Contact Jessica Hill at jehill@reviewjournal.com. Follow @jess_hillyeah on Twitter.