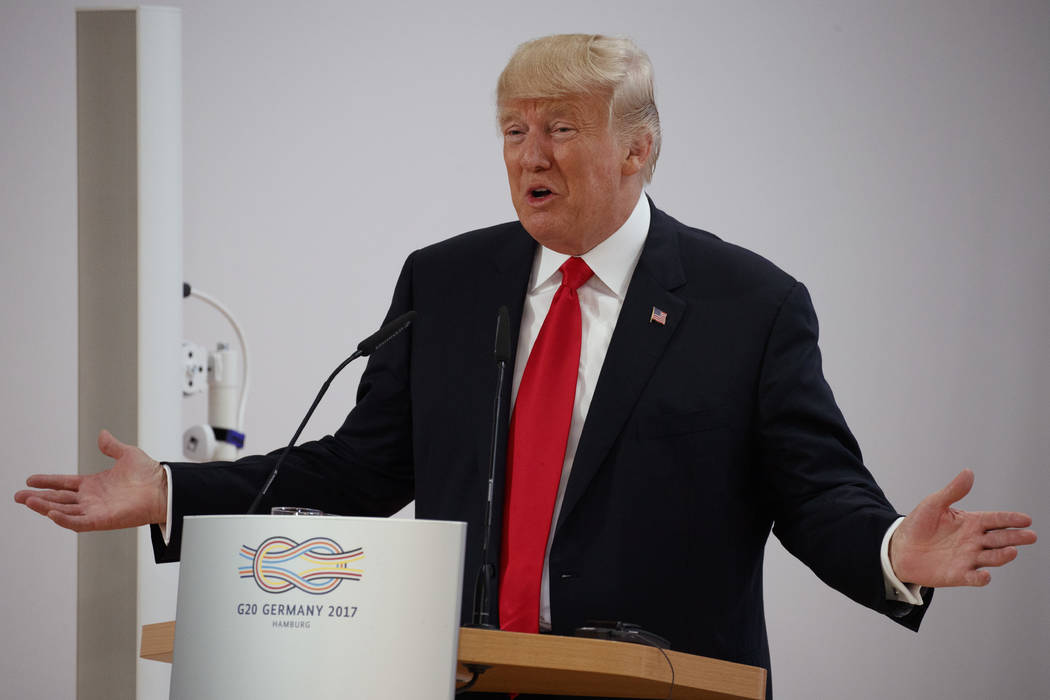 WASHINGTON — The White House pointed a finger Monday at Senate Democrats for "needless obstructionism" in failing to confirm an historically high percentage of Trump nominations.
"We're calling on (Senate Minority Leader) Chuck Schumer to stop blocking the will of the people for political gain," Legislative Affairs Director Marc Short said during a press briefing.
A White House handout hit Democrats for slow-walking the confirmation of Trump nominees to federal agencies and federal courts.
Of the 197 nominations to agencies, the Senate "has only confirmed 48," according to the handout. The Senate has confirmed two of Trump's 23 judicial nominees. Senate committees have cleared 32 nominees still waiting for a Senate floor vote.
"Folks, it's July 10," Short told reporters, "and we do not have deputy secretaries" in a number of federal departments, including the Department of Defense.
While the 52 Republicans represent the majority in the Senate, Democrats have been able to use "time-consuming parliamentary procedures," to slow-walk the process, the White House charged.
Senate Democrats blamed the Trump administration for the delays.
"The White House has been slow to submit their nominations for vacant posts and a number of nominees have delayed the process further because of incomplete paperwork or by simply backing out," said Rey Benitez, communications director for Sen. Catherine Cortez-Masto, D-Nev. "In order to give nominees a hearing and a vote, senators need to have all the necessary information and requirements to thoroughly vet and thoughtfully consider them for approval."
Some Democrats and Republicans have been highly critical of the relatively low number of individuals Trump has nominated to staff his government.
Last week, the Partnership for Public Service and the Washington Post released a comparison of Trump nominations and confirmations to those of the previous four presidents as of June 23. Trump had nominated 117 individuals to 15 key cabinet agencies — far less than the 238 nominated by President Barack Obama, 211 by George W. Bush, 194 by Bill Clinton, and 175 by George H.W. Bush.
More than half of Trump's predecessors' nominees were confirmed by June 23 — except for those of George W. Bush — but the Senate had confirmed only 36 of Trump's 117 picks.
"It creates a great deal of uncertainty and, ultimately, it diminishes the ability of government to do its job as well as it could," Partnership for Public Service head Max Stier told the Post.
In February, Trump himself defended his slow pace at filling appointments, when he told Fox News, "I don't want to appoint, because they're unnecessary to have. You know, we have so many people in government, even me, I look at some of the jobs and it's people over people over people. I say what do all these people do? You don't need all those jobs."
Heritage Foundation's national security expert James Carafano disagreed. Citing Trump's two recent foreign policy trips, he said, "On my side, show me an issue where this has slowed down the administration and kept them from doing what they wanted to do or had to do, and I'm scratching my head."
Mark Harkins of the Government Affairs Institute noted that Democrats can delay confirmations, but they alone cannot stop them. That's because Republicans need a only simple majority to approve nominations, thanks to procedural changes instituted first by Democrats in 2013 and by Republicans in 2017 to win approval for now U.S. Supreme Court Justice Neil Gorsuch.
Gorsuch was seen as a mainstream conservative who in a different year would have won enough Democratic support to avoid a vote to close debate on his nomination, which required 60 yes votes. Many Democrats, smoldering over the Republicans' refusal to consider Obama nominee Merrick Garland in 2016, would not accept Gorsuch. They demanded a cloture vote, Republicans changed the rules as Democrats had four years earlier, and Gorsuch was confirmed.
The rule change means that as long as Republicans control the Senate, Trump can nominate to the Supreme Court individuals who appeal only to members of his party.
"They're getting fewer than past presidents have gotten to agencies," Harkin noted, "but they also have less to do to have them confirmed."
One reason for the delays, Harkins said, is that "Trump is trying to confirm people who are not a bipartisan choice."
For their part, Democrats also have less reason to support Trump's choices. The fact that you have a president who has less political capital over time means there is less and less of a price for Democrats to oppose his nominees.
Democrats used to call Republican opposition to Obama nominees obstructionism. Now when they oppose Trump nominees, they call it "the resistance."
Both sides, Carafano noted, are "hyper-partisan about everything" and neither side sees the value in working together.
Contact Debra J. Saunders at dsaunders@reviewjournal. com or at 202-662-7391. Follow @DebraJSaunders on Twitter.
New nominees
The White House announced three new appointments Monday:
—Lew Eisenberg, a major Republican fundraiser, will be nominated to serve as the next ambassador to Italy. Eisenberg was a former partner of Goldman Sachs and ran the Republican National Committee's joint fundraising operations with President Trump's campaign.
—Former Treasury official Randal Quarles will be nominated to the Federal Reserve board as vice chair for supervision. Quarles currently heads the Cynosure Group, a Salt Lake City-based investment firm that he co-founded. He was previously a partner in the Carlyle Group, one of the world's largest private equity firms.
—Wisconsin businessman Stephen King will be nominated to serve as U.S. ambassador to the Czech Republic.
The Associated Press