Youngkin, Lombardo talk education at town hall
Updated September 15, 2022 - 6:59 pm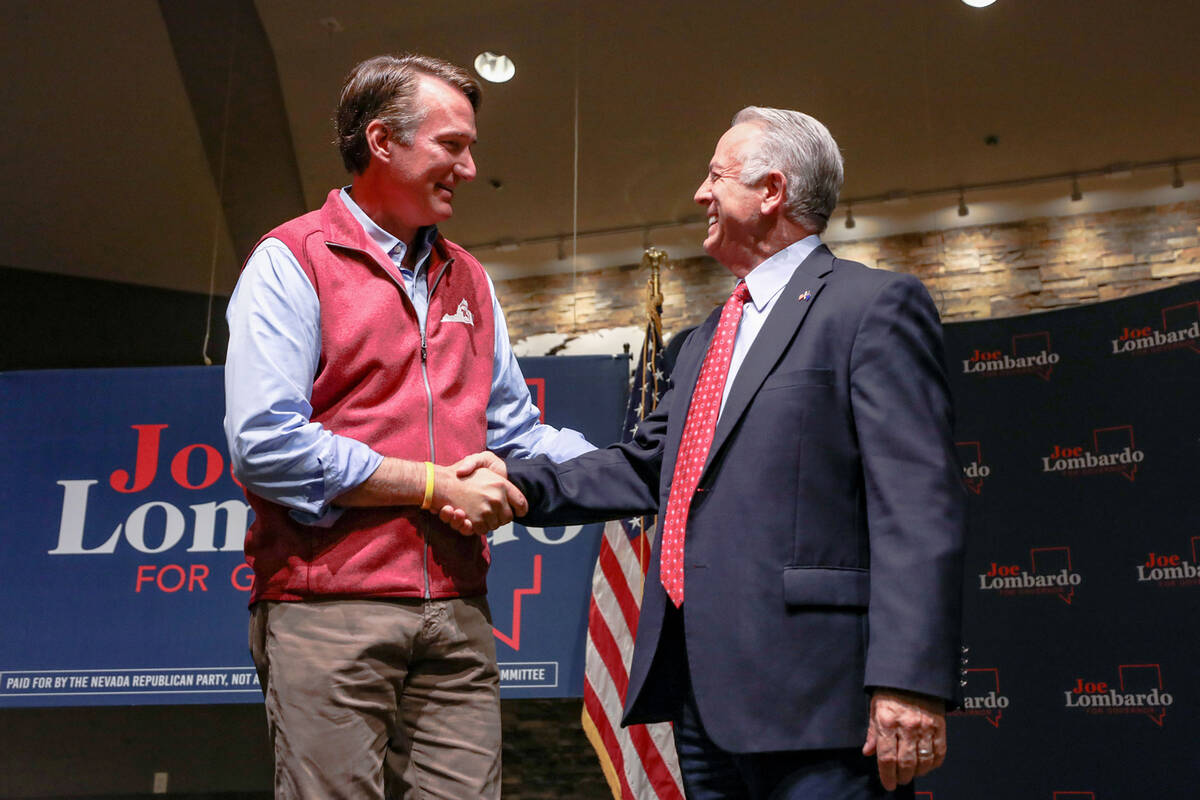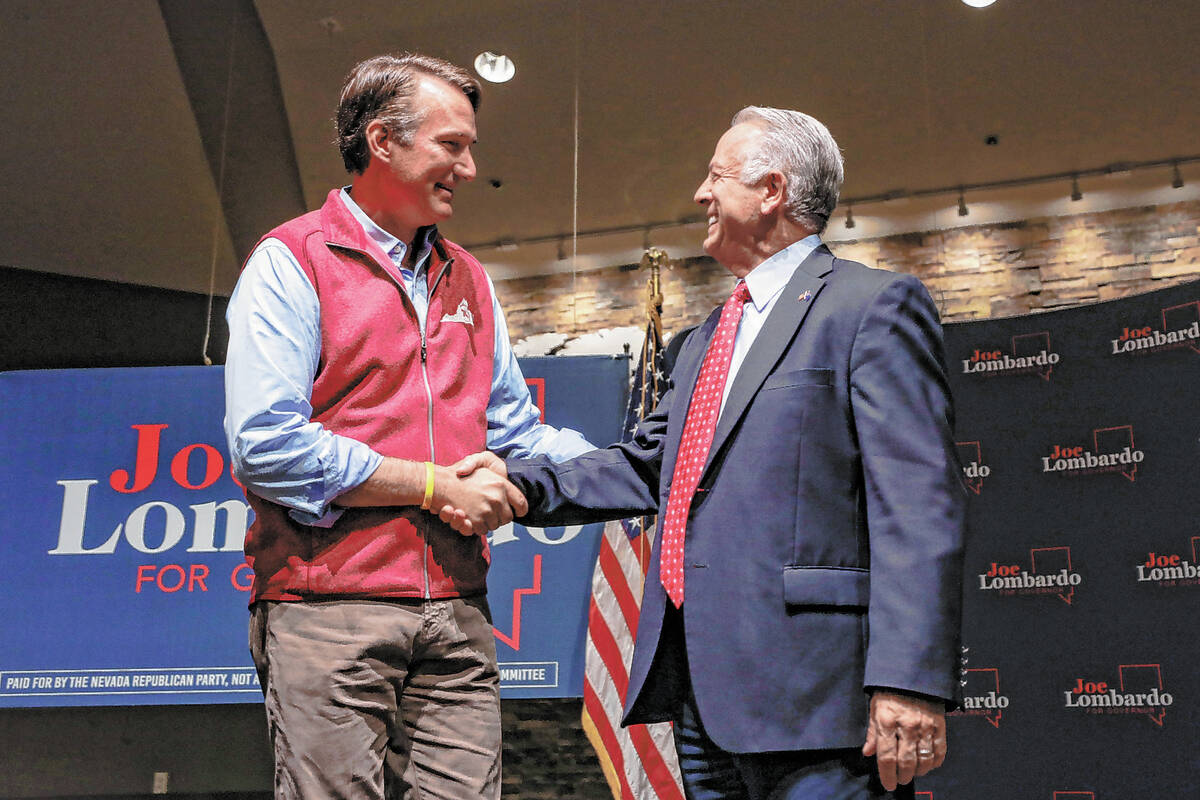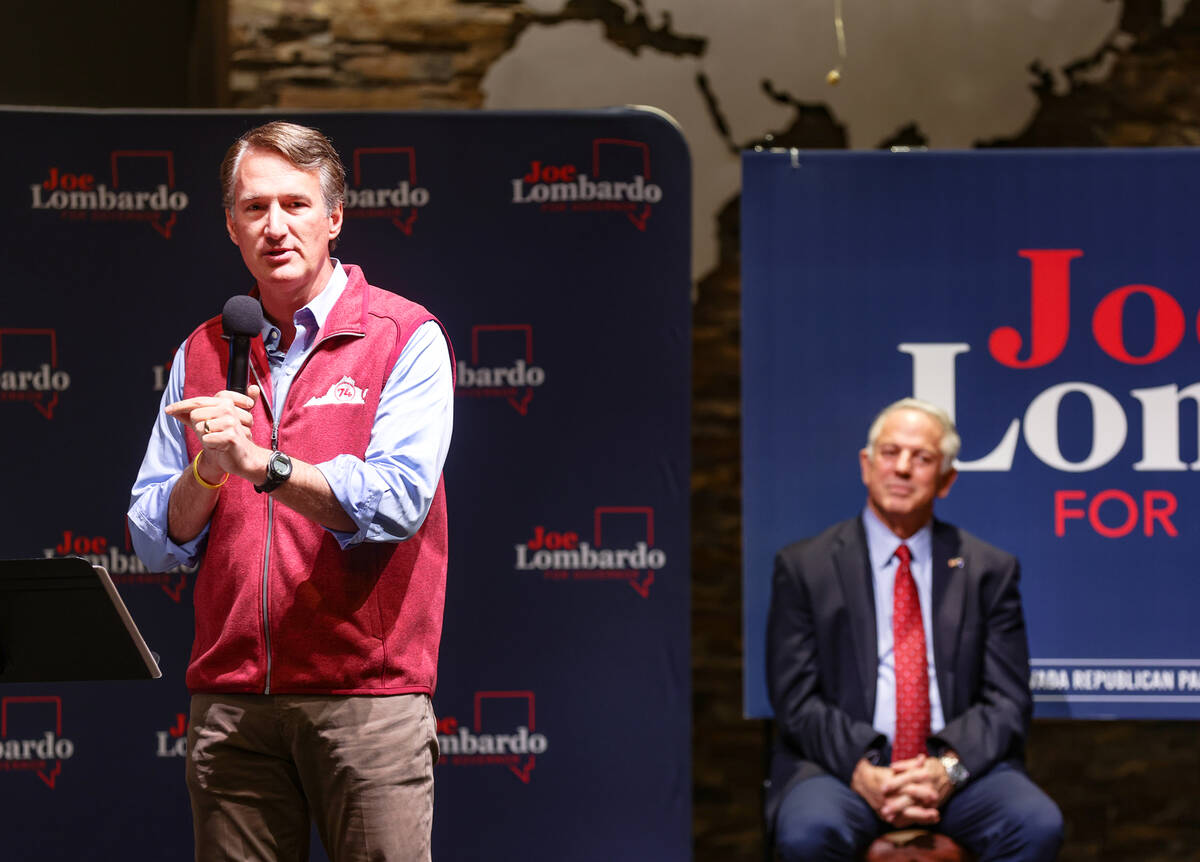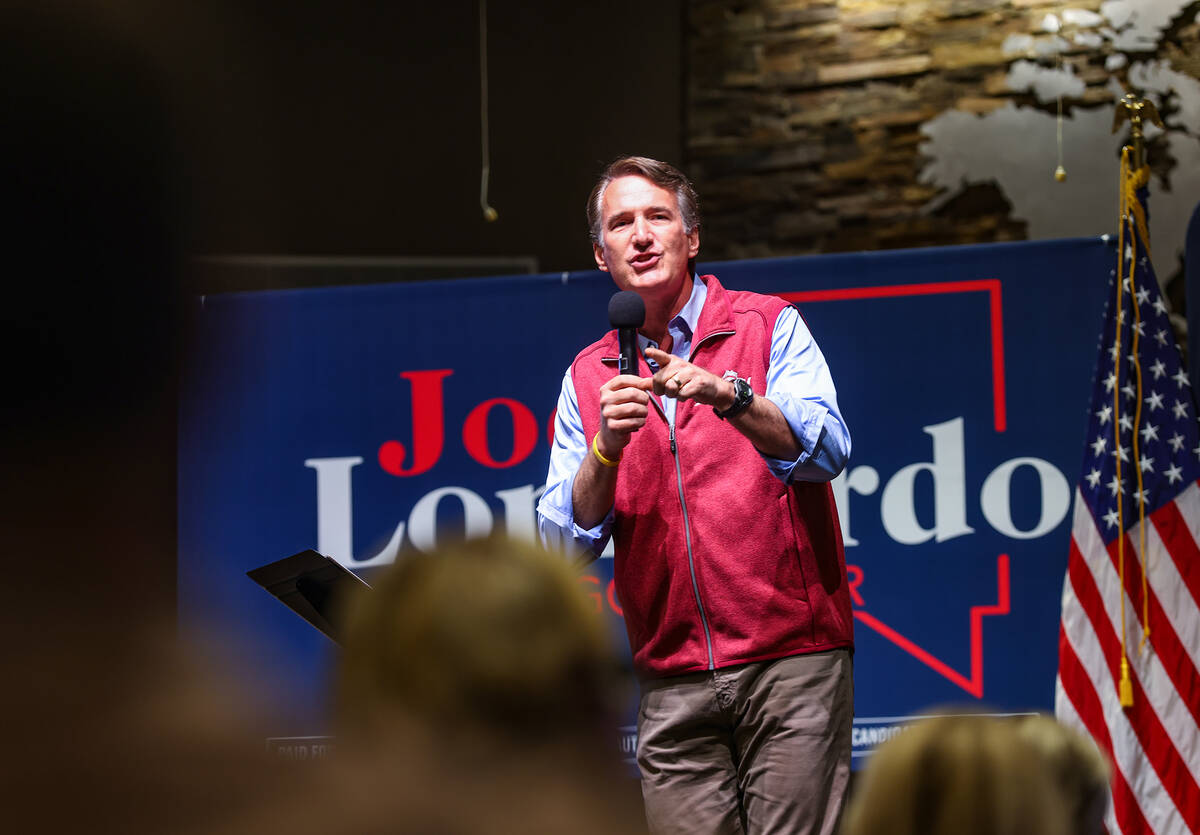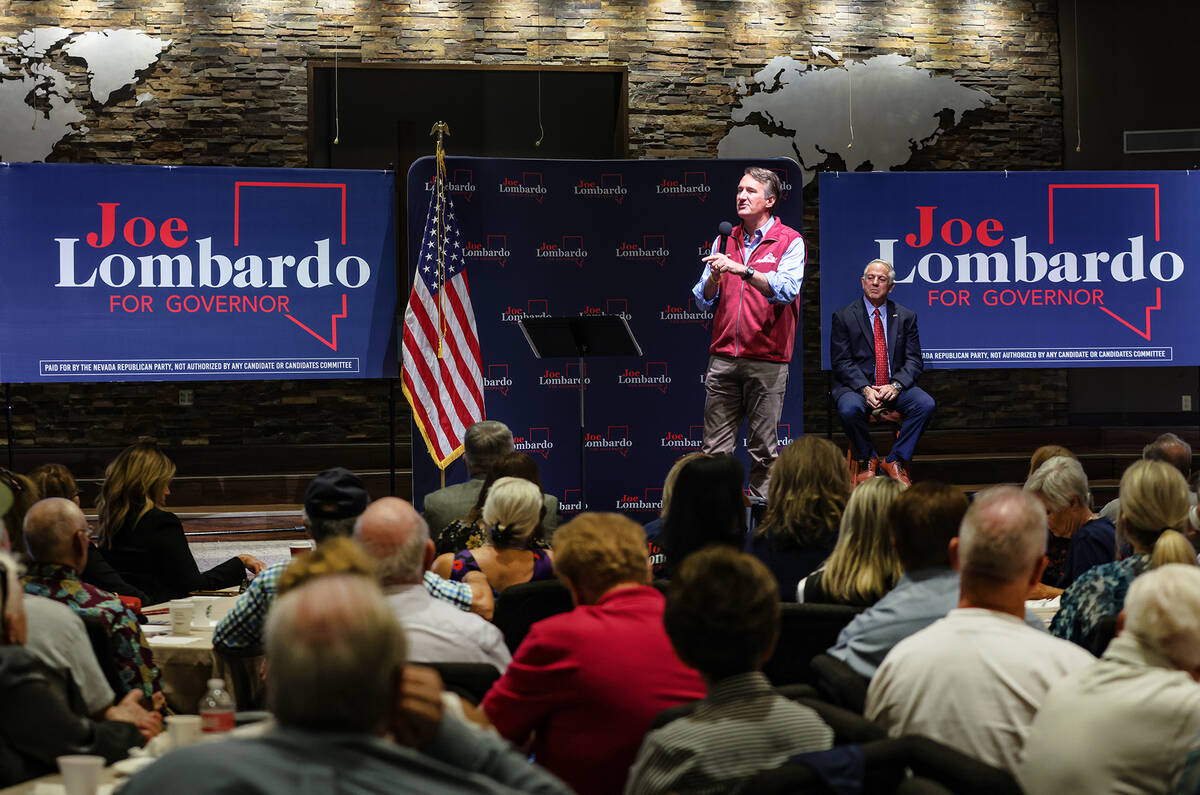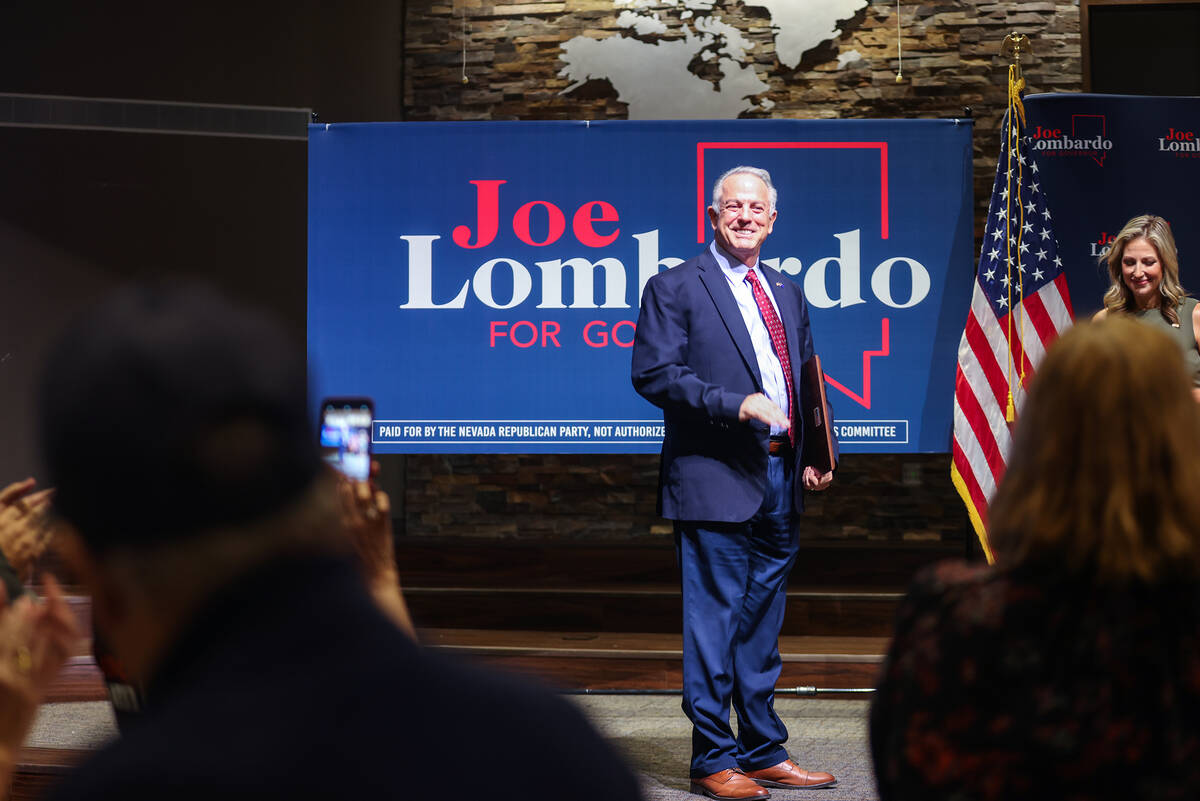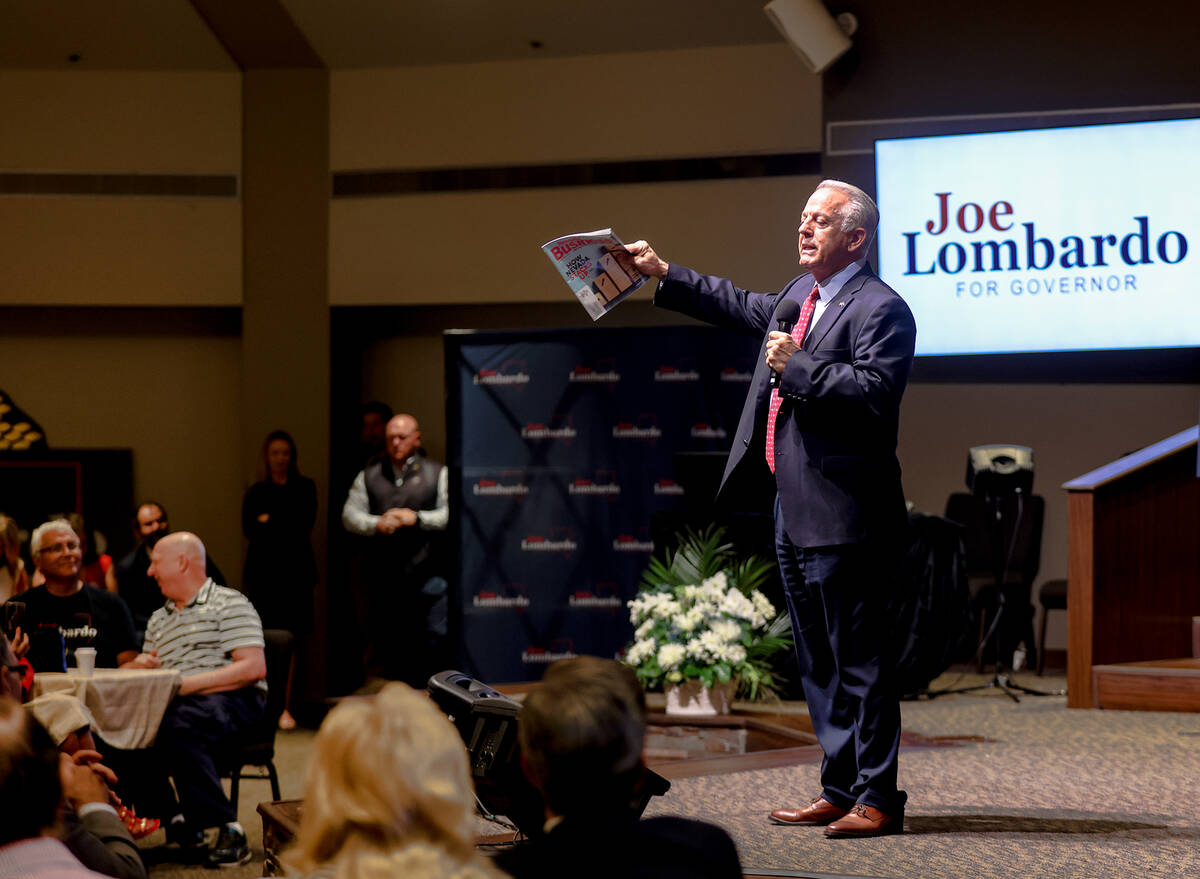 Joe Lombardo wants to follow in Virginia Gov. Glenn Youngkin's footsteps and be the next "education governor," he said Thursday morning.
Youngkin stumped for Clark County Sheriff Joe Lombardo on Thursday, attending a breakfast town hall in Las Vegas where they talked about education, comparing what Youngkin has done and what Lombardo wants to do if he wins the Nov. 8 midterm. The two Republicans also campaigned together at a rally at the Nevada Trucking Association in Reno later Thursday.
Youngkin, who was sworn in as governor in January, had campaigned on Virginia's education faults, pushing the criticisms that its schools were closed during the pandemic and that parents did not have a say in their children's education. He reminded about 275 people at the Liberty Baptist Church that Nevadans faced a similar situation.
"They were told that an education on a 14-inch screen was a quality education. Does that sound familiar, Nevada? Parents were told you have no say in your child's education and the life decisions that they're going to make because we are going to insert bureaucrats and politicians in your family and force you to co-parent with them," Youngkin said.
Since taking on the role of governor, Youngkin has made masks in school optional, rooted out "critical race theory," and increased funding and teacher pay in the largest education budget in state history, according to Time.
"We had a chance last year to make a statement. Now it's your turn," Youngkin told Lombardo's supporters.
Lombardo's plans to fix education
If elected, Lombardo wants to claim Youngkin's "education governor" title for himself, he said.
He discussed Nevada's low education ratings, saying that as of this month, Nevada was ranked 50th in the nation.
Las Vegas area schools were ranked second worst in the nation for quality in 2021, and in 2022 World Population Review ranked Nevada 40th and Virginia fourth in public education. Nevada's education has been a problem for years, though, and governor after governor has tried to improve it.
The last "education governors" were, arguably, former Republican Gov. Kenny Guinn, who passed the largest tax increase at $1 billion in 2003 mostly to help Nevada's education system, and former Republican Gov. Brian Sandoval, who followed in Guinn's footsteps and passed the next biggest tax increase to fund education in 2015 with the then-Republican-controlled Legislature.
"It's real simple, right? You make it a priority," Lombardo said. "Anything you make a priority, you can address the problem. That's crisis management. Make it a priority, figure out ways to address it, and then assess it, whether they're working or not, and pay attention to it, making it a point of context in the front of your head."
If he's elected, Lombardo plans to evaluate school boards and their qualifications, pursue school choice and put in a "comprehensive" and "thoughtful effort" toward breaking up the Clark County School District. That effort, however, is already underway through the "Community Schools Initiative," which could be on the ballot in 2024 if it gets the necessary amount of signatures.
"You (have) got to get into a funding mechanism to provide the full option of an individual to get the education they want, or the zip code they want an education (in), not just because they live there (but) because they want to go there and have a good point of reference, or whatever the curriculum may be that they want to achieve is their own desires," Lombardo said.
He also wants to see the mindset change of "attendance vs. performance," where students are given the grades if they "just show up." Lombardo wants to reinstitute the "Read by Three" program, which establishes a statewide comprehensive system of early reading instruction aimed at accelerating the reading growth of students from kindergarten through third grade.
Lombardo claimed the program got "scuttled" by Gov. Steve Sisolak, a Democrat, who took it away because Republicans were associated with the policy.
"With Steve Sisolak in office, Nevada has fallen backwards and your children have suffered the most," Youngkin said.
The Republicans continued their tour of the state later, appearing together at a second event in Reno on Thursday afternoon.
They were joined by other prominent Republicans, including former U.S. Senate candidate Sam Brown and state Sen. Heidi Gansert, R-Reno, both of whom spoke in support of the sheriff during a rally at the Nevada Trucking Association.
Lombardo again talked about his plans to improve education in the state, and said he was going to take Youngkin's ideas and "build on them."
Youngkin, while speaking on the "spirit of Nevada," took aim at Democrats.
"Joe Lombardo is going to get things done. Because the spirit of Nevada is the spirit of doers and we all need to honor and recognize that," he said. "This spirit of Nevada is something that isn't going to survive forever without being taken care of and there's people who were trying to take it away. The progressive Democrats are trying to take it away."
Sisolak defends record
Sisolak's campaign said Lombardo's claim about the "Read by Three" program is false. The governor's team said he increased funding for the program by $11 million in 2019. The funding was cut in 2020 during the special budget session but was restored in the 2022 and 2023 budgets. The funding is now built into the "pupil centered funding plan" to allow school districts to be "flexible and empowered" with spending, his campaign said in an email.
But a key aspect of that program — a requirement to hold students back if they failed to read at grade level by third grade — was dropped. Now, students can be held back only if their parents agree.
Sisolak's campaign also mentioned some of his accomplishments in improving education, such as giving teachers their first raise in more than a decade, investing $75 million of federal funds in free lunches and breakfasts for public school students, dedicating $200 million in federal funds to address learning loss caused by the pandemic and replacing 33 outdated schools and building at least 13 new ones.
Sisolak also signed an emergency regulation to address teacher shortages and provided about 4,000 future teachers with stipends and tuition assistance. He has also donated his salary to Nevada public schools, totaling more than $320,000 in contributions.
"Lombardo's 'plans' are either empty platitudes, lies or regurgitations of what Governor Sisolak has already done or announced he will do in his second term," said Reeves Oyster, campaign spokesperson in an email.
Virginia a bellwether for Nevada?
While Lombardo wants to implement some of the policies Youngkin has implemented as governor, his similarities don't stop there. His campaign is also following similar strategies as Youngkin's, and is looking to be in the same position as Youngkin was.
"This race is neck-and-neck. They are absolutely dead tied," Youngkin said Thursday. "This is exactly where I was this time in the commonwealth of Virginia."
Weeks leading up to the Virginia election, Democrat and former Gov. Terry McAuliffe's polling advantages were whittled down to a statistical tie. Lombardo and Sisolak tied in a recent Emerson College poll. A week before the Virginia election, polls brought Youngkin out ahead.
Youngkin's campaign strategists also told Politico that he rarely talked about Biden and the national environment. Rather, he focused on Virginia issues. That was the majority of the theme for Thursday's event, where Lombardo and Youngkin did not hit on Biden or Trump, but rather issues affecting Nevadans.
Like Lombardo, Youngkin also had to walk a fine line on election integrity. Lombardo advocates for election reform saying that people have doubts about the election process being secure while also recognizing that Biden is the elected president. Youngkin also recognized Biden as the legitimate president, while at the same time calling for an audit of the voting machines used in the 2020 election during his campaign.
But there are some differences, too. While Youngkin and Lombardo both received the endorsement of former President Donald Trump, Youngkin kept Trump at arm's length and did not campaign with him. Lombardo, on the other hand, joined Republican U.S. Senate hopeful Adam Laxalt in a joint campaign event with Trump in June.
During the Virginia race, Democrats said abortion will decide the Virginia governor's race, while Republicans disagreed and downplayed the role, according to the Washington Post. Nevada's Democrats are doing the same, but unlike Virginia, they could succeed. Virginia's Democrats were pushing a theoretical danger, but Nevada's Democrats are campaigning in a post-Roe v. Wade world, where some level of restrictions could occur.
Lombardo's campaign has focused on the messaging that Nevada's abortion protections are safe and that it is a non-issue, while also saying he would support allowing the Nevada people's decision to vote further on the issue. But Sisolak's campaign is not letting up in pushing the idea that Lombardo will not protect Nevada's statute if a conservative U.S. Senate were to pass restrictions.
Contact Jessica Hill at jehill@reviewjournal.com. Follow @jess_hillyeah on Twitter. Staff writer Taylor R. Avery contributed to this story.