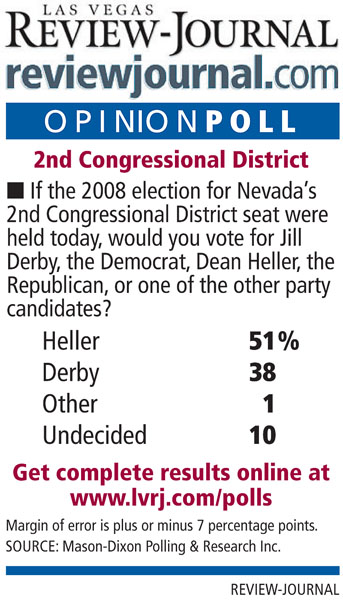 CARSON CITY — Rep. Dean Heller, R-Nev., holds a commanding 13 percentage point lead over former state Democratic Party chairwoman Jill Derby in their rematch for the 2nd Congressional District seat, according to a new poll commissioned by the Review-Journal.
Heller is the choice of 51 percent of the 221 registered voters who responded to the poll conducted by Mason-Dixon Polling & Research Inc. of Washington, D.C. Voters were interviewed by telephone on Wednesday and Thursday.
Derby was picked by 38 percent of the respondents, while 10 percent were undecided and 1 percent supported minor party candidates.
The poll has a plus or minus 7 percentage point margin of error.
The results were not much different than those of a similar poll conducted by Mason-Dixon in July.
Heller came out ahead in that poll by 14 percentage points.
His lead is somewhat surprising, however, since he won the 2006 race by only 5 percentage points.
At that time, Republicans enjoyed a 48,000 registered voter advantage in the district, which covers most of the state, including portions of Clark County.
Since the race two years ago, a surge in Democrat registrations has left Republicans with only a 24,000 voter advantage in the district. A Democrat never has won the seat since the district was created in 1982.
Brad Coker, Mason-Dixon managing partner, said Heller might be doing better in the race this year because he is the incumbent.
He added Heller also might have picked up support because of his vote against the $700 billion Wall Street bailout and comments last summer that some members of his own party should be defeated because of their liberal spending positions.
"The important thing is he is above 50 percent," Coker said. "He looks pretty safe."
Coker said the 2nd Congressional District remains very conservative, even with the registration changes.
The Mason-Dixon survey results vary from the Research 2000 survey conducted last week for the Reno Gazette-Journal and Channel 2 in Reno.
That survey found Heller with a 7 percentage point lead over Derby.
Heller's campaign was not taking anything for granted.
"There will be a lot of polls between now and the end of the election and they will all say something different," said Stewart Bybee, a spokesman for Heller. "There is a long way to go in this election and a lot of work to do."
Kristen Cullen, Derby's spokeswoman, that the Review-Journal poll results do not reflect what they have seen in other polls.
"We have seen multiple polls that indicate this is a very close race," she said.
Contact Capital Bureau Chief Ed Vogel at evogel@reviewjournal.com or 775-687-3901.