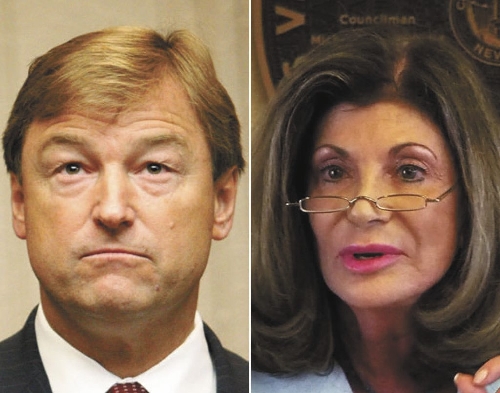 WASHINGTON – Sen. Dean Heller has opened a small lead over challenger Rep. Shelley Berkley in the marquee race to represent Nevada in the U.S. Senate, according to a new poll that also shows many voters have yet to pay attention to television ads flooding the airwaves.
The Republican incumbent has a 44 percent to 39 percent lead over the Democratic congresswoman in the survey for the Las Vegas Review-Journal and KLAS-TV 8 NewsNow. The margin is slightly larger than other independent polls in recent months indicating the race is a statistical deadlock.
The poll shows Heller has a 53 percent to 32 percent lead in Washoe County, where Berkley has stepped up her campaigning over the summer. Meanwhile, it puts Berkley with only a slight lead in her Las Vegas base, and with a 44 percent to 37 percent margin in Clark County outside the city limits.
Among independent voters, Heller has a 44 percent to 35 percent advantage. The Republican leads among men, 50 percent to 36 percent, while Berkley has an advantage among women, 43 percent to 37 percent.
Analysts said Wednesday that the numbers should buoy Heller, whose support for a GOP Medicare restructuring into a voucher-style system has come under constant Democratic attack through most of the campaign so far.
For Berkley, they said the poll suggests challenges ahead on the key Washoe County battlefield and also among voters in her Southern Nevada base, which she needs to win by a substantial margin to offset Heller's strength up north and in the rural counties.
And she needs to do that while fighting off escalating attacks on her character and ethics, experts said.
"It's clear that there is a path to victory for Heller. It is not so clear there is a path for victory for Berkley," said Jay Leve, editor of New Jersey-based SurveyUSA, which conducted the poll.
"Heller's constituency is holding well together," Leve said. "He has a solid advantage among men, which is going to be very difficult to overcome. His white support is equally impressive, and he is doing well among independents. There is only room around the edges for Berkley to make significant inroads."
Nathan Gonzales, deputy editor of the Rothenberg Political Report, said it is too soon to draw solid conclusions from a poll with three months to go before Election Day.
"This poll continues to show the race is competitive even though this appears to show a slight Heller advantage," Gonzales said. "I don't think this race is over. We are only going to see the ads intensify."
The survey, an automated poll conducted in English and Spanish from Aug. 16 through Tuesday morning, is the first to gauge how potential voters are viewing the decision last month by the House Ethics Committee to open an investigation of Berkley, a seven-term House member.
It found 59 percent of likely voters are following the investigation but a substantial number are not, even amid a spate of television commercials that have variously attacked and defended the Democratic candidate.
"There is still a good bit of the electorate that has not tuned in at all to the issue," Leve said.
Of the voters who said they were following the ethics investigation, 40 percent said it would not influence their vote and 42 percent said they would be more likely to vote for Heller, including some Democratic switch-overs. Fourteen percent said they were more likely to vote for Berkley.
Given the number of potential voters still not focused on the race, UNLV political scientist David Damore said, "absolutely" Republicans will stay on the attack.
"Why would Heller not ride this theme all the way to November?" Damore said. "It puts her on the defensive. It makes it harder for her to get her message out."
A House ethics screening board recommended the probe of possible conflicts in the seven-term lawmaker lobbying House colleagues and federal officials on kidney health issues without disclosing her husband is a prominent Las Vegas nephrologist.
The investigation has thrown a curve to Democrats who are counting the Nevada race among possible pickups in their bid to maintain control of the closely divided Senate. Among the outcomes, the elections will determine whether Nevada Sen. Harry Reid will remain Senate majority leader.
Heller and Republican political action committees have spent about $3 million on at least eight television commercials attacking Berkley on ethics, according to Democratic media buyers. That has contributed to driving her favorability ratings down to 29 percent, according to SurveyUSA. Berkley has aired seven ads in her defense.
"No doubt about it, the ethics issue has hurt Berkley, no doubt about it. But it hasn't knocked her out," said Mark Peplowski, political science professor at the College of Southern Nevada. "It's still a close race."
The poll sampled 869 likely voters, and carried an error margin of plus or minus 3.4 percentage points.
The survey counted 39 percent registered Democrats, 36 percent registered Republicans and 23 percent registered independents. Actual Democratic registration is at 41 percent in Nevada and has been growing.
The new poll also showed Heller leading 47 percent to 37 percent among Hispanic voters, a result questioned by experts who were interviewed about the survey, and also a surprise to the pollster. A June poll by Latino Decisions, a consulting firm specializing on the Hispanic vote, calculated Berkley with a 53 percent to 30 percent lead over Heller among that population.
The poll counted Hispanics among 19 percent of likely voters surveyed, which is higher than the 15 percent that turned out to vote in each of the past two elections.
According to SurveyUSA, people who picked up the telephone in parts of Nevada with concentrations of Spanish speakers were given the option to take the survey in Spanish or English. Leve said there was an 8 percentage point margin of error on the sampling of Hispanic voters.
"We went in with no preconceived notions, and when we looked at the data this is what we found," he said. "We've got a good cross section of the state where Hispanics are part of the population. We are confident the numbers reflect what we measured."
Berkley spokeswoman Xochitl Hinojosa declared the poll "deeply flawed, and (it) does not reflect what every other credible poll in this race has shown. That will be as clear on Election Day as it is today."
Heller's campaign declined to comment on the poll. Spokeswoman Chandler Smith said Heller "will continue to travel this state working for every vote. He'll be crisscrossing the state from Pahrump to Reno to Fallon to Elko in the next week, talking with people and earning their support."
Contact Stephens Washington Bureau Chief Steve Tetreault at stetreault@stephensmedia.com or 202-783-1760. Follow him on Twitter @STetreaultDC.