Poll makes kids high priority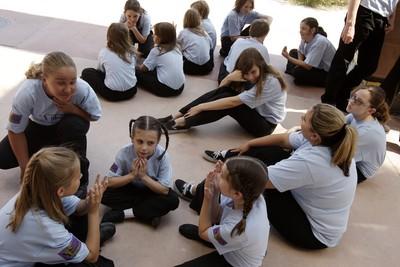 Nevadans care about kids, and they want their next president to care, too.
It seems obvious — doesn't every politician kiss babies and pose with schoolchildren? But in fact, a national group says, not enough of the campaign debate has focused on children, and it has the data to back it up.
A strong majority of Nevadans on both sides of the aisle say it's important that candidates for president "provide a comprehensive agenda describing what they would do to meet the needs of children, youth and families," according to a new poll of Democratic and Republican partisans who plan to participate in the state's presidential nominating caucuses next year.
Of the 400 Nevada Democrats surveyed, 93 percent said that concept was very or somewhat important, while 68 percent of the 400 Republicans agreed.
The poll, conducted June 21 through June 24 by Washington, D.C.-based Mason-Dixon Polling & Research Inc., carries a margin of error of 4.9 percentage points in either direction.
"Every child in this state does matter, and where we really want them to matter is in the political realm," said Michael Petit, the Washington-based founder of the Every Child Matters Education Fund, which commissioned the poll. "We want to make spending on children the highest priority of our national government."
The group is mounting campaigns in Nevada as well as Iowa, New Hampshire and South Carolina — the four states scheduled to hold the earliest presidential nominating contests — to increase the visibility of children's issues in the 2008 election.
"This is a very important initiative to get the word out that kids do matter, every child counts and everyone in politics and public life should be aware of that," state Sen. Dina Titus, D-Las Vegas, said at Wednesday's news conference rolling out the poll results and the education initiative.
The national group is partnering with the Nevada Institute for Children's Research and Policy at the University of Nevada, Las Vegas, to conduct its awareness campaign.
The poll found that majorities of Democratic and Republican voters found several arguments in favor of investing more in children and families persuasive.
Eighty-two percent of Democrats and 55 percent of Republicans liked the idea that investing in children is a good way to keep the economy strong. Seventy-eight percent of Democrats and 59 percent of Republicans were swayed by the thought that there is a "moral responsibility" to improve children's circumstances. Seventy-one percent of Democrats and 63 percent of Republicans found persuasive the argument that bad childhoods lead to lives of crime and welfare dependency.
However, while 87 percent of Democrats agreed that as the richest country in the world, "we can afford it," Republicans were split, with 47 percent persuaded and 50 percent not.
The poll had other partisan splits. The most important issue for Nevada Republicans was illegal immigration, with 44 percent of Republicans polled rating it highest on their list; 24 percent said the war in Iraq, 19 percent improving children's health, education and safety.
Iraq was the most important issue for 36 percent of Democrats, while 22 percent said children, 10 percent said immigration and 10 percent said the economy.
The overwhelming majority of Democrats, 84 percent, said "Washington, D.C., is failing America's children and working families."
Forty-one percent of Republicans agreed with that idea, not a majority but a larger proportion than the 28 percent who said the federal government "does a lot to help working families."
Nationally, 13 million children live in poverty, more than 8 million children are without health insurance, and there were more than 800,000 confirmed cases of child abuse and neglect last year.
Almost 90,000 Nevada children are poor. More than 93,000 don't have health insurance and one-fourth haven't been immunized for common diseases. Last year, there were 5,000 abuse cases.
Those types of statistics worry the public, and they should be front and center in the presidential debate, Petit said.
"The part that's confounding to everyone is, why aren't our politicians addressing those needs?" he said. "There's been a sharp decline in federal spending on children in the last 15 years. Children are being elbowed aside by stronger forces in Washington. There has hardly been any meaningful talk about children's issues in recent national elections."
Petit said the group will ask candidates to take a stand on children's issues and to participate in public discussions of them, but it will not rate, endorse or oppose any particular candidate.
Petit said the group's agenda is not a partisan one, but it does believe that more government spending is the answer to rising child mortality rates and falling American competitiveness in the world.
Petit said other countries' examples have shown that "federal redistributive tax policies" are the way to improve society, but he said that should not be seen as a liberal agenda.
"This is not a left or right issue. It's a right or wrong issue," he said.
At Wednesday's event, the group made a pitch for volunteers. Some already have started to attend candidates' campaign appearances in "I'm voting for kids" T-shirts to make their priorities literally visible to the candidates.
It is people's commitment to children that will make this campaign effective, Petit said.
"We're making it clear to the candidates that they are either rewarded or punished politically based on these issues," he said. "They need to translate these concerns into an affirmative agenda for children."
If politicians make promises they don't keep, "There's another election two years later and another election four years later," Petit said. "The teeth in this effort belongs to the voters. Our job is simply to put the issues out there."