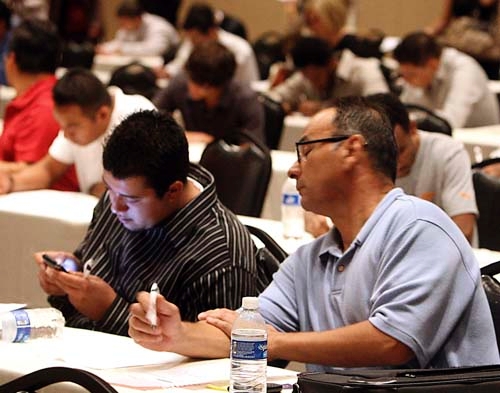 CARSON CITY — "What kind of future are my children and grandchildren going to have if the economy doesn't improve?" asked Tonya Brown, a small-business owner and mother of two.
"How can I live on a minimum wage job?" said Misty Mc­Collister, a Gardnerville mother of three. "I am thinking about going back to school. If I could find a good job out of state, I'd move."
Brown, 49, and McCollister, 35, were among 10 people interviewed Friday, most in Carson City's Fuji Park. They all said they agree with prevailing public attitudes on the economy reflected in a new poll conducted for the Las Vegas Review-Journal and 8NewsNow.
Poll respondents said life in Nevada has become a bummer, what with the state's highest-in-the-nation unemployment rate and few signs of recovery coming quickly.
Seventy-one percent of the residents told pollsters they are either "very concerned" or "somewhat concerned" about their household finances and job security.
The survey also found the younger the person, the more gloomy the outlook they have.
Eighty percent of those under age 50 are either very concerned or somewhat concerned about their household financial and job security. But only 54 percent of people over age 65 feel that way.
Many of those who responded to the poll also said Nevada's economy won't get better soon. Twenty-nine percent said it will get worse in the next year, while 42 percent said it will remain the same.
The poll of 625 residents across the state was conducted by Mason-Dixon Polling & Research Inc. by telephone Monday through Wednesday.
Because of Nevadans' fears about their own jobs, Mason-Dixon managing partner Brad Coker said he believes what most residents also said, in response to another survey question: that they oppose increasing taxes to handle a predicted $3 billion state budget shortfall in 2011.
While education normally is a "sacred cow," Coker said, most respondents favor increasing the number of students in classes instead of boosting taxes.
Also, slightly more poll respondents — 45 percent to 42 percent — favor cutting teachers' salaries, but the difference falls within the poll's plus or minus 4 percentage point margin of error.
Lynn Warne, president of the Nevada State Education Association, said teachers share the concerns of other Nevadans about keeping their jobs and having enough money to put food on the table.
She said teachers' pay in many counties already has been cut and many school districts did not fill positions of teachers who resigned or retired.
Considering that a large number of Nevadans still support tax increases for education shows their genuine concern that children receive a better education, she said.
"I hope legislators will heed the wishes of their constituents and make education a priority," Warne said.
Brown, a longtime prison reform advocate who attends many government hearings, opposes tax increases as long as legislators reject proposals to save money.
Brown has campaigned for the Corrections Department to name an ombudsman who would respond to requests by families and friends of inmates.
She said officials ignored her requests and the result has been that families had to sue the Corrections Department when an ombudsman might have resolved their concerns.
"They brought this on themselves," Brown said. "Who can afford taxes? I'm afraid to spend money because I don't know if I will have it in the future."
Coker said his pollsters have asked questions about people's personal finances in other states but the Nevada results were the most gloomy he has ever seen.
What he found most striking was that 80 percent of people under 50 are concerned about their personal finances and keeping their jobs.
"That tells a lot," Coker said. "It is a real political problem for incumbents."
Larry Moreilli, a Carson City resident and typically a Democratic voter, isn't happy with Democrats or Republicans these days.
"I'm 60," he said. "I hope to retire at 62. But can I? Look at my 401(k). It lost 50 percent. I have never been so concerned. I don't know anybody who is employed today who isn't concerned about his job."
A survey by the American Psychological Association last year found half of adults say they are increasingly stressed about being able to provide for their families' basic needs. Eight in 10 said the economy is a significant cause of stress.
Another study found that the number of people seeking mental health services has doubled since the beginning of the recession in 2007.
But the message of Michael Staggs, economic director of the state Commission on Economic Development, is that things are about to get better in Nevada.
"People are having trouble finding something to justify a bright outlook, but the pace is picking up," Staggs said. "We expect a lot of closings (companies moving to Nevada) after the November election. They couldn't get financing before. Now that is getting better."
Staggs said people ask him all the time when the economy will improve, and he tells them that improvements are coming. He added that companies are taking a wait-and-see attitude until after the election.
"A year from now we will look a whole lot better," Staggs said.
Because of fears for their own jobs, he said it is understandable people don't want to pay more taxes for education, but that will change with an improved economy.
"Anytime there is a lack of support for education, (it) means that things are terribly wrong," he said.
Coker, however, doesn't expect Nevada will turn around until the national economy first recovers and people have more disposable income to spend in Las Vegas or Reno.
"A big part of the Nevada economy is based on gaming," he said. "If you live in Iowa, or know somebody who is un­employed, you tighten your belt a little. The first thing is not to gamble."
Contact Capital Bureau Chief Ed Vogel at evogel@reviewjournal.com or 775-687-3901.