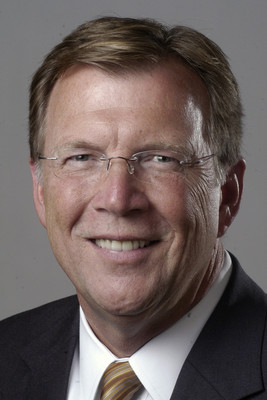 He might be the incumbent, but Republican Rep. Jon Porter may face an uphill battle against his Democratic challenger, state Sen. Dina Titus, according to a new poll conducted for her campaign.
The poll finds Titus leading Porter, 43 percent to 39 percent, among voters in Congressional District 3, which includes mostly suburban areas of the Las Vegas Valley.
Ten percent of those polled chose one of three third-party candidates, while 7 percent said they were undecided. The poll of 500 likely voters was conducted July 23 to July 28 and carries a margin of error of plus or minus 4.4 percentage points.
When the third-party candidates were excluded and respondents were asked to choose only between Titus and Porter, Titus' lead widened. In that scenario, Titus had the support of 50 percent, and Porter had 43 percent.
"I think it's a strong indicator that people in the district want change in Washington," Titus campaign manager Jay Gertsema said. "I also think it represents the fact that people in the district know Dina's someone who's going to fight hard for them."
The poll was conducted by Anzalone Liszt Research, a national firm that conducts polls for Democratic candidates. The poll is the first conducted by the Titus campaign since the political science professor and former gubernatorial nominee entered the race in April.
"Democrat Dina Titus may have entered the race late, but she leads Republican Congressman Jon Porter right out of the blocks," the pollster wrote in a memo accompanying the poll.
Pollster John Anzalone said Titus is running at a good time for Democrats across the country.
"The political environment is really good for Democrats. That certainly is helping someone like Dina Titus," he said. "The fact that she is a known quantity and well liked is even better."
When those surveyed in the poll were asked their opinion of Porter's job performance, 50 percent rated it positively, while 41 percent saw it negatively. Titus' performance as a state senator got higher marks: 56 percent positive, 32 percent negative.
The campaign also asked those surveyed whether they viewed the candidates favorably or unfavorably, a metric that tends to gauge likability, which might be somewhat different than what people think of a politician's performance. The campaign refused to release the results of this question, but Anzalone said they were the same for both Porter and Titus.
In the job approval rating, Porter is suffering from people's dim view of Congress overall, Anzalone said. "People are much more disenchanted with Congress than they are with the state Legislature."
Also, he said there may be a "buyer's remorse" effect from the 2006 gubernatorial campaign, in which Titus was defeated by Republican Gov. Jim Gibbons, whose approval rating plummeted to 21 percent in June.
A spokesman for Porter, a former Boulder City mayor and state senator who is seeking re-election to a fourth term, was skeptical that the poll results reflect the true feelings of the district's electorate.
Matt Leffingwell said that a Review-Journal poll last month put Porter ahead of Titus, 45 percent to 42 percent, with 13 percent undecided.
"Any poll that shows only 7 percent undecided at this point in the race is suspect," Leffingwell said. "Secondly, it's highly suspicious that there's such a shift from an independent poll just a month ago."
But Leffingwell did not deny that Porter faces a tough fight to keep his seat in the House of Representatives.
"We have said before that this is going to be one of the most competitive races in the country," he said. "The race is incredibly fluid, and these numbers will continue to fluctuate throughout the campaign. The congressman remains confident that when a clear contrast is drawn, voters will choose real leadership."
Outsiders often suspect that polls conducted by political campaigns will be biased in the campaign's favor. The pollster is a campaign consultant, a member of the candidate's team helping to develop a strategy and message. But campaigns do not pay pollsters to tell them what they want to hear, Anzalone said.
"We wouldn't be worth our weight in gold if we didn't give the real answers so that everything is realistic and we can base campaign strategy on reality," he said.
Campaigns often commission polls that show them losing; they just don't release those results to the public or the media, Anzalone said.
Based on the way it was conducted, the new poll might underestimate Titus' support. The polling firm included equal numbers of Democrats and Republicans in its survey, but there are substantially more Democrats and Republicans in the district.
In previous elections, the district has been almost evenly split between Democrats and Republicans, with a large number of nonpartisan voters. But in recent months, Democrats have gained an advantage.
According to the Clark County Election Department, as of July 24, there were more than 25,000 more Democrats than Republicans registered to vote in the district. Of the district's voters, 44 percent are registered Democrats, 37 percent Republicans.
Anzalone said the polling firm wanted to be conservative in its approach and not overstate the potential effect of the recent Democratic gains.
University of Nevada, Las Vegas political scientist David Damore said the poll "shows that Porter is in trouble," something already indicated by the changes in the makeup of the district.
"The Republican brand is in trouble, and all of Jon Porter's attempts to become a moderate haven't really bought him much," Damore said.
The hardest thing for a congressional challenger to build, he said, is name recognition, and Titus has that built-in, giving her an edge.
"In this kind of race, if you don't like the incumbent, you still may not vote for the opposition if it's a no-name," he said. "She's got name recognition, experience and money — all the things Jon Porter wouldn't want to see in an opponent."
Titus and Porter first must win their parties' nominations in the primary election, for which early voting is under way. Both are expected to easily defeat little-known opponents.
Porter faces fellow Republicans Carl Bunce and Jesse Law, while Titus faces Democrats Barry Michaels, Anna Nevenic and Carlo Poliak.
In the general election, Independent American Party candidate Floyd Fitzgibbons, Green Party candidate Bob Giaquinta, independent candidate Jeffrey Reeves and Libertarian Party candidate Joseph Silvestri also will be on the ballot.
Contact reporter Molly Ball at mball@reviewjournal.com or 702-387-2919.