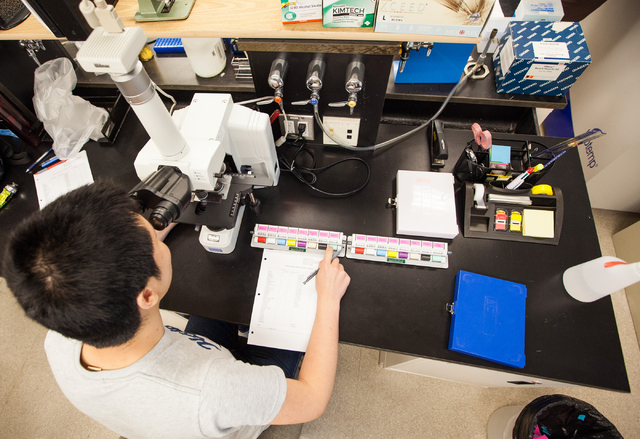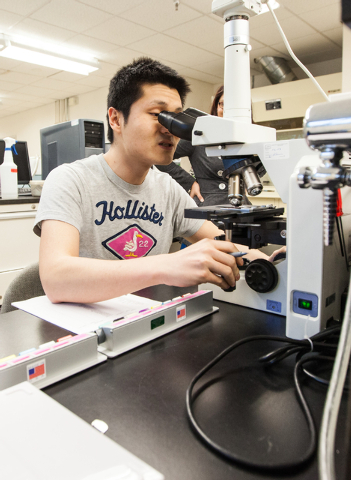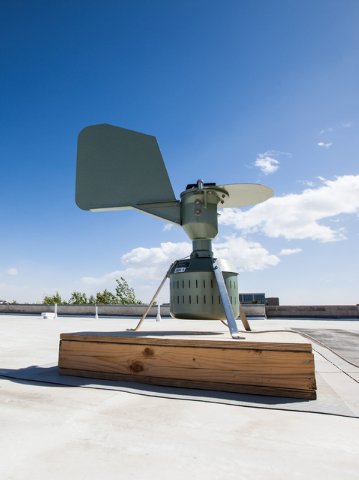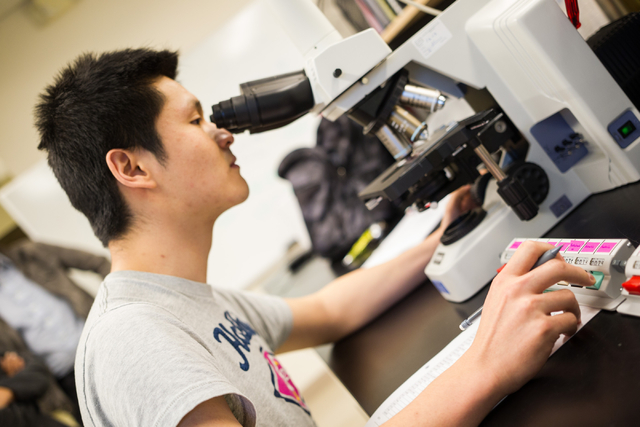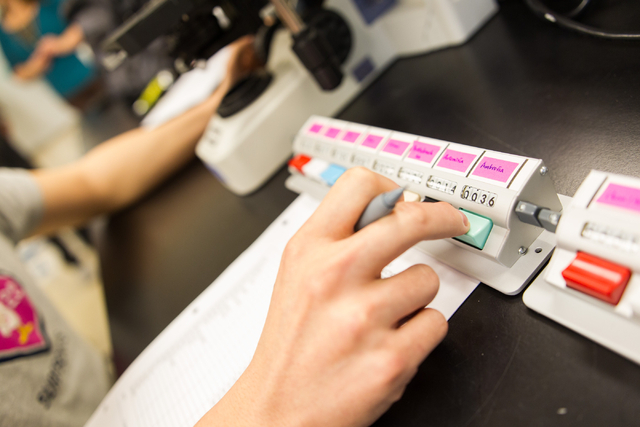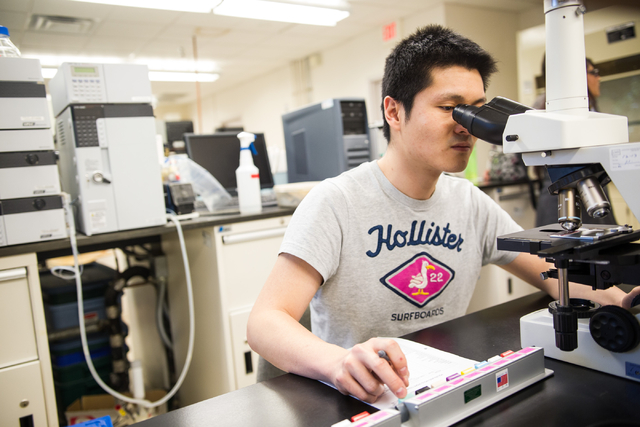 After years with no way to measure their misery, allergy sufferers can rest wheezy in the knowledge that valley pollen will not go unchecked.
UNLV has partnered with the Clark County School District and others to revive an allergen monitoring program that was shuttered by the county four years ago.
One sampling station already is gulping springtime air and collecting weekly pollen levels on the roof of White Hall, home of UNLV's School of Life Sciences. The team hopes to add five more stations and start producing daily readings across the valley and beyond, perhaps in as little as six months if enough funding comes through.
Microbiologist and UNLV professor Dennis Bazylinski figures it will take about $100,000 a year to set up the program and sustain it. They already have received some money from the school district, but additional funding will be needed.
Bazylinski remembers when he first moved to Las Vegas and would watch the pollen counts every night during the weather segment of the local news. "Then they were just gone," he said.
Clark County used to track airborne pollen levels and issue daily reports to the public, but the effort was discontinued in 2010 when it lost its funding and some key staff members retired. Pollen monitoring is not required under state and federal environmental rules, so when the budget ax fell, that's what got cut.
Dr. Joram Seggev was a big supporter of the old pollen program, and he was among those working behind the scenes to bring it back to life.
"We've had unofficial monitoring since the beginning of the year," the longtime Las Vegas allergist said. "I'm very happy."
The counts are being performed in Bazylinski's laboratory at UNLV using an old microscope and other equipment donated by the Clark County Department of Air Quality after the old program was discontinued.
Graduate student Hongbin Jin is doing the actual counting with the help of Tanvi Patel, the pollen program's only paid staff member.
"It is definitely tedious," Patel said.
They have to count the individual pollen grains that stick to microscope slides inside the air sampler on the roof, safely beyond the influence of the pollen-dumping olive trees on the UNLV campus.
The average slide has about 100 grains on it. At the height of the bloom for a potent pollen and allergen producer such as fruitless mulberry, that number can jump to as high as 10,000 grains. "It can take 40 minutes for one slide," Jin said.
The results this year have been eye-popping. Jin said they have recorded mulberry levels "13 times higher than very, very high."
In the coming months, additional monitoring stations will be positioned at carefully selected locations in the northeast, northwest, southeast and southwest parts of the valley.
Three of them will be placed at public schools so local students have the chance to learn about pollen and air quality monitoring. The fifth new sampler will be set up in the desert near Jean, 40 miles south of Las Vegas, to collect data on naturally occurring pollen levels away from the imported plants and trees that dot the urban landscape.
One of the program's ongoing expenses for which more money will be needed is a truck and someone to drive it from station to station to collect samples.
Seggev said the monitoring program is important to people with allergies and to researchers studying pollen, air quality and human health.
If daily readings suggest high levels are on the way, allergy sufferers can plan accordingly by taking extra medication, wearing a mask outside or staying indoors in the early morning, when pollination is at its peak, he said.
Mold spores, another common allergen, also will be counted.
Up to one-quarter of valley residents suffer from seasonal allergies. Pollen season starts in February and lasts until the summer heat arrives in June, though it can be shorter or longer depending on the weather.
Seggev said typical reactions include itchy eyes and skin, runny nose, sneezing, dry cough and fatigue. Left untreated, such symptoms can lead to sleeplessness, infections, asthma, missed work, lost productivity and, in rare cases, depression.
The prime culprit at the moment is mulberry, a tree so noxious that Clark County made it illegal to plant it in 1991.
"People have been really miserable for the past month," Seggev said, but the pollen reports from UNLV suggest mulberry has peaked for the year.
As it wanes, it will be replaced by olive pollen, an even more potent allergen.
Both Jin and Patel said they suffer from seasonal allergies. Patel described hers as "severe," requiring eye drops, nasal spray and multiple medications.
Neither of them has figured out exactly what they are allergic to, at least not yet.
Contact reporter Henry Brean at hbrean@reviewjournal.com or 702-383-0350. Follow him on Twitter at @RefriedBrean.