Polls in Las Vegas mayoral campaign differ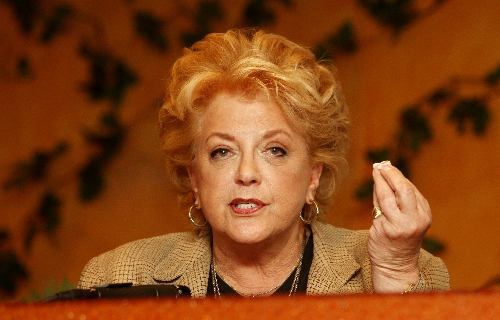 Dueling polls in the Las Vegas mayoral contest paint starkly different pictures of the race with a little more than a week to go before early voting starts.
Chris Giunchigliani's campaign said Wednesday that she has pulled even in polling with Carolyn Goodman, who has been the frontrunner since she entered the race.
Goodman's campaign, however, released a poll that puts her comfortably ahead and even achieving the majority needed to win.
Giunchigliani's poll of 400 likely voters, taken Saturday through Monday, put Goodman at 45 percent to Giunchigliani's 43 percent. The margin of error was plus or minus 4.9 percentage points.
A release from Giunchigliani's campaign called the race a "dead heat."
The poll was conducted by Benenson Strategy Group, a national polling firm.
According to Giunchigliani's campaign, the poll used live phone interviewers to screen respondents who voted in the primary and are likely to vote in the June 7 general election. The only poll result they released was the head-to-head contest between the two candidates.
"This poll confirms the overwhelming movement we are seeing in our favor," Giunchigliani spokesman Nick Miner said. "We are confident this race will grow even more competitive with the ads we are currently running on television."
Goodman's campaign used Magellan Research, a Las Vegas firm that the Review-Journal has used in the past. It polled 1,248 likely voters on who they would vote for and came up with the following results: Goodman, 53.4 percent; Giunchigliani, 31 percent; and undecided, 15.6 percent. The margin of error was less than plus or minus 3 percentage points, campaign manager Bradley Mayer said.
The survey was done last week in the days immediately preceding Giunchigliani's poll, he said.
Goodman and Giunchigliani were the top two finishers in the 18-candidate April primary. Goodman led the field with 37 percent, and Giunchigliani's 17 percent was good enough to edge out rival candidate Larry Brown, who like her sits on the Clark County Commission.
Goodman is married to Oscar Goodman, the incumbent mayor, who cannot seek re-election because of term limits.
The general election is June 7. Early voting starts May 21, a week from Saturday. As that date nears, the campaigns are kicking into gear.
Of late, Giunchigliani's campaign has accused Goodman of "ducking" debates because she wants to "avoid direct questions and direct comparisons" and has alleged Goodman has a "policy of refusing to answer unscripted questions."
Both were invited to a forum Wednesday in front of Sun City Summerlin residents. Goodman declined, opting instead to address the group on her own May 1.
Both of them appeared before the Lambda Business Council on Wednesday, but at Goodman's insistence, they did not appear on stage together. Goodman answered questions from a moderator first, and Giunchigliani followed.
Goodman did three side-by-side debates with Giunchigliani right after the primary and then decided to stick to solo appearances.
Both will appear on television forums next week: on KLAS, Channel 8, on Sunday evening and on "Face to Face" on KSNV, Channel 3, on Wednesday.
Goodman said Wednesday that she doesn't like the debate format's "one- or two-minute sound bites."
"My biggest concern … was to get out in the community and share who I am," she said. "I couldn't do that in that format."
Contact reporter Alan Choate at achoate@review
journal.com or 702-229-6435.