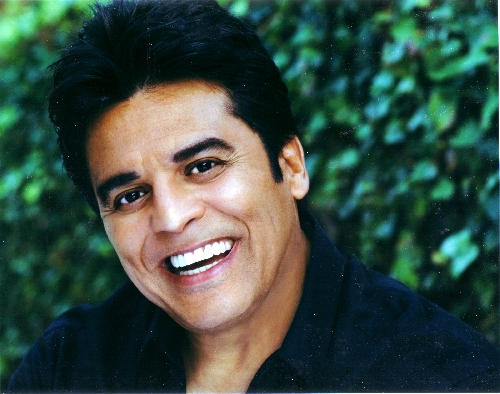 Erik Estrada is a jovial manly man. He punctuates his greeting to me like a cartoon punch to the solar plexus. ("Hey! Doug!")
Years ago, he wore a fake badge as "Ponch" on "CHiPS," but now he flashes a real badge as an investigator for the Southern Virginia Internet Crimes Against Children Task Force.
Estrada is such a crime dog, he just testified for a Virginia law to charge all convicts an extra $10 fine each, to raise money for cop training and equipment.
"Let the criminal pay for it," he tells me, "and then stick 'em in a cage!" (Ponch smash!)
So what does this real-badge Estrada — of Puerto Rican heritage — think of Arizona's new law that mandates cops check "suspicious" people's citizenship papers?
He believes there's some good intent to lower "tremendous kidnap rates" and to cut down on drug running.
But it's a bad law that "has to go away," he says.
Estrada stresses he has met a lot of solid cops in his day, and he doubts Arizona police will abuse power. But he frets about exceptions to his good-cop rule:
"I just hope some officers don't lose their cool."
If he lived in Arizona, the law probably would give him "a sense of paranoia, like it's doing" already with Arizonans, says Estrada, 61.
"I don't think it's a particularly good law," he adds. "And I don't like it for my fellow man: Hispanic brothers and sisters."
He thinks it's just crazy that the law encourages citizens to sue police if they think cops aren't enforcing it. Police agencies could end up settling frivolous lawsuits to make them go away, he says.
Estrada's in Las Vegas to judge the Miss T&T Hot Tamale pageant at Luxor's Taco & Tequila for Cinco de Mayo on Wednesday.
If you go meet Estrada at T&T, don't offer him booze.
"I'm not a drinker, and I'm not a gambler … so don't buy me a drink. But you can call me Ponch!" he says.
"We're gonna have fun, as long as everybody drinks responsibly — and I won't have to arrest anybody!" he says and laughs.
ESTRADA ON SKATES IN VEGAS?
By the way, Estrada confirms old rumors that he once was set to star in Andrew Lloyd Webber's musical-on-roller skates, "Starlight Express," at the Las Vegas Hilton years ago.
"I was ready. I rehearsed it. I worked all the songs out here, and choreographed."
The day before he was to fly to Germany to ink a deal with Lloyd Webber, the Hilton "sold off something, and that killed the whole thing."
"But I was prepared for it. And I was gonna do it for a year."
Erik Estrada — on skates? Not so unusual, he says.
"I grew up in Harlem. We used to play hockey in the street" on skates.
What's next? He's co-producing "World's Funniest Moments" for TV syndication, starting this fall.
HERE THEY COME
Miss USA contestants come to Las Vegas today to prep for the May 16 pageant here. You (the public) are cordially invited to watch, for free, all 51 arrive at Planet Hollywood. That's at 5 p.m. outside the hotel on Las Vegas Boulevard. Just look for skinny girls and a brouhaha.
Doug Elfman's column appears on Sundays, Mondays, Tuesdays and Fridays. E-mail delfman@reviewjournal.com. He also blogs at reviewjournal.com/elfman.