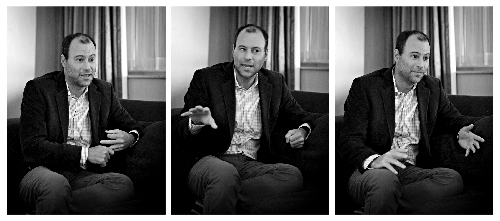 Noel Biderman is an American hero.
At least that's how he pitches himself.
His news release feigns that he is "The Most Hated Man on the Internet" as kind of a joke.
That is an exaggeration. He is not the most hated man. He is not a spammer. He is not the inventor of pop-up ads. He is not even someone who comments on Web versions of newspaper stories just to get an argument going.
No. Biderman, 41, is the guy behind the slogan: "Life is short. Have an affair."
"How do you market something that everybody, at least when you ask them, finds distasteful?" he asked.
Why, you embrace the sleazebaggery, of course.
Biderman, who is really Canadian, is the president and one of the founders of AshleyMadison.com, which you may pretend you've never heard of.
It's one of the most popular dating sites in the world. Its mission is to help married people hook up, have an affair, cheat on their spouses, succumb to their biological drives, fulfill their destinies as human beings.
He is the man with the mirror, holding it up so we can look upon ourselves.
"Dollar bills don't lie in the same way people do," he said.
The site, in other words, is exploding.
People say they'd never cheat, but then how has he become a rich man?
Biderman was talking from his suite at Caesar's Palace. He was in town last week for the iDate Convention, a conglomeration of folks who run and push Internet dating sites.
He said his company is in 27 countries. It's available in seven different languages. It has 19 million members. So far. It's growing every day.
People cheat, he said. They cheat everywhere. They cheat in Finland and in South Africa and in America.
They just don't admit it, especially here.
"We are a different society than we think," he said. "There's the America where we believe we live and there's the real America."
A NEW REVOLUTION
Lynn Comella, a University of Nevada, Las Vegas women's studies professor who focuses on the media, popular culture and sex, said Biderman is onto something.
"He's definitely found a niche," she said.
She writes a sex column for the Las Vegas Weekly. When she wrote about Biderman last year, she said, it was the only time she ever got real hate mail.
People get angry at this stuff. Cheating is lying.
Biderman swears he's happily married with two little kids and that he does not cheat. But why not make a buck off those who do?
Elliot Spitzer. Bill Clinton. Gary Hart. Anthony Weiner. Tiger Woods. The list goes on and on and on. Rose in the movie Titanic, the greatest love story of our time, was cheating on her fiancé.
Americans like to pretend those people are aberrations, Biderman said. That they're not normal. That they don't represent the rest of us.
Biderman said they do. Cheating is in our genes. It's a leftover from our days on the savannah, scrounging for survival, desperate to procreate before the lions devoured us all. It is therefore unnatural to not cheat.
There is some evidence for this, from anthropologists and evolutionary biologists.
Biderman compared cheating to overeating. Food is everywhere these days. Easy to overdo it.
Same with sex. It is absolutely everywhere. Strip clubs. Online porn. Dating websites. Office romances are so last year.
"The Internet obviously didn't cause any of this. These are human choices," he said.
BIRTH OF AN IDEA
This is what got him and a friend started on the Ashley Madison kick a decade ago. He was a sports attorney at the time, with a little bit of experience in online ventures.
He saw people who cheated. He did not judge them for it. He also believed many of the men on traditional dating websites were actually married and looking to sneak around.
So, why not take their money?
But a hookup website where the ladies didn't participate wouldn't work. How to bring them in? Because he was certain they cheated, too.
Girly colors would help. The site is doused in pink and purple. A good name would help, too. Two of the most popular baby names back when the site went live were Ashley and Madison.
Perfect.
A phenomenon was born.
Kind-of.
"If you got rid of the Ashley Madison website, people would still cheat," said Katherine Hertlein, who runs the marriage and family therapy department at UNLV.
But maybe not as many. She said the website does make it easier to cheat. It helps people break their promises. It is not the same thing as eating too many Ding Dongs.
"When we're overeating, we're not committing to only one food for the rest of our lives," she said.
Hertlein has co-authored a book that will be out this summer that focuses on the role of technology in intimate relationships. It will have the wonky, academic title, "The Couple and Family Technology Framework: Internet relationships in a Digital Age."
Part of what it's about is this: Technology makes it easier to do bad things, as much as it makes it easier to do good things.
When you're online, you can be whomever you want. You can pretend it's anonymous. You can have a totally online relationship and convince yourself that it's not really cheating.
Your spouse will disagree, but who is right?
Everyone. No one.
JUST THE FACTS
Here's the catch: Biderman said his site has been seeing a huge uptick in married people looking to experiment, often with the full cooperation of their spouses.
Women want to be with women, men with men, maybe a three-way. They want to be with people of different ethnicities. That sort of thing.
In fact, married women searching for single men is one of the fastest-growing parts of the business now, turning the whole idea of a "mistress" on its head.
Everything is changing.
How does any of that make Biderman a hero?
He knows what is true and what is not. He has the data to prove it. Whether we like it or not.
How many married people in the United States cheat on their spouses?
You could do a survey. Or you could access Biderman's real data.
What's the average age of a married man who cheats? A married woman?
Which groups are the most likely to cheat? The least likely?
Who cheats more, men or women?
Biderman knows. He didn't offer answers, but he is studying it all.
"I have a social responsibility to reformulate the notions about monogamy and infidelity," he said.
So there you have it.
The man behind the mirror, showing us who we really are.
Contact reporter Richard Lake at rlake@reviewjournal.com or 702-383-0307.