6 lawsuits filed against Nevada marijuana company CWNevada
September 6, 2018 - 7:02 pm
Updated March 22, 2019 - 10:37 am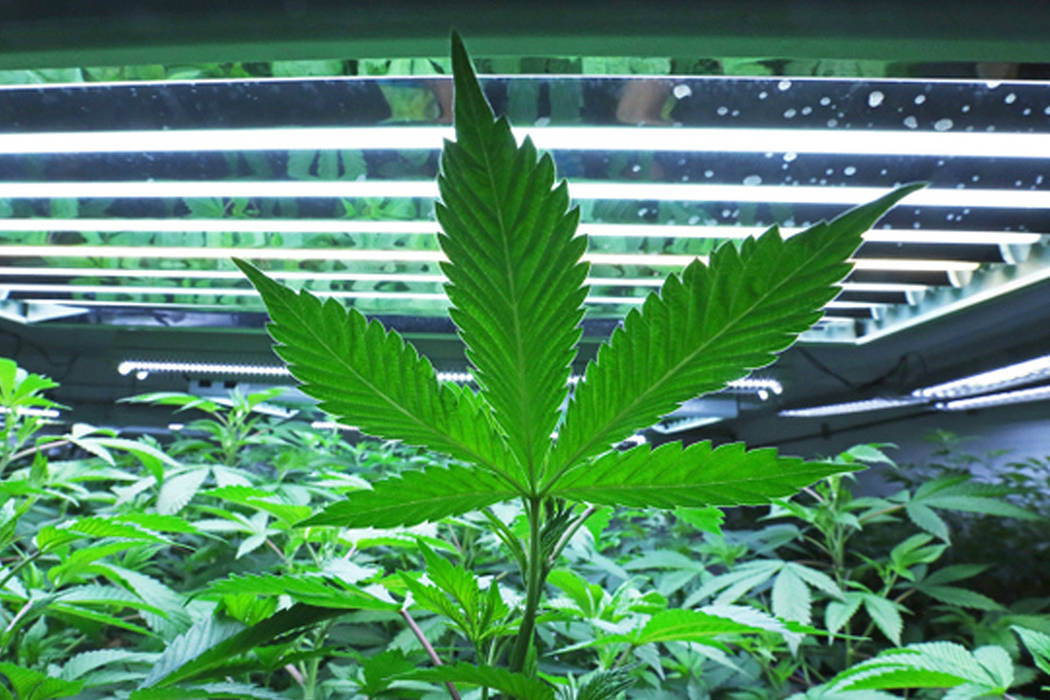 CWNevada, one of the state's largest cannabis companies, faces six separate lawsuits alleging fraud, failure to pay lenders on time and, in one case, misappropriation of intellectual property.
CWNevada owns at least two cultivation facilities, a production facility and three dispensaries under the Canopi brand. The company calls itself "the premier cannabis distributor in Nevada'' on its Twitter page and is one of just three companies that own three dispensaries in Clark County, according to the Department of Taxation.
The company is struggling to pay back millions of dollars it raised from lenders over the past few years for cultivation, production and distribution of marijuana products, according to court documents. The lawsuits come as Nevada marijuana retail sales have exceeded state forecasts.
"While local and national media outlets report on the unprecedented success of Nevada's regulated marijuana market, CWNevada, LLC's management has managed to run the business into the ground,'' alleged a lawsuit by Green Pastures Fund, Jakal Investments, Green Pastures Group, Jonathan Fenn and Growth Opportunities.
"Despite having substantial capital investment from Plaintiffs and otherwise, and the market advantage of holding privileged licenses relating to every facet of the operations, CWNevada has failed to turn a profit, has irreparably harmed its relationships with key vendors, and has now defaulted on its primary financing provided by Plaintiffs."
That lawsuit alleged CWNevada owes the plaintiffs $15 million.
Paul Lapping, the manager for the Green Pastures Fund, and Joel Blair, the manager for Jakal Investments, did not respond to a request for comment. Managers of the other funds could not be found.
The other lawsuits were filed by Highland Partners NV LLC, which rents space to CWNevada in Las Vegas; MI-CW Holdings LLC, MI-CW Holdings NV Fund 2 LLC and Green Pastures Group LLC, which all claim to have loaned money to CWNevada; and CIMA Group LLC, which granted CWNevada an exclusive license to manufacture marijuana-infused products under the Wana brand in Nevada.
Response planned
CWNevada CEO Brian Padgett, a condemnation and eminent domain lawyer, did not return calls to his office.
Todd Bice, who is representing CWNevada, said he advised his client not to speak to the media. Bice said he will file Padgett's response to the claims Friday.
"At that time, not only is it our intent to debunk the specious claims but to also assert counterclaims over misappropriation of company assets and opportunities," Bice said in an email to the Review-Journal. "The story is not as currently spun and will be vastly different once responses are filed."
All of the lawsuits with the exception of the one filed by the CIMA Group have been condensed into one case, according to court records.
MI-CW Holdings NV Fund 2 alleged that it loaned CWNevada $3.25 million for equipment and that the company has not paid it back. MI-CW Holdings NV Fund 2 accused CWNevada of "fraudulent conduct" and has asked the court to require CWNevada to provide it with "true and correct financial statements."
"On information and belief, CWNevada intended to induce MI-CW Fund 2 to enter the Loan Documents so that CWNevada could obtain immediate funds without ever intending to repay MI-CW Fund 2 or complying with the terms of the Loan Documents.
"CWNevada's intention to never perform under the Loan Documents is evidenced by its failure to make any payments due under the Loan Documents, including the first payment due,'' according to a July 12 filing by MI-CW Holdings NV Fund 2.
The lawsuits filed by Green Pastures Group and MI-CW Holdings sought access to the company's financial statements and alleged CWNevada did not repay loans.
Green Pastures Group did not disclose in its lawsuit how much it alleges CWNevada owes it. MI-CW Holdings said it agreed to a three-year loan in June 2017 for $161,802.61. CWNevada stopped making its monthly payment of $5,914.60 on the loan in January, according to the lawsuit.
Highland Partners' lawsuit alleged the company has not paid rent or operating expenses.
"To date, CWNevada has not paid any Base Rent to Highland whatsoever, despite being in possession of the Premises for over twelve (12) months," according to the Highland lawsuit filed July 6, 2018.
The Highland lawsuit also accused the company of fraud and alleged Padgett removed a mutually approved accountant after a $1.3 million discrepancy was discovered.
The company asked the court for access to CWNevada's financial records and to appoint a receiver.
Motives questioned
Highland is managed by Thornapple River Capital, according to the Nevada secretary of state's office website. Brandon Kanitz is the sole managing member of Thornapple, according to his LinkedIn page.
Kanitz also manages MI-CW Holdings LLC and MI-CW Holdings NV Fund 2 LLC, according to filings. He did not respond to a request for comment.
CWNevada said in court documents that it is reluctant to produce the financial records because it fears the lenders might have ulterior motives.
"The defendants believe that the Plaintiffs wish to obtain access to CW's books and records so that they may obtain a competitive advantage to their respective business operations there and in direct competition with CW's efforts to enter into the Michigan market," said Amy Sudgen, an attorney in Padgett's office, in court documents.
Kanitz resides in Michigan, according to his LinkedIn page.
CWNevada has licensing agreements to produce 13 brands of marijuana-infused products, including Charlotte's Web, Wana Brands, Medamints and The Mad Hatter Coffee &Tea Co., according to the company's Twitter page.
Bice declined to say whether CWNevada still has the 13 license agreements.
CIMA Group, which holds the intellectual property for Wana Brands, alleged in its lawsuit that CWNevada is using Wana Brands recipes and processes to make and sell a competing product called Scarlet Oilworks gummies. Cima alleged Nevada sales of Wana gummies began to plummet in August 2017.
CIMA "is informed and believes that CWNevada and/or the CWNevada Affiliate(s) have intentionally obscured the similarity between the WANA Gummies and the Scarlet Oilworks D.I.M.E.S. Gummies by not accurately listing the ingredients on the packaging for the Scarlet Oilworks D.I.M.E.S. Gummies," according to the suit filed on April 20, 2018.
The suit also claims that CWNevada owes CIMA almost $290,000 through March, 2018. Shawna McGregor, a spokeswoman for Wana Brands, declined to comment.
Contact Todd Prince at 702-383-0386 or tprince@reviewjournal.com. Follow @toddprincetv on Twitter.
CWNevada owns three dispensaries in Clark County under the Canopi brand. According to the Nevada Department of Taxation, the dispensaries are located at the following addresses as of May 30:
-1324 S. 3rd St., Las Vegas
-2113 N. Las Vegas Blvd., North Las Vegas
-6540 Blue Diamond Rd., Las Vegas