Clark County marijuana panel talks social clubs in first meeting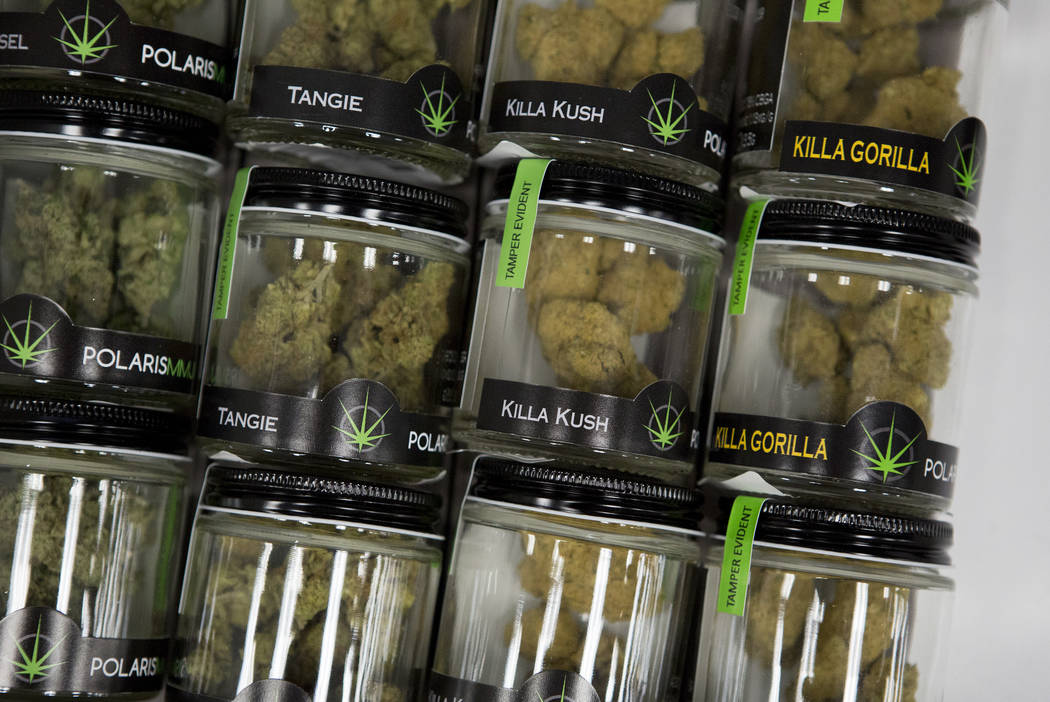 Southern Nevada marijuana lounges could end up looking like nightclub bottle service or maybe your corner bar.
The Clark County marijuana advisory panel spent most of its first meeting tackling the idea of public marijuana lounges Monday. The proposed model introduced at the meeting calls for a 1-year pilot program that would let medical marijuana dispensaries test the idea of public consumption inside their shops
The lounges could be inside the shops, but some panel members raised the idea of having it in adjacent office spaces. No alcohol could be served at the lounges during the pilot program, and the idea calls on the lounges to work with ride share, taxi and shuttle companies to get people to and from their homes or hotels.
Frank Hawkins, owner of Nevada Wellness dispensary, called marijuana lounges "the most crucial issue" the panel can discuss.
Those lounges, Hawkins said, should look like a bar or a nightclub with bottle service in that patrons shouldn't be allowed to bring in their own marijuana.
"You can't allow people to bring their own marijuana in," Hawkins said. "If we don't regulate and keep a tight hold on it, its going to be a big problem."
Andrew Jolley, CEO of The Source dispensaries in Clark County, said allowing people to bring their own marijuana could turn the lounges into "de facto drug dealing factories."
Jolley pointed to Denver, the first city to approve marijuana lounges, as another reason to allow them. Before November, when voters approved the lounges, unregulated private marijuana clubs popped up as a way to circumvent the law.
"There is a demand for this type of space," Jolley said. "If we don't provide it and regulate it, it will pop up in the wrong way."
Several on the panel also said those lounges could help solve the conundrum that surrounds legal marijuana and gaming.
Because cannabis is illegal in federal law, the Nevada Gaming Commission has told casinos to keep marijuana off their properties.
Andy Abboud, senior vice president for Las Vegas Sands Corp. and the panel's surrogate resort hotel representative, liked the idea of people having to buy and use on site. Abboud told the Review-Journal after the meeting that lounges are the realistic solution to making sure Las Vegas tourists who want to buy marijuana can consume it legally off gaming resort grounds.
"There's no other option," Abboud said.
Before Southern Nevada gets its first whiff of pot lounges, however, Senate Bill 236 would need to be passed by the Nevada Legislature and signed by Gov. Brian Sandoval. Marijuana can be legally consumed only in a private residence under the current law, but that bill would give local jurisdictions the authority to permit public consumption.
The panel didn't make any formal recommendations in Monday's meeting. It is scheduled to meet again April 3.
The Review-Journal is owned by the family of Las Vegas Sands Corp. Chairman and CEO Sheldon Adelson.
Contact Colton Lochhead at clochhead@reviewjournal.com or 702-383-4638. Follow @ColtonLochhead on Twitter.