Federal marijuana policy change could alter Nevada economy
Updated January 4, 2018 - 6:49 pm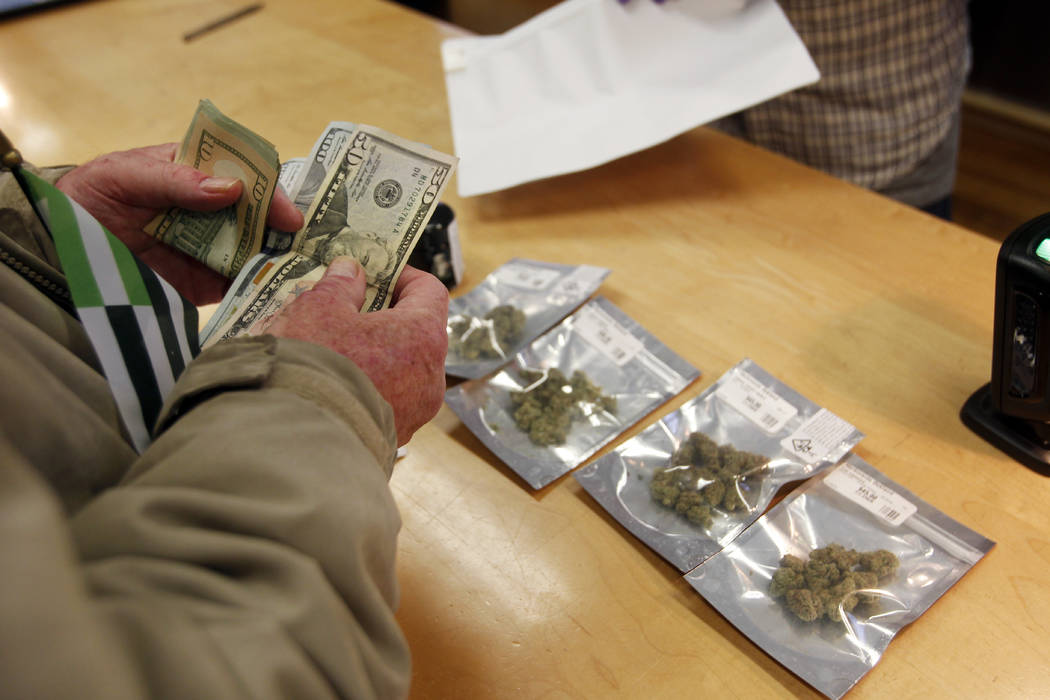 Nevada's thousands of marijuana employees and millions of dollars in pot tax revenue could be in jeopardy with the rescinding of a federal memo seen as the sole protector for state-regulated pot markets.
The Obama-era policy called the Cole Memo had paved the way for legalized marijuana to flourish in states across the country, but Attorney General Jeff Sessions said in a memo to federal prosecutors that they should follow "federal law enforcement priorities set by the Attorney General." Sessions has often stated his opposition to marijuana.
The directive puts the hundreds of licensed marijuana businesses in Nevada — and nearly 9,000 workers — in a state of flux as they wait to see what the move means for the state's budding industry that generated more than $126 million in sales and some $19 million in tax revenue through its first four months of operation.
"This is not a group of businesses that are just out there to sell drugs for people to get high," said Dr. Nick Spirtos, CEO and chairman of The Apothecary Shoppe, a marijuana dispensary in Las Vegas.
Spirtos said his company has invested more than $7 million in the business, which employs 75 people who receive full health insurance coverage and have an average annual salary of $35,000.
"Therefore, today's memo on federal marijuana enforcement simply directs all U.S. Attorneys to use previously established prosecutorial principles that provide them all the necessary tools to disrupt criminal organizations, tackle the growing drug crisis, and thwart violent crime across our country," Sessions said in a Department of Justice press release.
It's not immediately clear what happens next for Nevada's marijuana industry, which was poised to potentially almost double in size in terms of additional recreational marijuana licenses later this year.
The Nevada Tax Commission is set to vote on permanent marijuana regulations at its Jan. 14 meeting. If approved there, the Nevada Legislative Commission would have to approve regulations before the state could begin to issue new recreational licenses. Local governments in Southern Nevada are waiting to see what the state decides and said they will evaluate developments as they happen.
State officials cautious
Nevada Republican officials were cautious in their responses to the move to rescind federal protections.
Gov. Brian Sandoval said he will review the new memo with his staff to determine Nevada's options.
"Since Nevada voters approved the legalization of recreational marijuana in 2016, I have called for a well-regulated, restricted and respected industry. My administration has worked to ensure these priorities are met while implementing the will of the voters and remaining within the guidelines of both the Cole and Wilkinson federal memos. We have been largely successful in these efforts," Sandoval said. "I believe Nevada's marijuana industry is a model for other states."
Sandoval opposed marijuana legalization during the 2016 campaign. But after voters in the state approved it by nearly 10 points, he softened on the issue. During the 2017 Legislature, Sandoval pushed for a 10 percent sales tax to fund Nevada's public education system. The tax passed but is being diverted to the state's rainy day fund.
Republican Attorney General Adam Laxalt, who also opposed legalization, noted his office has defended the state's marijuana industry against two lawsuits. Laxalt, also a candidate for governor, did not say clearly whether his office will defend the state-regulated industry if a federal crackdown happens but said his office is reviewing the DOJ letter and its potential ramifications on Nevada.
"Although I opposed the Question 2 ballot initiative proposing the legalization of recreational marijuana in Nevada, I also pledged to defend the measure were it approved by the voters," Laxalt's statement said. "My office has expeditiously facilitated the implementation of the law in the face of considerable uncertainty about the status of federal enforcement activity."
Policy concerns
Nevada's GOP U.S. Sen. Dean Heller said he wants the attorney general to meet with Nevada officials to review the memo and discuss how marijuana states can navigate the new policy and how the Justice Department will move forward.
"Knowing Attorney General Sessions' deference to states' rights, I strongly encourage the DOJ to meet with Governor Sandoval and Attorney General Laxalt to discuss the implications of changes to federal marijuana enforcement policy. I also urge the DOJ to work with the congressional delegations from states like Nevada that have legalized marijuana as they review and navigate the new policy," Heller said in a statement.
Heller's Colorado counterpart, Republican Sen. Cory Gardner, condemned the decision as a "trampling" of Colorado's rights and its voters, and he said he would hold up all DOJ nominations until he received an explanation for what he said was a reversal from what Sessions had expressed to him previously.
"Sessions told me there were no plans to reverse the Cole Memo, that marijuana simply wasn't going to be on President Trump's agenda," Gardner said in a fiery speech on the Senate floor. "I would like to know from the attorney general what has changed."
Heller is the only GOP senator up for re-election this year who is both from a recreational marijuana state and who voted to confirm Sessions to the post of attorney general.
Move condemned
Nevada Democrat Rep. Dina Titus, one of Congress' biggest proponents of legalizing marijuana, tweeted Thursday that she intends to fight to protect the businesses licensed and regulated by the state of Nevada.
I will fight for businesses that are legally operating in states, contributing to tax bases, & creating jobs. We don't need a crackdown. We need to protect states' rights, respect the voice of voters, and pass laws to prevent this from happening again. https://t.co/0XBLrgf0iM

— Dina Titus (@repdinatitus) January 4, 2018
"I will fight for businesses that are legally operating in states, contributing to tax bases, & creating jobs," Titus said in her tweet. "We don't need a crackdown. We need to protect states' rights, respect the voice of voters, and pass laws to prevent this from happening again."
Other Democrats across Nevada condemned Sessions' move, including Reps. Jacky Rosen and Ruben Kihuen and state Senate Democratic leader Aaron Ford.
Democratic state Sen. Tick Segerblom, seen as the godfather of pot in Nevada for his push to usher in legal marijuana sales, said losing the industry could be devastating to the state's budget, especially the more than $40 million the state has earmarked for public education over the next two years that come from a 15 percent excise tax on marijuana cultivation sales.
"We're expecting tens of millions of tax revenue that's already budgeted. The thought that he's going to put us out of business is crazy, and we need to push back and let them know in Washington that it's unacceptable," Segerblom said.
Question 2, the ballot initiative to legalize recreational marijuana sales in Nevada, was approved in 2016 by a 54.5-45.5 percent margin. Nationally, approximately 64 percent of Americans support marijuana legalization, according to the latest Gallup poll released in October. That is the highest number since Gallup began tracking marijuana legalization support in 1969.
"We have fought all my life to get to where we are, and I, for one, am not just going to sit back and let them take it back," Segerblom told the Las Vegas Review-Journal on Thursday. "If they do, it's going to be over my dead body."
Contact Colton Lochhead at clochhead@reviewjournal.com or 702-383-4638. Follow @ColtonLochhead on Twitter.
Reporters Michael Scott Davidson and Amelia Pak-Harvey contributed to this report.
Ag Marijuana Enforcement 1.4.18 0 by Las Vegas Review-Journal on Scribd