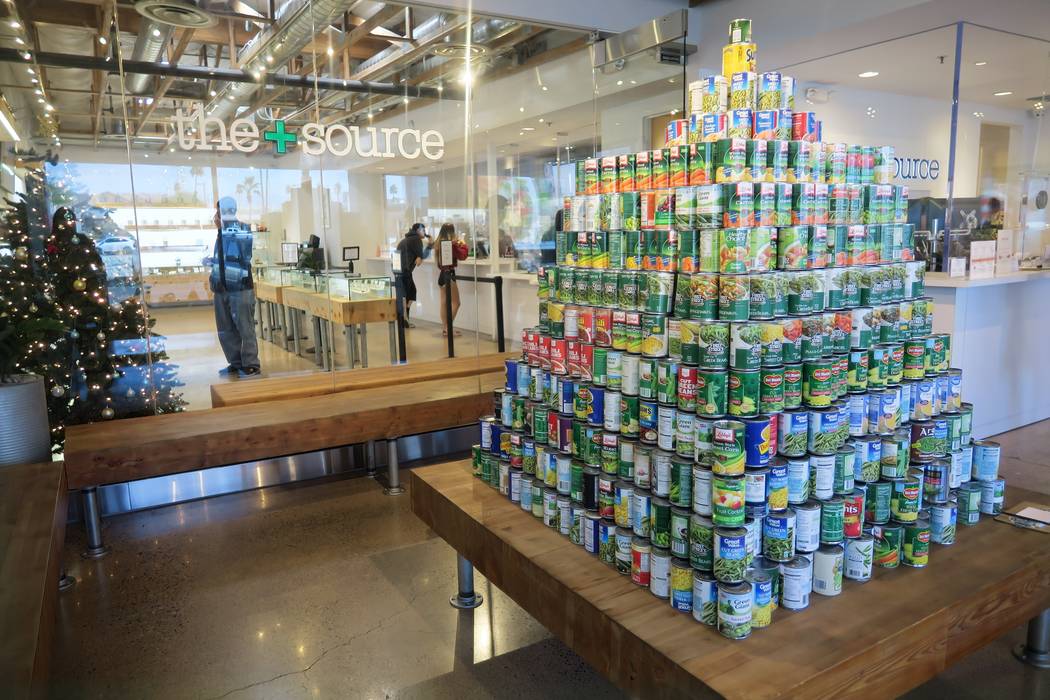 One Las Vegas marijuana company may have found the perfect way to tap into the community's giving nature — offering discounts on weed.
The Source, which has dispensaries in Las Vegas and Henderson, held a food drive promotion over the holidays that turned into the biggest such drive for Three Square Food Bank for all of 2017, according to the charity.
The Source expected to collect about 35,000 pounds through the drive, with the idea of building a canned food pyramid in the lobby.
By the time the drive ended Dec. 24, The Source had its pyramid, and thousands of square feet of storage space filled up from floor to ceiling, thanks to customers donating more than 156,000 pounds of food for Three Square.
Starting on Dec. 13, The Source's two dispensaries offered a $2 in-store credit for each donation of a nonperishable food item.
One customer donated 1,000 cans and walked out with $2,000 of credit. The store eventually capped the amount of credit customers could receive at $200, but the food drive continued to blossom.
"While we always knew that the cannabis community was a generous one, even we were astounded by the deluge of donations received from our customers," said Brandon Wiegand, The Source's operations director. "These donations will provide several thousand food-insecure families in our community with the nutrition they so desperately need."
Contact Colton Lochhead at clochhead@reviewjournal.com or 702-383-4638. Follow @ColtonLochhead on Twitter.