MJardin Group looks to invest in Nevada marijuana market
September 18, 2018 - 10:03 am
MJardin Group, a manager of cannabis facilities around North America, said it is looking to invest as much as $30 million into the Nevada marijuana market as recreational sales boom.
The Denver-based company is looking to spend as much as half that amount to acquire several dispensary licenses or facilities as its aims to build a vertically integrated operation in the state, Executive Chairman Rishi Gautam said in a telephone interview Monday.
"We are looking for a few acquisitions for retail in Nevada and are keen to expand," said Gautam. Nevada is a top five U.S. market and "ticks all the boxes" for the company, including a sizeable tourist market, he said.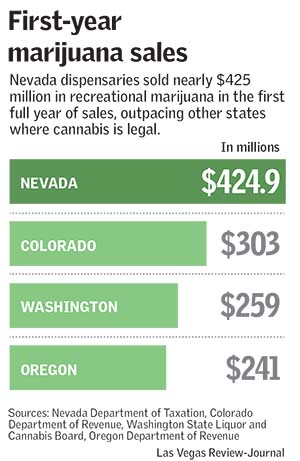 MJardin said it completed the purchase Monday of two indoor cannabis cultivation sites near Nellis Air Force Base for $22 million in cash and stock. MJardin was already managing those facilities.
The deal is the latest in a series of acquisitions in the Nevada marijuana industry, which posted total recreational and medicinal retail sales in excess of $500 million in the twelve months that ended June 30, beating state forecasts.
New facility expansion
MJardin acquired the parent company of GreenMart of Nevada LLC, which owns a four-acre site capable of producing more than 10,000 pounds of cannabis annually, the company said in a statement early Tuesday.
One of the facilities is currently in production while the second one is expected to open in January.
MJardin plans to invest as much as $15 million into the facility to develop extraction and packaging for its own marijuana-infused products as well as for up to five brands. Gautam said he would announce the company's brand partners in the coming months.
MJardin's business model has focused on managing cultivation, processing and retail facilities for marijuana license holders, many of whom don't have experience in the nascent industry.
The company currently manages 36 facilities in North America, including the two near Nellis and one in Henderson, Gautam said.
MJardin wants to buy more operations as its seeks to move away from just being a third-party operator, he said. The company has access to cash for more acquisitions from a Toronto-based credit fund.
MJardin plans to list its shares on a Canadian exchange later this year, he said.
Contact Todd Prince at 702-383-0386 or tprince@reviewjournal.com. Follow @toddprincetv on Twitter.
Recently announced acquisitions in the Nevada marijuana industry
• Xanthic Biopharma announced on Sept 7th that it had completed the acquisition of Nevada Organic Remedies LLC for $56 million.
• Golden Leaf Holdings in August announced it signed an agreement to buy Tahoe Hydroponics Company and 11T Corp. for $40 million in cash and shares.
• C21 Investments in July announced it was buying Silver State Relief LLC and Silver State Cultivation LLC for $50 million in cash and shares.