Nevada local governments have OK to license marijuana lounges
September 11, 2017 - 5:41 pm
Updated September 11, 2017 - 9:39 pm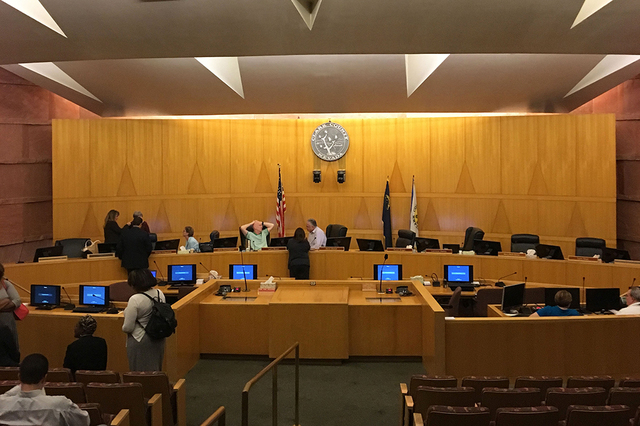 Able to buy but with nowhere to smoke, Las Vegas tourists and locals could soon have a place to light up their weed.
An opinion from the Legislative Counsel Bureau released Monday said no state law prohibits local governments from permitting for marijuana consumption in businesses.
That means Nevadans and visitors could soon be able to light up a joint in pot-friendly lounges, cafes, yoga studios and possibly even at special events like the Electric Daisy Carnival.
"I really believe that Nevada can be the marijuana capital of the world," said Nevada's godfather of pot, state Sen. Tick Segerblom, D-Las Vegas. "And this will be one more thing in our toolbox."
Adults 21 and older have been able to legally buy marijuana in Nevada since July 1. But because casinos have been instructed not to allow marijuana use on their property, which would put their profitable gaming licenses at risk, most tourists have no legal option to consume it.
Andrew Jolley, CEO of The+Source dispensaries and president of the Nevada Dispensary Association, said the opinion is "a step in the right direction."
"We have to be able to give tourists an option rather than a blanket statement that it's just not allowed on the Strip," he said.
But Jolley said it's not just about tourists.
"We'll be surprised at how many locals find value in these lounges," he said. "Think about how many bars we have or wine tasting facilities and events. It's crazy to think that marijuana is somehow different than that. It's really not."
Up to local jurisdictions
Now the onus falls on local governments to decide whether they want to allow forms of public use within their borders.
Clark County, through its marijuana advisory panel, has discussed the prospects of marijuana lounges, including a pilot program that would allow dispensaries to let patrons smoke inside the shops. The panel is expected to meet next month, and Jolley said he expects the lounges to be a prime discussion topic.
Clark County commissioners will discuss the issue at their meeting next week, commission Chairman Steve Sisolak said.
"I do feel it is very important for the people who are coming from out of town, the tourists, which are a big contributor to the industry's business, I'm told, to have a place where they can legally and safely consume the product," he said.
Sisolak said he's not sure how consumption will look in Clark County.
"I'd want to make sure that any of the marijuana being consumed was purchased from a licensed dispensary or grown in a home that has a license, not illegally obtained product."
County Commissioner Lawrence Weekly said the smell of marijuana smoking lounges needs to be taken into account when location of them is considered.
"For those who have families, it depends on where you put these things," Weekly said. "It's all still unknown, and as we work through it I hope those out there who have more education and experience will work with us."
Segerblom pushed for a bill in the 2017 Legislature that would have given local governments the authority to permit consumption lounges and other forms of public pot use. That bill died after Gov. Brian Sandoval expressed concern over the concept of pot lounges.
But the Legislative Counsel Bureau opinion breathes renewed life into that push. And Segerblom is optimistic that the Las Vegas Valley could see such lounges in 2018.
"This is what we've been waiting for," Segerblom said. "It's fantastic."
Contact Colton Lochhead at clochhead@reviewjournal.com or 702-383-4638. Follow @ColtonLochhead on Twitter. Staff writer Michael Scott Davidson contributed to this report.