Nevada medical pot law poses lawsuit risk for employers, panel warns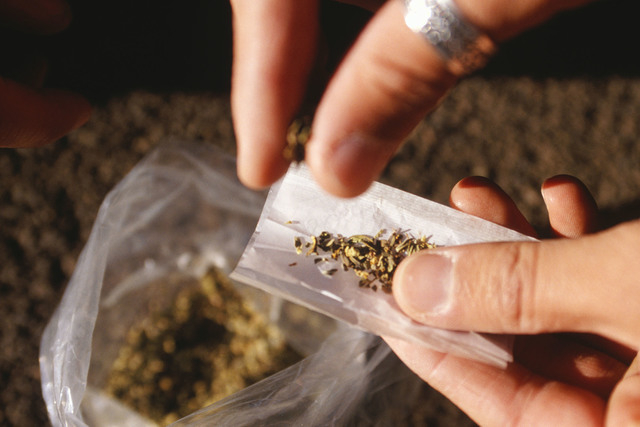 CARSON CITY — Lack of clarity in Nevada's medical marijuana law opens the door for litigation over employer requirements to accommodate workers who use medicinal marijuana, lawyers told a state advisory panel Wednesday.
Edwin Keller Jr. and Robert Spretnak, labor and employment law attorneys, told the Advisory Commission on the Administration of Justice that a constitutional amendment passed by voters in 2000 legalizing marijuana for medical use did not require employers to accommodate workers who use it.
But a law passed by the 2013 Legislature setting up a regulatory and taxing structure to implement commercial medical marijuana is ambiguous and ripe for legal action, they said.
"One thing we share is, there's a lack of guidance due to the ambiguities in the statutes," said Spretnak, who represents employees in his legal practice. Keller is an employer attorney.
The state law says employers are not required to allow use of medical marijuana in the workplace or modify jobs or working conditions for someone who does.
But the law also says an employer must "attempt to make reasonable accommodations" for employees who hold a valid medical marijuana card so long as marijuana use doesn't pose a threat of harm or danger, cause undue hardship on the employer, or prohibit the employee from fulfilling any or all of their responsibilities.
"Litigating a case after somebody has been fired is not the ideal way to solve a problem," Spretnak said.
Keller also said the law doesn't distinguish what type and size of businesses are required to try to accommodate medical pot users, or how such requirements are to be enforced.
Additionally, he said it doesn't address pre-employment drug screening. Can medical marijuana card holders be denied employment if they test positive?
Nevada Supreme Court Justice James Hardesty, chairman of the commission, indicated he would form a subcommittee of the advisory panel to further study the issues.
Hardesty on Wednesday also raised concerns about billboards in Las Vegas for "Dr. Reefer" that advertise a toll-free number to call for medical marijuana cards.
Officials with the Division of Public and Behavioral Health, which regulates Nevada's medical marijuana program, said there are consultants who assist medical marijuana patients through the application process to obtain a card, adding the division has no authority to restrict advertising by doctors.
Chad Westom, chief of the medical marijuana program, said the number of card holders in Nevada has tripled since laws allowing for commercial cultivation and sale was passed three years ago.
Steve Gilbert, state program manager, said 461 licensed Nevada physicians have signed recommendations for patients to obtain medical marijuana cards.
There are currently 15,238 medical marijuana cardholders, plus another 1,144 who are caregivers for patients.
The first cultivation, production, testing labs and dispensaries opened in Nevada in 2015. So far only about 22 percent of the facilities that were awarded licenses are open for business and officials expect the number of cardholders to continue to grow as medical pot becomes more accessible.
Nevadans in November will also vote on making marijuana legal for recreational use.
Contact Sandra Chereb at schereb@reviewjournal.com or 775-461-3821. Find @SandraChereb on Twitter.
RELATED
Judge rules Nevada's medical marijuana registration program is constitutional
Lawsuit challenges state marijuana card fees