Not so fast on marijuana lounges, Clark County Commission says
September 19, 2017 - 12:15 pm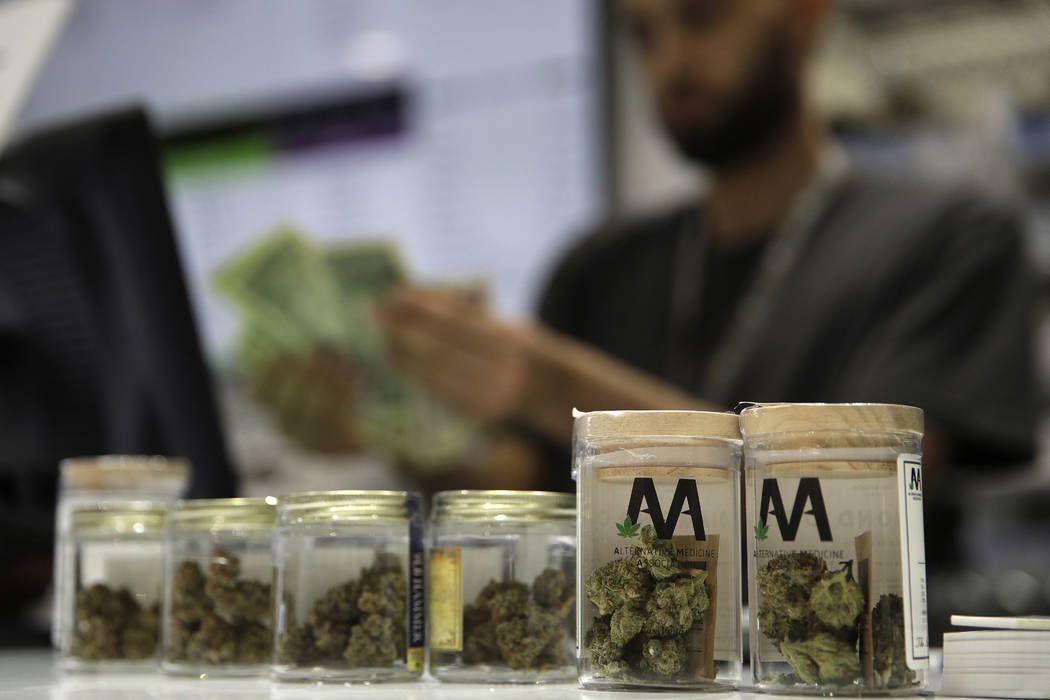 Don't expect to be able to light up in a marijuana social club anytime soon in unincorporated Clark County.
County commissioners on Tuesday decided to "pump the brakes" on talks of potentially permitting marijuana consumption lounges in their jurisdiction, but said they could revisit the issue in several months.
"We have to crawl before we can run," Commissioner Marilyn Kirkpatrick said.
No city or county in the country has legal, operating marijuana social clubs, but commissioners took up the topic following last week's Legislative Counsel Bureau opinion that said nothing in state law prevents local governments from allowing the lounges or other types of permitted social use.
Denver has a law allowing the lounges, but the city has not approved any.
"I don't see any reason why we have to be first. But we certainly have to be right," Commissioner Jim Gibson said.
Gibson's trepidation was echoed by commissioners Marilyn Kirkpatrick, Susan Brager and Larry Brown, who all noted that they think it would be moving too quickly.
"I think this is a runaway train," said Brager, who has been the commission's biggest opponent of recreational marijuana.
Although Commissioner Chirs Giunchigliani asked for the discussion, she was hesitant on the idea and worried that moving too quickly could draw the ire of the Justice Department and Attorney General Jeff Sessions, who has vocally opposed marijuana legalization.
"I don't want to invite the feds in any more than we need to," Giunchigliani said.
On a voice vote, six of seven commissioners — Giunchigliani excluded — said they did not want to adopt rules and procedures for marijuana lounges. Chairman Steve Sisolak said the vote doesn't stop commissioners from addressing the topic at a later meeting.
Sisolak said the commission would ask the Clark County district attorney's office for a second opinion when the commission reviews the issue.
No option for tourists
In Nevada, the argument for social pot lounges has an additional layer. More than 43 million people visit Las Vegas each year, but gaming resorts have universally banned marijuana on their properties, meaning tourists have no legal place to consume the drug.
That was the idea behind state the push by state Sen. Tick Segerblom, D-Las Vegas, to change Nevada law during the 2017 Legislature. But Gov. Brian Sandoval said he was dubious about the idea, and lawmakers let Segerblom's bill die before without a vote. Segerblom asked the Legislative Counsel Bureau for an opinion to see if a new law was needed to allow such lounges.
Several members of the public, including a yoga instructor who wants to teach cannabis-infused yoga and a "cannabis chef," said the county should move quickly to allow lounges and other social venues for marijuana use.
That yoga instructor, 38-year-old Emily Wilson, said she offered cannabis-infused yoga classes at three studios before she was told it wasn't allowed. Cannabis yoga is in "huge demand," Wilson told the Las Vegas Review-Journal after the meeting, adding that her classes often attracted more than 30 students each.
Wilson also wondered why alcohol-and-yoga classes are allowed, but not weed yoga.
"They don't understand," she said of the commissioners.
Contact Colton Lochhead at clochhead@reviewjournal.com or 702-383-4638. Follow @ColtonLochhead on Twitter.