Opponents of legalized marijuana invisible in Nevada's Question 2 campaign
August 30, 2016 - 3:30 pm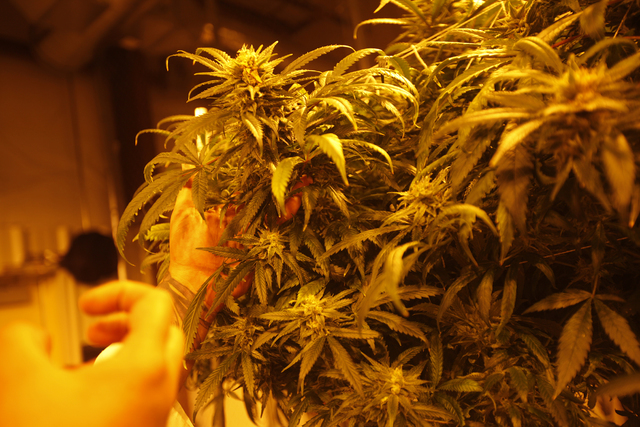 Supporters of recreational marijuana expected a massive and well-funded fight from those who want to keep the drug illegal in Nevada.
But with less than three months until Election Day, Nevadans have heard little from anti-pot groups.
As of Monday, no Las Vegas television advertising slots had been purchased or reserved by any anti-legalization group, according to the Federal Communications Commission website.
If a majority of voters support Question 2 on Nov. 8, adults 21 and older will be able to buy, possess and use marijuana legally without a prescription.
The pro-Question 2 political action committee, the Coalition to Regulate Marijuana like Alcohol, has hit the advertising trail hard in recent weeks. The group reserved more than $900,000 worth of ad space on Southern Nevada TV stations — a majority of that in Clark County — for the four weeks leading up to Election Day. In July, the group rolled out digital ads, and earlier this month it unveiled a billboard advertisement.
At least three Nevada-based groups have formed to fight Question 2. But most of these groups have done little or no advertising.
The only real advertising against the drug has come from a Reno nonprofit.
SPOT THE POT?
Join Together Northern Nevada, an educational nonprofit, has erected a few billboards in Reno and Las Vegas that show images of sweet foods such as cupcakes and lollipops with the text "Can you spot the POT? Can your KIDS?"
As a nonprofit, the substance abuse and prevention coalition can't take a stance on the ballot measure, meaning it can't advocate for people to vote against marijuana legalization. It operates on federal grants, and Executive Director Jennifer Snyder said the grant for the marijuana campaign will end next month.
Snyder said the campaign aims to educate parents about marijuana edibles and what marijuana looks like today.
"It's not the same marijuana that the parents smoked 20 to 30 years ago," she added.
The PAC Coalition Against Legalizing Marijuana was formed in 2015 specifically to fight Question 2, but it has not yet engaged in the campaign.
The group did not file any contribution reports with the Nevada secretary of state's office for the May 24 or June 10 reporting deadlines. The most recent filing, from Jan. 15, reported nothing raised or spent. The next reporting deadline for PACs is Oct. 14. The group's Facebook and Twitter pages have sat inactive for more than a year. The most recent posts on both social media platforms came on March 12, 2015. Coalition founder Jeff Kaye did not return phone calls seeking comment.
Nevadans for Responsible Drug Policy, a nonprofit organization co-founded by former GOP state Assemblyman Pat Hickey, created a website dedicated to fighting the effort. The website has regular blog posts but has done no advertising.
Hickey told the Las Vegas Review-Journal that there are no plans to jump into the airwaves anytime soon.
"We will continue to do grass-roots education, speaking on panels, appearing before community businesses and church groups, etcetera," Hickey said.
NEW ANTI-POT GROUP
But a recently formed group might make a late charge against the legalization effort.
The anti-marijuana PAC Protecting Nevada's Children was formed Aug. 18. The group's listed president, local attorney and campaign operative Daniel Stewart, did not return phone calls or emails seeking comment for this story.
In September 2015, Stewart joined the GOP political consulting firm November Inc., which has worked on several Nevada campaigns including those of Gov. Brian Sandoval and U.S. Sen. Dean Heller, both Republicans.
Some of the state's top elected officials, including Sandoval and most of the state's sheriffs and police chiefs, have declared opposition to the measure. U.S. Sen. Harry Reid, D-Nev., a supporter of medical cannabis, said earlier this month that he isn't sold on recreational weed.
Eric Herzik, head of the political science department at the University of Nevada, Reno, said political opposition to the referendum means little if there isn't an active campaign to back up the stance.
"If you're able to run ads, if you have people who are making calls, knocking on doors, it doesn't matter if Brian Sandoval says he's opposed to it," Herzik said.
But even if more opponents jump into the mix between now and Election Day, Herzik said they would face an uphill battle.
Forty years ago, he said, marijuana was considered "the assassin of youth, the gateway to heroin."
But the public view on weed has undergone a drastic shift over the decades.
According to a Gallup Poll last year, 58 percent of Americans supported legal marijuana. In 1969, when Gallup first asked if the drug should be legal, it found that just 12 percent of the country supported it.
A KTNV-TV Channel 13/Rasmussen Reports poll of Nevada voters released in July found 50 percent of those surveyed supported legalized marijuana and 41 percent opposed it.
"Attitudes have relaxed so much on marijuana that it's hard to find an activist group that would organize, pound the streets and donate money to fight it," Herzik said.
WILD CARD
But there is a wild card who leaves marijuana supporters anxious: staunch marijuana opponent Sheldon Adelson, the chairman and CEO of Las Vegas Sands Corp.
Marijuana supporters like state Sen. Tick Segerblom, D-Las Vegas, point to Adelson's financial backing of the anti-marijuana campaign in Florida in 2014, when the voters narrowly rejected legalizing the drug for medicinal purposes.
Adelson contributed more than $5 million toward the anti-pot advertising blitz during Florida's election cycle, The Washington Post reported. That amounted to 85 percent of the anti-marijuana group's total funding.
Adelson has not contributed money to anti-marijuana PACs in Nevada this election cycle, as of the most recent campaign filings in June. But sources close to the Adelsons say they absolutely will oppose Question 2. The source said it's unclear what form that opposition will take at this point.
"He's not afraid to spend it when he wants to. Adelson could come in overnight and turn everything upside down," Segerblom said. "You always have to be nervous."
The Review-Journal is owned by the family of Las Vegas Sands Chairman and CEO Sheldon Adelson.
Contact Colton Lochhead at clochhead@reviewjournal.com or 702-383-4638. Find @ColtonLochhead on Twitter.