Plans dropped for medical pot shop next to Henderson mall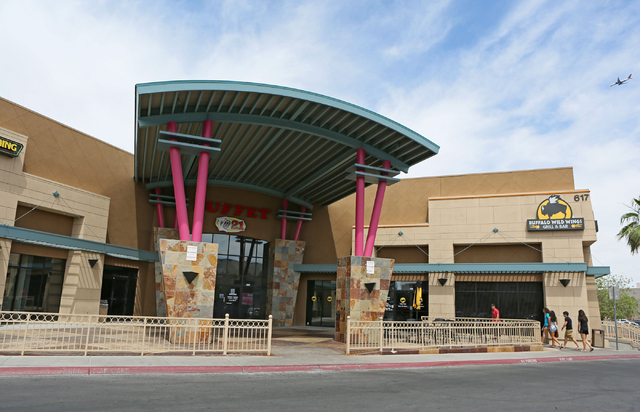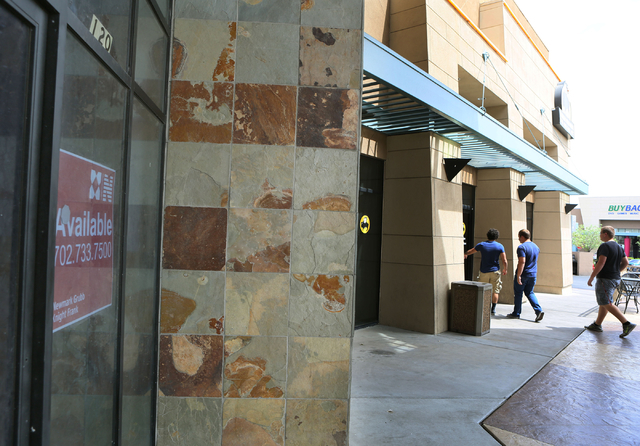 Plans for a medical marijuana dispensary near the Galleria at Sunset mall in Henderson have been scrapped after the company behind it failed to get proper approvals.
The move opens the door for a different shop at a new location to take its slot.
It also marks yet another shuffle in the confusing process of locating the five dispensaries allowed in Henderson under state law.
The planned shop, called Wellness Connection, would have been adjacent to the mall, though on separate property near Buffalo Wild Wings. But after a court fight, Wellness surrendered its state registration in April, according to recent court filings.
Now a judge could order that a different dispensary get its spot, or the state could fill the spot after taking a new round of applications.
Wellness Connection never got city approval for its first proposed location, meaning the state Division of Public and Behavioral Health should not have approved its application. By law, the state can only approve marijuana businesses after they have met local zoning rules.
Wellness' original site on West Sunset Road was rejected by Henderson in July as being too close to a public park, in violation of a 1,000-foot separation rule. Despite that, the state granted Wellness Connection a provisional registration in November, ranking it fourth among 27 dispensary applicants in Henderson.
Henderson Organic Remedies, which missed the cut after ranking sixth, filed a lawsuit in Clark County District Court in November. It asked a judge to throw out Wellness Connection's approval and order the state to grant approval to Henderson Organic.
Meanwhile, Wellness Connection signed a lease for the new site near Galleria mall, just east of its original location. It initially fought the lawsuit. But its withdrawal was confirmed in a court filing last week by the state attorney general's office.
Jody Ann Ghanem, one of the partners in Wellness Connection, declined to comment this week. An attorney for the business, Melissa Waite, did not respond to repeated calls and emails.
Henderson Organic Remedies is asking a judge to order that it be moved up to the fifth slot. In a filing, Chief Deputy Attorney General Linda Anderson says the state has no legal authority to do that on its own, but won't appeal if the court orders it to do so.
If the judge declines, the state will take new applications for the open dispensary slot later this year.
Though marijuana businesses are expected to be highly profitable — especially if Nevada voters approve recreational pot next year — the process of getting the industry off the ground has been agonizingly slow, frustrating both businesses and patients still unable to get medicine without growing it themselves.
Last year, following the Legislature's 2013 approval of commercial marijuana operations, more than 500 businesses applied for a state certificate. In November, the state approved 55 dispensaries and scores of growing operations. Some shops expected to open in January. But after delays in approving pesticide rules and other bureaucratic tangles, the first dispensary has yet to open, though some cultivators have begun growing crops.
Henderson Organic has not publicly announced where it plans to locate. Its attorney, James Shapiro, said at a City Council meeting last week that the dispensary would be almost exactly one mile from a newly approved dispensary called Jenny's on Eastern Avenue. Shapiro did not respond to calls seeking clarification.
Jenny's moved its spot after neighbors objected to its original plans to open near Sun City Anthem. And next week, the council could approve another dispensary, Clear River Wellness, on St. Rose Parkway not far west of Jenny's new spot.
Combined with Henderson Organics' nearby location, that would put three of Henderson's allotted five dispensaries within a few miles of each other.
Contact Eric Hartley at ehartley@reviewjournal.com or 702-550-9229. Find him on Twitter: @ethartley
Pot news
Want to know more? Read all of our coverage here.
RELATED
Henderson medical pot dispensary proposed at Galleria mall