Sandoval signs order that could end marijuana distribution fight
Updated July 7, 2017 - 7:34 pm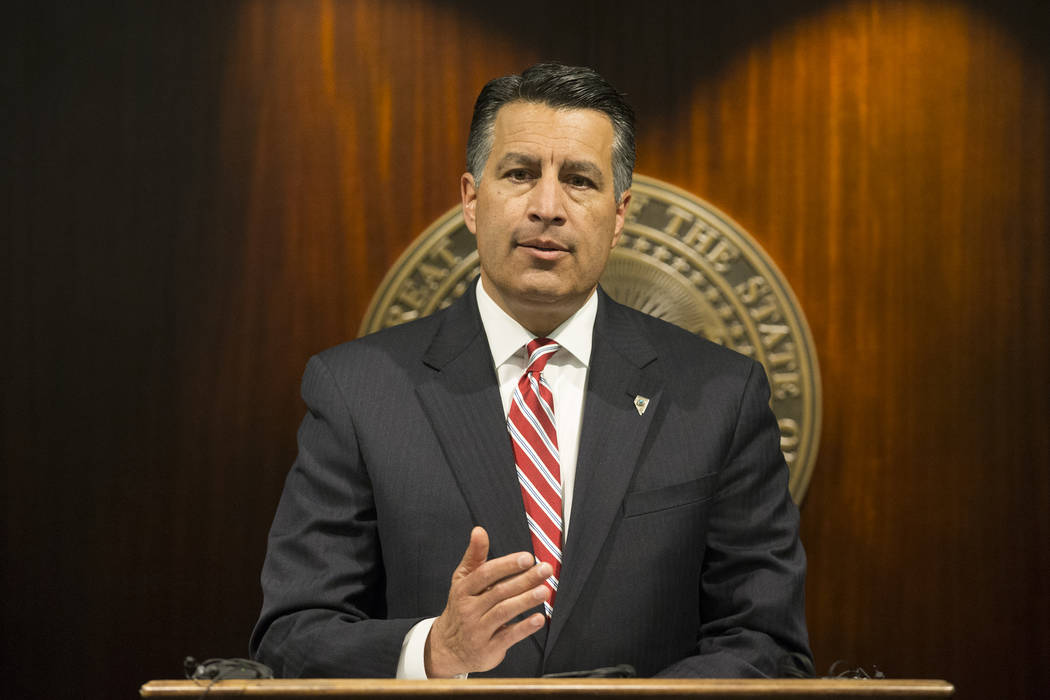 With recreational marijuana quickly leaving the shelves of Nevada dispensaries, Gov. Brian Sandoval on Friday signed emergency regulations that could keep sales going strong beyond the first week.
Some dispensaries have told the state that a legal fight over distribution rights could put them out of product "within the next several days," according to a statement from the tax department. Such a loss of product could hurt an industry that did millions of dollars of business over the first 100 hours of retail sales.
"Based on reports of adult-use marijuana sales already far exceeding the industry's expectations at the state's 47 licensed retail marijuana stores, and the reality that many stores are running out of inventory, the Department must address the lack of distributors immediately," the statement said.
The department stressed the need to make the determination soon to prevent Nevada's entire retail marijuana market from coming to a stop.
"Unless the issue with distributor licensing is resolved quickly, the inability to deliver product to retail stores will result in many of these people losing their jobs and will bring this nascent market to a grinding halt," the statement said.
Riana Durrett, executive director for the Nevada Dispensary Association, said roughly $3 million worth of recreational pot was sold during the first four days of sales, which began July 1. That will net the state about $1 million in taxes.
Andrew Jolley, CEO of the Source dispensary, said his store is averaging 700 to 900 customers a day. That's three to four times as many customers his shop saw when it only sold medical marijuana, he said.
"We've been very happy with the sales," Jolley said. "This is a very turbulent industry, and it's very difficult to predict anything. It was hard to know exactly what to expect."
Legal fight
The regulations must be approved by the Nevada Tax Commission, which will vote on the proposal Thursday.
If approved, the state could consider giving distribution licenses to entities other than licensed liquor wholesalers, such as operating marijuana companies or specialized marijuana distribution businesses.
Only alcohol wholesalers are qualified under the current regulations to transport marijuana from growing facilities to dispensaries. The state has been trying to license as many as seven liquor wholesalers, but the Nevada Department of Taxation said Friday none were ready to go.
Alcohol distributors have contended that the voter-approved ballot initiative that legalized marijuana gives them exclusive rights to distribute the drug. They sued when the state tried to give licenses to entities beyond liquor wholesalers.
A Carson City judge ruled last month in favor of the liquor wholesalers and forced the state to stop accepting applications from other businesses for distribution licenses. The tax department's proposal could license other entities, such as operating marijuana companies or specialized marijuana distribution businesses.
Strong start
Las Vegas police reported no problems at dispensaries, despite crowds that sometimes stretched to several hundreds. The tax department, which regulates the new industry, sent out teams of inspectors to pot shops across the state on the first day of sales to make sure dispensaries were following the law, like checking every ID to make sure customers were at least 21 years old and not selling anyone more than the legal carry limit of one ounce of smokable flower.
"There were no issues," tax department spokeswoman Klapstein said Friday.
The official tax dollars raked in by Nevada's newest market won't be known until September, when the Department of Taxation releases the first month of revenue data, Klapstein said. Dispensary owners in Las Vegas are leery to talk specific sales numbers.
In the first two days of sales, customers often waited for two or more hours to get their legal weed, in lines that stretched outside the dispensaries and into the 100-plus degree heat.
But as the holiday weekend passed, things tapered off. And dispensaries say its mellowed to a steady hum of customers.
"It was a lot of novelty purchasers, a lot of people who wanted to be part of history," said Armen Yemenidjian, CEO of Essence dispensaries.
Contact Colton Lochhead at clochhead@reviewjournal.com or 702-383-4638. Follow @ColtonLochhead on Twitter.
Pot News
Click here for complete coverage of marijuana issues in the Las Vegas Review-Journal