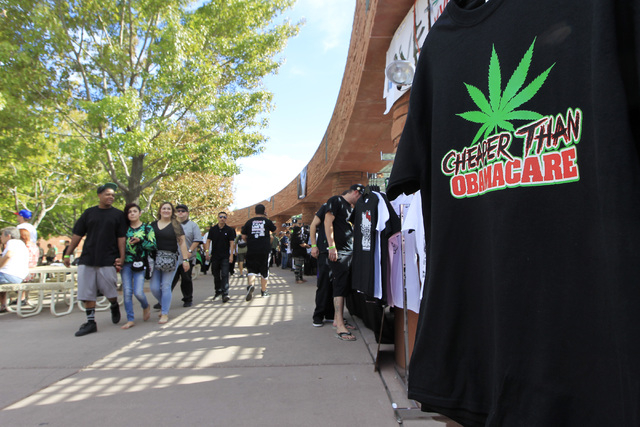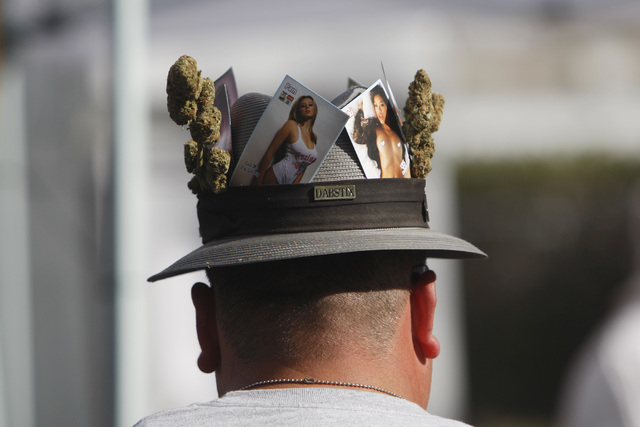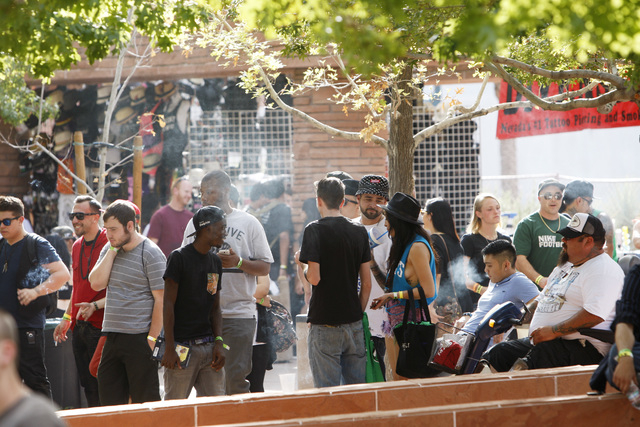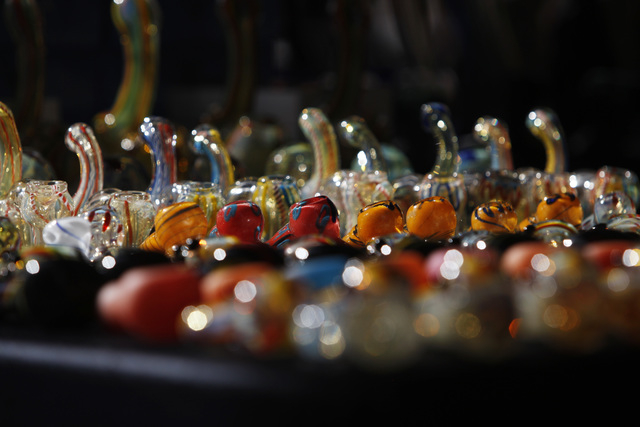 They came from near and far, converging in Las Vegas for a green-tinged celebration of hemp.
Some had green T-shirts or green socks. Images of marijuana plants were everywhere, on signs and T-shirts for sale.
One said "free my meds" above a picture of a marijuana plant. On the back it said: "We the people. Not the government."
The occasion was the first Las Vegas HempFest, which unfolded at the Clark County Government Center's amphitheater.
The upcoming start of the medical marijuana industry in Nevada gave attendees a reason to celebrate. Dispensaries will open, most likely in early 2015, after receiving approval from the state. Clark County and Southern Nevada cities already have approved applications for medical marijuana businesses.
Thousands of people were present by early Saturday after­noon, and the event organizers had anticipated 4,000 to 10,000 by the end of HempFest. The event draws its inspiration from the Seattle Hemp Fest, a 23-year-old event that has grown into an annual celebration that draws tens of thousands.
Las Vegas HempFest bills itself as a celebration of the hemp and cannabis culture, with opportunity to network with businesses and organizations. Vendors offered educational information about medical marijuana and a lineup of products that included clothing, papers for rolling smokes, and pipes. No marijuana — medical or otherwise — was sold.
Here and there Saturday, a faint whiff of marijuana filled nostrils. But Las Vegas HempFest wasn't a party of reefer-smoking hippies and potheads.
Signs instructed people to only smoke in the parking lots and limit the usage to tobacco.
Families with children who benefit from medical marijuana attended, as did friendly advocates who touted further freedoms for marijuana.
For some, that means being free from the side effects of pills that would be required if medical marijuana wasn't available. One joke is that the munchies is a better side effect than frequent urination.
"I'd rather have the munchies any day than that stuff," said Derek Sante, a spokesman for Dr. Reefer, a Las Vegas business with several physicians who advise patients about medical marijuana.
Kurt Duchac, a board member with the educational organization Wellness Education Cannabis Advocates of Nevada, said medical marijuana eliminated his need to be on pain­killers for slipped discs in his back.
"It takes away the stigma of cannabis," Duchac said of the event. "It's nothing scary. We have these events and nothing bad happens."
Joe Grumbine, founder and chief executive officer of The Human Solution Inter­national, is pushing for change in the court system.
His international nonprofit organization based in California gets volunteers involved in wearing green "solidarity ribbons" in courtrooms in cases that involve marijuana charges.
"We're about ending prohibition altogether," Grumbine said.
Grumbine was charged in California while operating a medical marijuana dispensary. The charges were dismissed. He now supports others who face similar charges.
"We educate each other about our rights," he said.
Jasper Gillespie, founder of 420 Culture, does graphics and Web design for companies that focus on hemp and marijuana-related issues.
The San Francisco resident said other marijuana freedoms are just a step behind.
"Recreational, medical — it's all the same to me," Gillespie said.
Las Vegas HempFest, while on county grounds, wasn't a government event; organizers rented the space. Las Vegas HempFest is expected by organizers to be an annual event.
Contact Ben Botkin at bbotkin@reviewjournal.com or 702-387-2904. Find him on Twitter: @BenBotkin1.