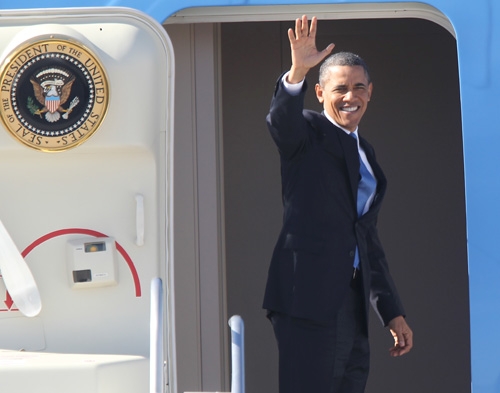 Within 17 hours of his arrival in Las Vegas, President Barack Obama boarded Air Force One at 12:10 p.m. Thursday and took off from McCarran International Airport.
He visited a UPS plant in Las Vegas Thursday morning to praise the shipping company for "leading by example" in converting its long-haul trucks to use liquefied natural gas instead of diesel fuel.
Ironically, a string of FedEx trailers sat in front of Air Force One at the airport.
Obama is scheduled to travel to Denver Thursday afternoon and will stop Friday in Ann Arbor, Mich. He visited Cedar Rapids, Iowa, and Phoenix before arriving in Las Vegas Wednesday evening.
Contact Trevon Milliard at tmilliard@reviewjournal.com or 702-383-0279.