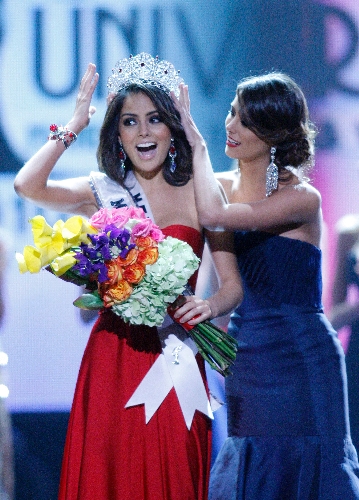 The new Miss Universe Jimena Navarrete, 22, is a nature-lover who enjoys sunsets and spending time with family.
Wearing a striking red gown that billowed behind her as she strode across the stage, Navarrete was crowned Monday night in front of a Las Vegas crowd at Mandalay Bay. Navarrete, from Guadalajara, Mexico, beat out 82 international beauties for the right to represent the Miss Universe organization for the next 12 months.
Miss Jamaica Yendi Phillipps, 24, came in first place while Miss Australia Jesinta Campbell, 19; Miss Ukraine Anna Poslavska, 23; and Miss Philippines Venus Raj, 22, rounded out the top five.
Miss USA Rima Fakih did not make the top 15 cut.
In addition to the jewel-encrusted crown and "memories to last a lifetime," Navarrete also won a custom-made wardrobe, jewelry and a year's supply of cosmetics and hair products.
During a news conference after the pageant, Navarrete dedicated her win to her country and her family. She is the first Mexico contestant to win Miss Universe since 1991. She started modeling at the age of 15 and hopes to one day to work in a hospital or other clinical setting teaching people about nutrition. In the meantime, she plans to educate the world about her country and its people.
When asked whether she will use her new status as a platform to speak out against Arizona's immigration law, she said she would follow the rules and represent the Miss Universe organization.
"Today" show correspondent Natalie Morales and Bret Michaels, lead singer of the '80s hair band Poison and season three winner of NBC's "Celebrity Apprentice," hosted the two-hour telecast. Michaels wore his ever-present blue bandana while Morales wore a designer gown.
Actor Chazz Palminteri, singer Chynna Phillips, actor William Baldwin, gold medal-winning figure skater Evan Lysacek, actress Jane Seymour, supermodel Niki Taylor and magician Criss Angel judged the event.
The show opened with the field of contestants being whittled down to the top 15. After a swimsuit competition in which the women modeled lavender bikinis, the field was once again narrowed, down to 10. The five contestants left standing after the evening gown competition answered a single question put to them by one judge.
Navarrete impressed judges with her answer to a question about how unsupervised Internet usage affects today's youth.
"I do believe the Internet is a necessary tool at this time," she said through an interpreter.
The pageant, in its 59th year, not only featured beautiful women from around the world, it also showcased the best of Las Vegas. Several segments of the NBC telecast showed Miss Universe contestants eating, swimming and otherwise enjoying themselves at Mandalay Bay and other MGM Resorts International properties. Other segments talked up local spots such as Lake Mead and Valley of Fire State Park.
Contact reporter Sonya Padgett at spadgett@reviewjournal.com or 702-380-4564.