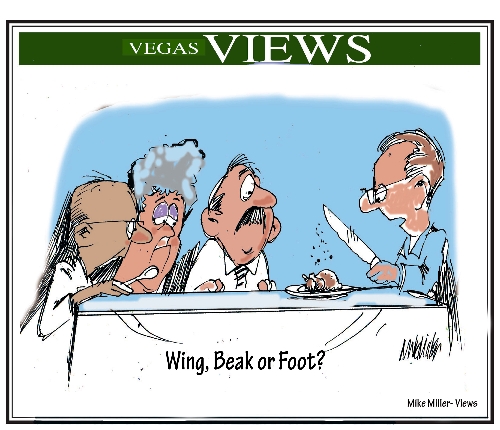 Seniors may be eligible
for accessible affordable housing
Park Apartments has opened at 2312 Bledsoe Lane offering 22 units of accessible, affordable housing to very low income adults with physical disabilities.
Rent is based on 30 percent of household adjusted monthly income.
The entire apartment community meets Americans with Disabilities Act guidelines for accessibility and provides features such as widened doorways, roll-under counters and sinks and roll-in showers.
For more information, call
800-466-7722.
Veterans offered driving course
AARP plans to offer free classroom safe driving courses to veterans and current military personnel. Valid military identification is required. The course is approved by the Nevada Department of Motor Vehicles for possible auto insurance discounts for drivers 55 or older.
Regular course fees are $12 for AARP members or $14 for nonmembers.
To locate the nearest driver safety course, visit aarp.org/veterans or call 888-227-7669.
COMPUTER LAB OPEN WEEKDAYS
Computers are available with a time limit of two hours at the Doolittle Senior Center, 1930 N. J St. The center is open from 8 a.m. to 5 p.m. Monday through Friday.
No instruction or assistance is available. There is a printing fee of 2 cents per page. Seniors must pay a $2 senior membership fee to use the computer lab. Call 229-6125 for more information.
Contemporary arts and crafts shown at arts center
An exhibit featuring colorful original arts and crafts that capture the spirit of the contemporary Native American Nevada-style pow wow are being shown from 12:30 to 9 p.m. Wednesdays through Fridays, and from 10 a.m. to 7 p.m. Sundays, Nov. 4 to Dec. 21, at Charleston Heights Arts Center, 800 S. Brush St. Admission is free. For more information, call 229-1012 or visit artslasvegas.org.
Medicare open enrollment information offered at breakfasts
HealthCare Partners Medical Group plans to host several Breakfast with Doctors events answer seniors' questions about the Medicare open enrollment process. Events are planned from 9 a.m. to noon Nov. 4 at the Howard Lieburn Senior Center, 6230 Garwood Ave; from 10 a.m. to noon Nov. 10 at the Whitney Senior Center, 5712 Missouri Ave.; from 9 a.m. to noon Nov. 11 at the Desert Vista Community Center, 10360 Sun City Blvd.; and 9 to 11 a.m. Nov. 15 at Sun City Aliante's social hall, 7394 Aliante Parkway in North Las Vegas. Call 932-8585 or visit keepmydoctornv.com.
Fall prevention seminar planned in centennial hills
A kinesiologist plans to lead a seminar covering fall prevention tips, home modifications and exercises. The seminar is for adults 50 or older and is scheduled for 10 a.m. Nov. 7 at the Centennial Hills Active Adult Center, 6601 N. Buffalo Drive. For more information, call 229-1702 .
Make holiday greeting cards
at an arts and crafts workshop
Seniors can make learn to make holiday greeting cards during a workshop scheduled at 1:30 p.m. Nov. 16 at the Howard Lieburn Senior Center, 6230 Garwood Ave. Supplies are included with a $7 fee. The class is for adults 50 or older. Call 229-1600 for more information.
Enjoy a thanksgiving luncheon
A Thanksgiving luncheon featuring turkey, dressing and gravy is set to be served at 11:30 a.m. Nov. 18 at the Howard Lieburn Senior Center, 6230 Garwood Ave.
Sign up to bring a dish to share and come enjoy entertainment by Broadway star Nicole Pryor. The cost is $3, and advance registration is required. Call 229-1600 to sign up.