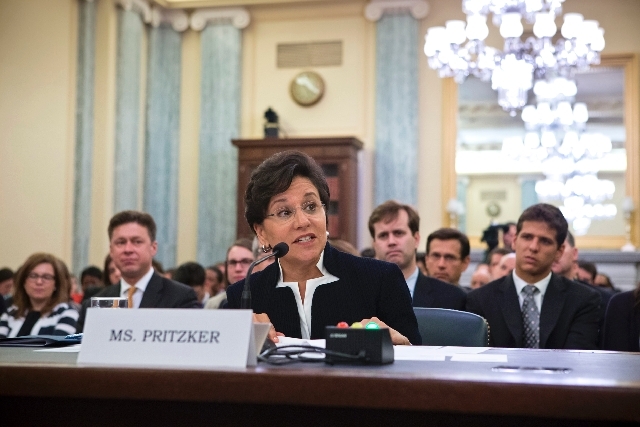 WASHINGTON — With 20 union-member hotel workers seated in the Senate committee audience, Chicago billionaire Penny Pritzker sailed toward confirmation as Commerce secretary Thursday after satisfying some critics over her hotel company's labor practices, her offshore investments and her role in a bank's collapse.
D. Taylor, the Las Vegas-based president of UNITE HERE, took a seat in the second row of the hearing room, and men and women wearing red union t-shirts dotted the crowd. Another 20 workers sat in an overflow room and watched the session on video feed.
It was 90 minutes into the hearing before Sen. Maria Cantwell, D-Wash., addressed the issue that had prompted the union presence, which was peaceful. She asked Pritzker to address allegations that Hyatt Hotels, where she is a director, outsources minimum wage jobs and has worker safety and workload problems.
"I've been in business for 27 years and the cornerstone of success in business is you have to have a good relationship and a good balance between management and labor," Pritzker said. "I support the right of workers to organize if that is what they want to do."
The answer seemed to satisfy senators, who moved to other issues. Taylor afterward said he had hoped Pritzker would have been pressed more about Hyatt, where workers have clashed with the company over long-standing safety and pay issues.
"I was surprised there were not some real questions asked," he said. "I thought there was a whole variety of isues they would have gotten into more, but that didn't occur."
Taylor said the union turnout "was about us being very clear about a principled position."
Sen. Harry Reid, D-Nev., plans to vote for Pritzker, his spokeswoman said, even though the Culinary union in Las Vegas — the largest unit of UNITE HERE — opposes her.
Sen. Dean Heller, R-Nev., who sits on the Senate Commerce Committee, met individually with Pritzker earlier this month, but his spokeswoman declined to disclose what they discussed and has not said how he plans to vote.
South Dakota Sen. John Thune, the top Republican on the Commerce Committee, said Pritzker probably will be confirmed after a recess for U.S. Memorial Day next week.
"She acquitted herself really well here," Thune told reporters.
Pritzker, 54, has been a top Democratic donor and helped lead President Barack Obama to record fundraising as the finance chairman of his 2008 campaign.
Pritzker, whose family founded Hyatt Hotels, would be among the wealthiest Cabinet secretaries in history. In a dis­closure form last week, she reported assets of $400 million to $2.2 billion, excluding the value of more than $50 million in Hyatt Hotels stock. The Bloomberg Billionaires Index puts her net worth at more than $1.5 billion.
She was asked only once during the hearing about her role in the 2001 collapse of suburban Chicago's Superior Bank, a pioneer in securitizing subprime mortgages and an institution half owned by her family. She was board chairman from 1991 to 1994.
Federal regulators took over the bank and the co-owners, including the Pritzker family, agreed to pay the government $460 million, according to the Federal Deposit Insurance Corp. and the Office of Thrift Supervision.
It was the biggest U.S. bank failure in a decade.
Laura Litvan of Bloomberg News contributed to this report. Contact Stephens Washington Bureau Chief Steve Tetreault at stetreault@stephensmedia.com or 202-783-1760. Follow him on Twitter @STetreaultDC.