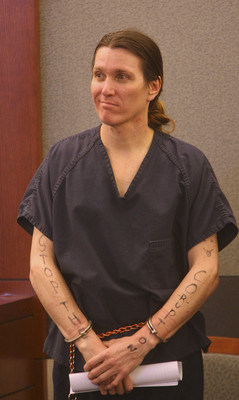 With the misspelled message "Stop the coruption" scrawled on his arms, the man accused of plotting to kill a judge, a prosecutor and a police detective appeared in District Court on Thursday morning wearing shackles and a grin.
Daimon Hoyt sat in a chair for much of the brief court hearing before Las Vegas Justice of the Peace Deborah Lippis. He smiled at the judge and a throng of local media that was covering his case.
Lippis didn't ask Hoyt to enter a plea and re-assigned his case to private attorney Charles Waterman, because the Clark County public defender's office declined to represent him.
The office isn't representing Hoyt in the murder-for-hire case because it wants to avoid any conflict of interest, said Phil Kohn, county public defender.
"I don't want other clients to wonder if we would pull punches or if we in any way poisoned the well for them," Kohn said.
The public defender's office is representing Hoyt in an unrelated molestation case.
Authorities allege Hoyt, 42, offered to pay a fellow county jail inmate $30,000 to kill District Judge Michelle Leavitt, county prosecutor Sandra DiGiacomo and Las Vegas police detective Bradley Nickell.
Hoyt wanted to kill DiGiacomo and Nickell because they put him behind bars in an unrelated 2006 theft ring case, police said.
Hoyt, also known as Daimon Monroe, wanted to kill Leavitt because he believed she would have sentenced him to life in prison if convicted in the theft ring case, authorities said.
He is facing three counts of soliciting murder. But he is also facing more than three dozen charges related to the theft ring and the alleged sexual abuse of his daughter and stepdaughter.
Las Vegas police Capt. Al Salinas, who heads the organized crime bureau, said authorities spent about six months investigating the plot.
At one point, the local FBI became involved because an agent was concerned that federal magistrate Lawrence Leavitt was the target of the hit, according to a police report.
Salinas said police became aware of the murder-for-hire plot in its early stages and received information about it from many sources, including inmates at Clark County Detention Center.
"I think he was contacting anyone that would listen to him," Salinas said Wednesday.
"He was angry at us, so he was reaching out to whoever would take him seriously."
An inmate cooperating with authorities in September wore a wire and spoke to Hoyt during a recreation period.
During the conversation, Hoyt confirmed that he wanted to kill the trio and discussed payment, according to a police arrest warrant.
Authorities said Hoyt is an eight-time felon whose criminal history dates to at least 1992.
He is scheduled to appear before Lippis again today.
Contact reporter David Kihara at dkihara@reviewjournal.com or (702)380-1039.