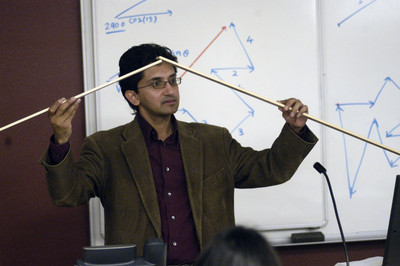 The physicist performs for crowds.
The philosopher climbs rocks.
The anthropologist creates art, the psychologist strums strings and the literature expert forecasts futures, mystically.
What's a college professor supposed to do, study all day?
"Physics and music go together, hand in hand," said Sandip Thanki, who chairs the physical sciences department at Nevada State College.
Thanki, 35, is a physicist, an astronomer, a lifelong scientist whose bookshelves are stacked with titles like "Infinity in your pocket."
He also happens to be an accomplished musician who studies under one of the world's virtuosos.
"I have no musical talent," said Thanki, who's been playing the sitar since he was a child in India. "Everything I've done is through practice."
Which he devotes lots of time to. Hours upon hours every week, as if it were a never- ending scientific study.
Thanki is one of a large group of local college professors who have mostly secret and sometimes extraordinary skills that seem to have nothing to do with their academic expertise.
Take Bill Ramsey, for example.
He's a philosophy professor at UNLV who's fascinated by the intersection of the brain and the mind.
Ramsey, 48, is an expert rock climber.
"The standard joke is that I've been climbing longer than most of my climbing partners have been breathing," he said.
Ramsey taught at the University of Notre Dame for 18 years before coming to the University of Nevada, Las Vegas last year. He came, in large part, for the rocks.
This climbing thing is not just a hobby; it's an obsession. He climbs two, three or more times every week.
"I go at it pretty hard," he said. "I'm kind of known for being very successful for climbing at the higher end for my age."
Shelley Fischer is kind of known, too. She's known as an English professor at the College of Southern Nevada. She's been teaching locally since 1980, full time at CSN since 2000.
But Fischer, 58, is also known as an astrologer for a local radio show she hosted on the topic and her astrology business advising clients.
"The essence of who I am is the astrology person," said Fischer, who has a love of ancient world literature. "If I was just to teach and do nothing else besides that, I'd go stark raving mad."
This is a common theme among the professors: that having a specialty outside their academic one is more necessity than frivolity.
Thanki, the physicist and sitar player, said he'd often rather play music than visit with friends.
"If I find free time, I'm going to either play sitar or do some physics or astronomy."
Thanki grew up in India, in the same small town where Mahatma Gandhi was born.
He started studying the sitar at age 6 or 7, he said. The sitar is a guitarlike instrument, only vastly more complicated. It has 18 strings instead of six, and is much larger.
He moved to Philadelphia 15 years ago to study physics. On the side, he began to play the sitar in a local restaurant every Wednesday night.
From there, he met Shafaatullah Khan, who happened to have come from an Indian family whose members have been sitar aficionados for 400 years.
This changed everything about how Thanki approached his music. He studied under Khan. He learned new ways of playing. The duo even once performed together at the Kennedy Center.
Along the way, Thanki moved to Las Vegas, got graduate degrees from UNLV, and was hired at the state college.
But he kept with the sitar, and has also become adept at the tabla, a drumlike instrument. Indeed, he has performed locally and has no plans of stopping. He even teaches the sitar occasionally.
Thanki said music is like science in its precision. This is what keeps him coming back again and again, trying to get it just right.
Russ Hurlburt knows a little about that. He's been playing music far longer than he's been a psychology professor at UNLV.
"It's a characteristic of my life — that it's hard for me to be without a musical influence," he said.
Hurlburt, 63, came to his academic field late. He spent a few years as an aeronautical engineer, then a few years in the Army, where he played trumpet in the band.
He already had mad trumpet skills, and might have made a career of it. In the end, however, he decided he was not good enough.
But his musical skill led to a stint playing taps at military funerals during the Vietnam War. He characterized that job as one where he would sit around for hours in the car, waiting.
Which gave him plenty of time to read. He eventually latched on to psychology books, which led to a fascination.
He abandoned the trumpet, got his degrees, and was hired at UNLV in 1976. He missed music, though.
"It clears my mind," he said. He bought a guitar for his son, and he himself fell in love with it.
He plays it still.
"I need to make the music," he said. "I like the discipline."
Similarly, Joshua Hamilton chose academics over music, but did not abandon his passion when he became a college professor.
Hamilton, 34, teaches psychiatric nursing at UNLV.
He is also a classical concert pianist.
He said he started playing the piano at age 5, and it took off from there.
But then, as a teen, he had a choice: pursue a musical career or do something sensible.
Though he chose sensible because he wanted to help people, he did not give up music. He simply did both.
Hamilton, who is from Wyoming, played in a symphony there before moving on. He joined UNLV a year and a half ago.
He still plays every day. He hopes to get more involved in the local classical music scene.
He said there are similarities between nursing and piano. Indeed, he said, rather than the music being a respite from his work, the art actually makes him a better scientist.
Which might be the point for all of these professors.
CSN anthropology professor Joshua Levin studies art and its meaning among cultures. He's also an artist.
"It's a way of getting to know yourself by looking into the mirror of that which you create," he said.
Or, he said, there could be a simpler explanation for all of this professorial talent.
"Universities and colleges," he said, "they're zoos for eccentrics."
Contact reporter Richard Lake at rlake @reviewjournal.com or 702-383-0307.