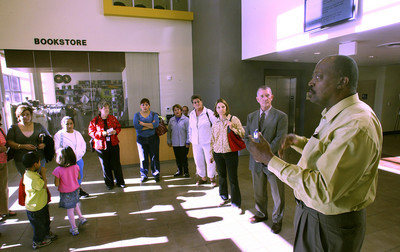 One woman inside the Nevada State College classroom wanted to know where she could enroll in English language classes.
Another asked if students can get into college if they don't have Social Security numbers.
Those were among the questions posed by a group of 10 mostly Hispanic parents who toured the downtown campus in Henderson on Nov. 14. The parents have children in the Clark County School District's East Region and are members of a group called PAALs, or Parents As Academic Leaders.
As many as 40 parents who are active in their schools' PTO, PTA or PAC, Parent Advisory Committee, make up the organization.
They meet monthly to discuss and learn what's going on in schools their children attend, sometimes focusing on the latest teaching techniques. The meetings also help parents learn the ins and outs of the public school system.
Participants take what they learn at the meetings and bring them to their schools' parent groups, said Robert Alfaro, superintendent of the East Region. The East Region stretches north to south from Lake Mead Boulevard to Russell Road. The region stretches from west to east from Interstate 15 to the eastern edge of the desert.
PAALs formed shortly after Alfaro was hired by the district in June 2005.
He said it's been his goal to get more parent participation in the region of about 45,000 students. About 60 percent of the region's students are Hispanic, and about two-thirds of PAALs participants are Hispanic, although the group is open to everyone.
Alfaro said getting more parents involved is sometimes a challenge because some parents in his region struggle with the English language and might be in the country illegally.
"It's a little tougher when you can't speak the language," Alfaro said. "It's a little tougher if you're undocumented. But we can do a better job welcoming them by helping them be part of an organization where parents, teachers and schools can work together."
The Center for Business & Economic Research at UNLV estimated in a 2006 report that slightly more than 120,000 people were living in Southern Nevada illegally. The district does not track how many of its students are illegal immigrants because it follows a 1982 U.S. Supreme Court ruling. The ruling dictates that all children, regardless of their citizenship status, have the right to a public education.
Rosi Chicas, a parent with two children at Beckley Elementary School, said the November PAALs meeting was her first. She said she went to learn more about how parents can become effective leaders. Chicas estimated 24 of the school's 30 PTA members struggle with the English language.
"Because of the language barriers, some parents feel they can't be good leaders," she said. "By getting involved, they will see that's not the case."
The group of parents at the Nevada State College meeting in November split into two groups. One group for the English speakers, and another for those who weren't fluent in English. An employee from the college who was bilingual led the discussion in Spanish for the latter group.
November's PAALs meeting was held at the college to get parents acclimated to the culture of college, Alfaro said.
"The idea here is for them to start thinking about college for their children or maybe even themselves," Alfaro said. "Once they start talking to their children about college, it won't be so foreign to them and they won't feel intimidated."
The group has two meetings per year at a college campus in Southern Nevada. Its members typically visit UNLV in the spring, Alfaro said.
About 47 percent of the students in the East Region graduated from high school in the 2005-06 school year, the latest data available. That's much lower than the district's average of 63.5 percent during that same time.
Alfaro said getting parents involved in school organizations like PAALs will translate into better academic performance by his students.
But one parent at the November PAALs meeting was there for her own reasons. Cindy Blanco, who has one child at Sunrise Acres Elementary School, said she was at the meeting to learn how to enroll in a English language class. She said mastering the language will translate to a better life for her and her family.
"It's the official language of the country," she said in Spanish. "Learning English is how people get better jobs."
Contact reporter Antonio Planas at aplanas@reviewjournal.com or (702) 799-2922.