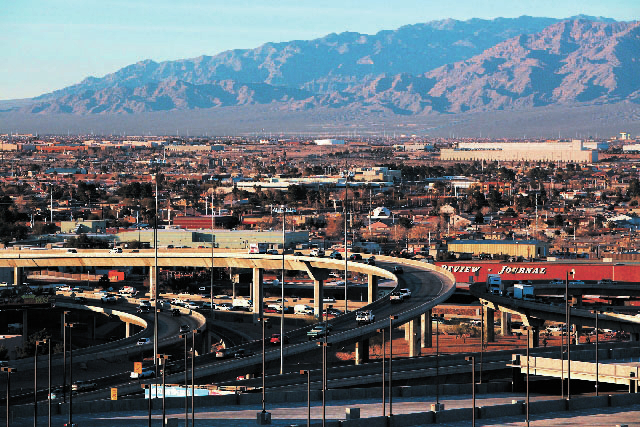 Three months after taking the job of managing Project Neon, the massive job of reconstructing the highways and streets south of Las Vegas' infamous Spaghetti Bowl, Cole Mortensen received an invitation to try something new in Nevada.
In April 2011, a consortium headed by the contractor, ACS Infrastructure Development Inc., proposed lining up the financing, design and construction needed to untangle ramps and streets around Interstate 15 just south of the junction with U.S. Highway 95, a notorious collision magnet, plus connecting the car pool lanes of the two highways.
The contractors offered to enter a public-private partnership that would have the Nevada Department of Transportation pay the consortium, Neon Mobility Group, about $34 million per year for 35 years to cover construction costs, ongoing operations and maintenance.
NDOT, looking to get around state budget constraints, adopted the idea, although it has yet to select the contractor that will do the work.
By this time next year, the agency hopes to have a final deal with ACS or one of two other groups vying for the job. Blueprint drafting is to start in early 2015.
Mortensen compares the largely untested approach to completing one of the biggest projects in NDOT history to buying a home. The $400 million for construction, plus more than $600 million for other costs and possible escalation, is made affordable by paying over 30 years.
The state typically sells 20-year bonds to finance road construction, with the bonds backed by a pledge of gas tax receipts. But using money from a private partner would allow the state to stretch the payment schedule out another 15 years, reducing the size of its payments.
With smaller payments, NDOT could tackle more of Project Neon at once, shaving about 15 years off the construction disruption.
Further, the state doesn't have to tie up all of its highway money in one project, Mortensen said.
"This allows us to deliver more projects than Neon (statewide) on an annual basis. That's where the public-private partnership makes a big difference."
public-private hybrid
Public-private partnerships have been used to build a broad range of public facilities.
For example, I-15's express lanes fell into a category known as a design-build pact, where the contractor carried out both functions within NDOT specifications rather than just working from plans drawn up by the agency.
In other instances, governments have outsourced facilities that generate their own revenues, such as airports, toll roads and bridges.
But Rick Norment, executive director for the National Council for Public Private Partnerships, said more agencies in the United States in recent years have adopted a hybrid popular in Canada and Europe, where construction, operation and maintenance are done by one contractor.
"This is basically a response to the major challenges faced with government budgets," Norment said. "It is a new way to finance infrastructure."
Most comparable projects in the United States are still under construction, so the viability of the so-called P-3 approach is yet to be fully tested.
Some experts are wary of P-3 efforts.
"Public-private partnerships are often touted as a 'best of both worlds' alternative to public provision and privatization," according to a February 2011 report commissioned by the Brookings Institute, a Washington-based think tank.
"But in practice, they have been dogged by contract design problems, waste and unrealistic expectations. Governments sometimes opt for a public-private partnership … because they mistakenly believe that it offers a way to finance public infrastructure without adding to the public debt."
proposals next spring
The unknown also comes into play.
Ronald Wirtz, writing for the fed­gazette publication of the Federal Reserve Bank of Minneapolis, noted that public-private partnerships can speed up work by offering "a way around the endless political tussle for funding."
However, Wirtz cautioned, "PPPs also require a certain leap of faith. … The most innovative approaches come with considerable risk and are not yet time-tested, particularly in the United States."
That was a concern cited by Assembly­woman Maggie Carlton, D-Las Vegas. She cast the lone no vote on Dec. 9 when the Legislature's Interim Finance Committee approved $100 million in bonds to acquire right of way for Project Neon.
In particular, she worried what might happen if the project team defaults.
Mortensen said NDOT has built a number of protections for the state into its P-3 plan, even though it may help the winning team tap government loan and bond funds to reduce financing costs.
A precedent for this approach is the Las Vegas Monorail, described by Brookings as a public-private partnership. It sold bonds through the state to get below-market interest rates.
The monorail's reorganization plan to escape Chapter 11 bankruptcy called for wiping out more than 90 percent of the $658 million in bonds, with all of the losses falling on private investors and none on the state treasury.
NDOT's request for proposals next spring will include several provisions to guard against shoddy work and other possible problems. The agency will not provide the final plans, but will create detailed specifications and performance benchmarks for Project Neon.
"We have the option to reduce the payments, so they are highly motivated to meet the specs," Mortensen said.
Nobody gets paid until the work is finished up to standards, he added.
Questions also arose from legislators about whether locals would get the maintenance jobs, particularly with two of the contending teams headed by contractors based elsewhere.
However, NDOT officials have downplayed that possibility, since prevailing wages will be paid, eliminating the financial gain from importing people for the work.
balancing act
But this new breed of P-3 — sometimes known by the acronym DBFOM, for design, build, finance, operate, maintain — hasn't been problem-free.
The California Legislative Analyst Office in a report last year portrayed public-private partnerships as a balancing act:
On one side of the scale are access to capital and faster timetables; the hope for better maintenance; and more innovative construction techniques than usually found in government-run projects.
But those positives play against higher financing costs; fewer competing bids because of the need to assemble teams that can both finance and build; and reducing future flexibility by pledging revenues for longer periods.
Early this year, the Florida Department of Transportation agreed to pay an extra $58.5 million to the builders of a $1 billion tunnel to funnel commercial trucks from Interstate 95 directly to the PortMiami docks in Miami-Dade County.
The resolution capped an 18-month dispute over who should pay for extra reinforcement required to deal with soil conditions discovered after giant tunnel boring machines had swung into action.
The Deukmejian Courthouse in Long Beach, on the other hand, opened in September as California's first P-3 judicial building. The $490 million structure was finished without major problems.
Other P-3 efforts, including Interstate 595 in southern Florida and the Presidio Parkway in San Francisco, are not yet finished.
Though still new in the United States, the P-3 approach is gaining acceptance. Pennsylvania has set up a special government board to evaluate public-private partnership proposals, including one to rebuild hundreds of aging bridges in one package and then pay the contracting team for ongoing maintenance.
not foolproof
If the Project Neon team stumbles and leaves a half-finished project, NDOT would have to find an alternative to move ahead.
There is precedence for that, too.
The team that built California Route 125, an $847.3 million toll highway in southern San Diego County, wound up in bankruptcy because of low traffic counts.
Last year, the regional agency San Diego Association of Governments bought the road out of bankruptcy for $344.5 million.
In other instances, local governments took over without paying anything, Norment said.
"To a large extent, the risk is transferred to the private sector," he said. "With projects that had problems, the private sector took it on the chin and the public sector got a usable road at no cost."
Mark Romoff, president and CEO of the Canadian Council for Public-Private Partnerships, acknowledged that the P-3 method isn't foolproof.
"Yes, you can go off the rails a little bit," Romoff said. "But you can write features in a contract to get you back on the rails. We've never had that situation in Canada."
Still, a 2009 report by the Canadian Centre for Policy Alternatives cited several projects that went awry, and said claims of faster, cheaper and better projects have run into "a string of failures, delays, little transparency and secretive deals."
For example, the report said construction of the Golden Ears Bridge in Vancouver "came close to collapse" when two banks financing it came close to collapse and required government bailouts.
Contact reporter Tim O'Reiley at toreiley@reviewjournal.com or at 702-387-5290.