Property tax cap efforts scrapped
October 5, 2007 - 9:00 pm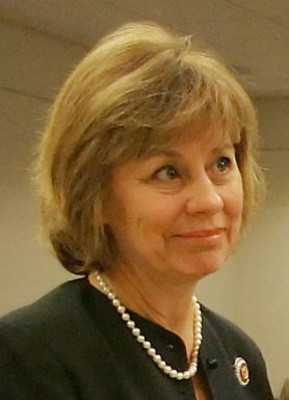 CARSON CITY — Former Assemblywoman Sharron Angle, R-Reno, on Thursday withdrew her petition to amend the state constitution and limit property tax increases to 2 percent a year.
Angle pulled the petition just six days before a scheduled court hearing in Carson City at which the AFL-CIO was prepared to challenge the petition's constitutionality.
In a terse message to Secretary of State Ross Miller, Angle said only that her We The People Nevada organization would not circulate the Proposition 13-style petition in its present form. She said the political action committee "may" circulate another petition in the future.
Angle failed in 2004 and 2006 to collect enough signatures to put an identical petition on election ballots.
She would need to collect 58,000 valid signatures by next May 20 to place it on the November 2008 ballot.
Angle's petition is based entirely on Proposition 13, the initiative California voters approved in 1978 that limits property tax increases to 2 percent a year. In the 1992 Nordlinger v. Hahn case, the U.S. Supreme Court upheld the constitutionality of Proposition 13 on an 8-1 vote.
Angle said she had to withdraw the petition because the word "transferee" was mistakenly used on the petition instead of "transferor." The AFL-CIO would have challenged the proposal because of that error, she said.
"They're nitpicking us to death," she said. "We don't want it thrown out on a technicality."
Lawyers for We The People Nevada are going through the petition and will file a corrected petition at a later date.
Deputy Secretary of State for Elections Matt Griffin said Angle's petition had typographical errors, and she also didn't add phrasing indicating the petition would amend the constitution.
Last week, Angle complained that the AFL-CIO was forcing her to drain her organization's funds by hiring lawyers to fight a frivolous lawsuit instead of spending the money to hire petition circulators.
While Angle has said she raised $250,000 to circulate the petitions, she admitted last month that $200,000 comes from a private donor who stipulated the money was a matching grant. He would not contribute the money unless she raised $200,000 from other sources.
State AFL-CIO Secretary-Treasurer Danny Thompson said he was prepared to challenge any petition, now or later, that Angle decides to circulate.
"The whole thing is misleading," Thompson said.
Unless one examines the wording in the petition at great length, Thompson said, it appears the petition calls for prohibiting state income taxes and inheritance taxes. Those taxes already are banned in Nevada.
But people looking at the petition might be persuaded to sign it because they think it bans those two other taxes, Thompson said.
"If someone standing in front of Wal-Mart hands you a petition and you see it does away with inheritance and personal income taxes, and you don't already know that is the case, then you will be more willing to sign it," Thompson said. "People will sign it not knowing what they are signing onto."
Thompson also challenged the constitutionality of Angle's lawsuit on the grounds it violates the "uniform and equal" tax provision in the state constitution.
Two homeowners with identical homes in the same neighborhood could pay widely different amounts of property taxes, he said. Under Proposition 13, the buyer of a home would be taxed at the rate of 1 percent of the full cash value of the home or business. In other words, if a home sells for $500,000, the tax would be $5,000 per year.
That could be several times what the existing homeowner is paying.
Thompson noted a 2005 law passed by the Legislature caps property taxes on owner-occupied residential property at 3 percent a year and 8 percent a year on other properties. But unlike Proposition 13, properties are not reassessed at full cash value when someone buys them under the state law.
"Her petition would make property taxes higher for a lot of people," Thompson said. "Our property taxes rates are not out of whack. People think this will lower their property taxes, but see what happens if you sell a house. We will continue to fight this thing."
Angle was the only legislator to vote against the law capping property taxes in 2005.
She noted in an interview last week that home buyers might pay higher taxes than their neighbors, but the U.S. Supreme Court upheld the constitutionality of that plan in its 1992 decision.
Contact Review-Journal Capital Bureau chief Ed Vogel at evogel@reviewjournal.com or (775) 687-3901.