Prosecutor: Child abuse charges still possibility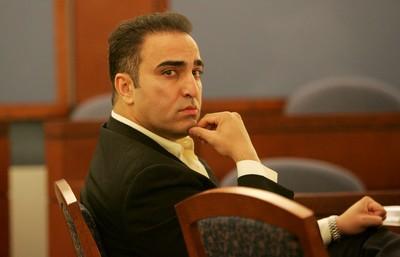 The court records of Arash Hashemi's first arrest as a suspect involved in the near-fatal abuse of a 3-year-old German girl are now sealed.
But that doesn't mean that Hashemi is no longer under investigation.
In December, after prosecutors voluntarily withdrew child abuse charges against the 35-year-old Las Vegas man, they put Hashemi on notice that they planned to seek a grand jury indictment.
"That's still something that's a possibility," Assistant District Attorney Christopher Lalli said last week.
Lalli wouldn't discuss specifics of the case.
Hashemi became the subject of police scrutiny on Aug. 25, when he and girlfriend Samaneh Rezaei took her daughter to the Summerlin Hospital emergency room. Severe head trauma and other injuries required the child to undergo emergency surgery.
Rezaei told police her daughter had fallen down stairs. Medical experts determined that to be unlikely and also found that the child had been repeatedly battered. Child Protective Services had opened an investigation involving Rezaei's daughter before the head injury occurred.
Rezaei, a German national who was in the United States illegally, was deported before she could face charges. The first arrest warrant involving Hashemi named him as the individual who inflicted the head trauma on the child.
The child was taken into protective custody and remained a ward of the Clark County courts until she was returned to Germany in March.
LISA KIM BACH
Anne Swanson's placenta will stay on ice a few more weeks.
The 30-year-old mother of two has received a court order mandating that Sunrise Hospital and Medical Center not dispose of the nutrient-filled sac she had planned to ingest until after a judge has heard her case. A hearing is scheduled for next month.
"I cannot believe they are forcing me to sue to get the placenta back. What a waste of time, energy and money," said Swanson, who delivered the placenta in April after giving birth to her daughter, Maxanne.
She had planned to have the placenta encapsulated into edible pills as therapy for postpartum depression.
Sunrise officials refused to give her the placenta, calling it a biohazard. According to a letter from the hospital's attorney, it was noted that Sunrise would "immediately comply with any decision rendered by a judge who has been presented with all of the facts," such as the risks of transporting and ingesting a placenta that is likely contaminated.
"I really hope this is resolved before the court date in June," Swanson said.
ANNETTE WELLS
Wondering how a local story turned out or what happened to someone in the news? Call the City Desk at 383-0264, and we will try to answer your question in this column.