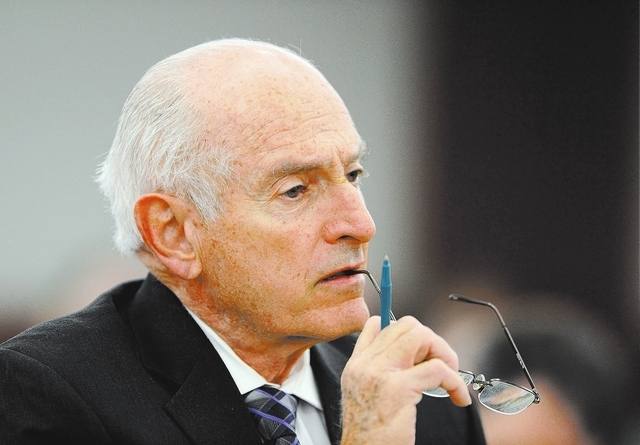 H. Leon Simon, a longtime Las Vegas prosecutor who most recently handled the post-conviction hearings for O.J. Simpson, died this week. He was 76.
Simon's career began in 1968, after he earned a law degree from the University of Illinois. He worked for a year as a public defender and served as a juvenile courts referee before joining the Clark County district attorney's office for the first time in 1972. He worked there for seven years, then took a job with the Nevada attorney general's office. His most recent stint as a prosecutor started in 1998, after he left private practice.
Simon spent much of that time in the criminal appeals unit, according to District Attorney Steve Wolfson, who said he knew Simon for about 30 years.
The two had worked cases together from both sides of the courtroom, Wolfson said.
"I learned from Leon," Wolfson said. "He was an excellent, excellent tactician. He had a great analytical mind. He really had a feel for the value of a case.
Wolfson called the Simpson weeklong post-conviction hearing in 2013 "intense" and "high stakes." District Judge Linda Bell denied Simpson a new trial in his armed robbery case.
"I was extremely proud and grateful that we had someone of Leon Simon's caliber," Wolfson said. "He was the ultimate professional."
Defense lawyer Robert Langford agreed.
"I never doubted his word or worried that something he told me would be represented differently in court," Langford wrote on Facebook. "He had a fine legal mind and more experience than half the bar combined."
A memorial service is scheduled for 11 a.m. Jan. 21 at Kraft Sussman Funeral Home, 3975 S. Durango Drive.
Contact reporter David Ferrara at dferrara@reviewjournal.com or 702-380-1039. Find him on Twitter: @randompoker