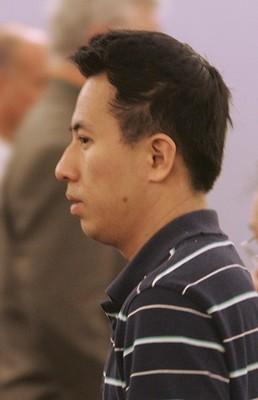 Months after officials busted a local neighborhood prostitution ring that police believed involved human trafficking, only two of the eight people arrested have been charged — and neither with human trafficking.
But that doesn't mean trafficking-related charges won't eventually follow, said Lt. Dave Logue, who headed the investigation, dubbed Operation Doll House, for the Metropolitan Police Department's Criminal Intelligence Section.
"Our investigation still isn't complete," Logue said on Thursday, adding that the Clark County district attorney and the U.S. attorney are still deciding what further charges will be filed.
The April 21 bust came after a two-year investigation by police and federal authorities into a prostitution ring with ties to Asia.
Police said they believed at least some of the 25 women found in nine neighborhood brothels had been forced into prostitution.
But the local FBI and police offered contradictory statements about the women. Dave Staretz, chief division counsel for the FBI's Las Vegas field office, said in May that no evidence of human trafficking had been uncovered in the case.
He said that on the day of the bust, some of the women had their own cars and passports, which he said may mean they were willingly working at the brothels.
On Thursday, Staretz again said the FBI had not uncovered evidence of human trafficking. He referred further questions about the case to Las Vegas police.
One of those arrested in the bust, Ping Sheng Chang, has pleaded guilty to a charge of attempted pandering. A judge will decide whether that will be a felony, which would carry a sentence of one to four years in prison, or a gross misdemeanor, which would result in up to one year in jail. Chang was scheduled to be sentenced this morning.
Another man, John Gregory Keyes, pleaded guilty to a felony charge of living from the earnings of a prostitute. His sentencing is scheduled for Sept. 5.
None of the others arrested has yet been charged.
Clark County District Attorney David Roger said "a number of cases" were sent to the U.S. attorney's office for prosecution.
"As detectives develop more information, we will evaluate" whether to pursue more charges, Roger said.
The U.S. attorney's office doesn't comment on cases until someone is charged, said Natalie Collins, a spokeswoman in the Las Vegas office.
According to a police report, Chang said he had for about a month been answering the door and arranging dates at illegal brothels.
He was accused of encouraging undercover officers to pay $150 to have sex with one of the prostitutes at a brothel in an apartment at 4020 S. Arville St.
Police said many of the women caught up in the raid came from Asian countries and speak little or no English. If certified as human trafficking victims by law enforcement, the women would be eligible for "T visas." Such victims eventually can apply for green cards.
Logue referred questions about the status of the women to the Anti-Trafficking League Against Slavery, or ATLAS, which opened last year within the Metropolitan Police Department to combat human trafficking in the valley.
The director of ATLAS, Terri Miller, could not be reached for comment.
The U.S. Department of Justice recently recognized Las Vegas as one of 17 cities where human trafficking is a concern.
Wondering how a local story turned out or what happened to someone in the news? Call the City Desk at 383-0264, and we will try to answer your question in this column.