Protesters ask Sandoval to halt wild horse auction
January 4, 2013 - 2:51 pm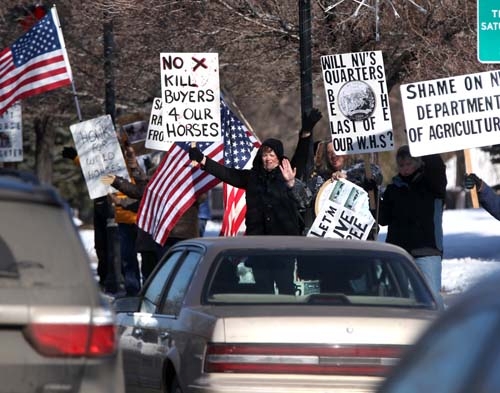 CARSON CITY – About 40 sign-carrying wild horse advocates marched Friday in front of the Legislative Building in a move to induce Gov. Brian Sandoval to block a Feb. 9 auction of 41 state-owned stray horses.
The protesters stopped at the governor's office to deliver 2,000 signatures of people who want to end the auction, but Sandoval declined to make a response.
His press secretary, Mary-Sarah Kinner, said the governor wants to review the issue first before commenting.
Bonnie Matton, president of the Wild Horse Preservation Society, said the activists are willing to take the horses, feed them and find homes for them if Sandoval can induce the state Department of Agriculture to call off the auction and come up with a plan for the advocates to care for these horses.
"We will do this for free," said Matton, adding that several wild horse organizations with a combined membership of more than 400 participated in the protest. "It won't cost the state money. They work for us. They should know we want answers. Now we cannot even go rescue injured foals. They won't talk to us."
Unlike wild horses on federally managed lands, these animals are not protected by the law. They are among the 2,500 horses found on private and state lands near Virginia City.
Dozens are killed each year in accidents with motor vehicles.
Under state law, they are referred to as "estray horses" that are owned by the state. There is no law preventing them from being sold for slaughter.
Ed Foster, a Department of Wildlife spokesman, said Friday he does not know whether Sandoval has the power to block the auction.
He said his agency followed state law by publishing notices of the availability of the horses for adoption for $90 each and giving people who may have owned them an opportunity to claim their horses. No one appeared to adopt or claim the horses, so the next step is the auction.
The wild horse advocates intend to show up for the auction and try to buy every horse because they think they might be sold to buyers who will send them to slaughterhouses in Mexico or Canada and become food for human consumption in Europe or Asia.
At past auctions, Matton said state "shills" deliberately bid against them. So instead of paying $90 or so per animal, they have paid as much as $600, the typical cost today of ordinary horses, she said.
Foster said Agriculture Department Director Jim Barbee had been working with the animal organizations and selling horses to them for $90 each until last summer when they balked at that price and several horses they previously purchased were re-released to the range.
He agreed that someone did bid up the price of the horses at past auctions but said the state did not employ any shills. Instead the auctioneer and others bid up the price, a step he said was legal.
While the horse advocates receive all the attention, Foster said many residents call the Agriculture Department to complain about the horses being in their yards and demanding the state round them up.
The horses are taken to a corral at the Northern Nevada Correctional Center in Carson City. Some are trained by inmates.
Terri Farley, a Washoe County novelist who writes "The Phantom Stallion" series of children's books about horses, emphasized that the advocates want to keep the horses from auctions and will take the animals off the state's hands for free. She is an advocate for wild horses.
"It is not going to cost Nevadans anything," said Farley.
Contact Capital Bureau Chief Ed Vogel at evogel@reviewjournal.com or 775-687-3901.